REVIEW: Lincoln Center Festival enters the Interzone for some 'Naked Lunch'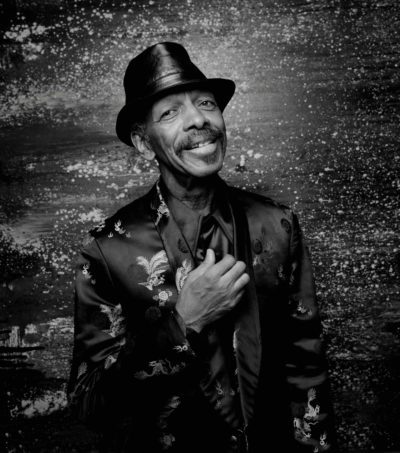 Take some William S. Burroughs, and add in some David Cronenberg. Then shake up some Peter Weller, and mix with some Judy Davis. Julian Sands? Yeah, him, too. And while you're at it, why not some Ian Holm and Roy Scheider.
Such is the potpourri of talent that can be found in Naked Lunch, the movie adaptation from Cronenberg based on Burroughs seminal Beat novel. The movie recently played Alice Tully Hall in New York City as part of the Lincoln Center Festival, but this time it received some expert musical accompaniment, which allowed Howard Shore's score and Ornette Coleman's jazzy tunes to take fire.
The motive behind the performance was a retrospective celebration of Coleman's career and influence. The late jazz great has several events in this weeklong fete-fest. I'm not sure any of them will reach the trascendent heights of Naked Lunch featuring an orchestra and jazz band in the same space.
First, the movie: Weller plays William Lee, a nobody exterminator who has been losing some of his bug powder to his wife, Joan (Davis). She's addicted to the stuff and steals from her husband's stash.
Drug addiction is a theme of the story from these opening scenes of Joan itching for her powder fix all the way to William's eventual visit to a questionable doctor (Scheider) who claims he can help her kick the habit. Along the way, the adventure becomes curiouser and curiouser. High-stakes games involving a gun are played. A trip to Interzone, located somewhere in northern Africa, is in the cards. All the while, William and his buddies keep writing their stories and living their lives, seeing where the weirdness takes them.
Oh, and there are some talking bugs. Lots of them. Think Franz Kafka exponential.
Cronenberg's masterpiece is a high-minded allegory about some pretty low-minded material. If the characters aren't talking to bugs, then they're enjoying their addictive habits or falling into sexual relationships. It's all cutting-edge, surreal subject matter, expertly handled by Cronenberg in his characteristic manner. One has to applaud his ability (and brave attempt) to adapt as difficult a work as Burroughs' novel. One also has to applaud his dedication to gross-out makeup and creature effects. Much like his other sci-fi and horror movies of the time period, Naked Lunch relies on puppets and icky substances to propel the plot along.
The performances are wonderful, especially from Weller, who hardly raises an eyebrow or lets an emotion run across his face. His characterization of William is cool and subdued, making his journey that much more humorous and revealing. Davis is a perfect match. She's nervous and goes a mile a minute, mostly because of the bug powder. They don't seem like a good couple, but Cronenberg has their love play out in a movie-long arc that gives some gravity and motivation to the odd surroundings.
Coleman's jazz additions are remarkable and fit the scenes perfectly. At the Alice Tully Hall performance, an energetic and driven jazz band brought the notes to life. Among their ranks were saxophonists Ravi Coltrane and Henry Threadgill, bassist Charnett Moffett, and Denardo Coleman, Ornette's son, on drums. They were accompanied by Ensemble Signal and conductor Brad Lubman.
The Coleman selections, including "Midnight Sunrise," "Ballad/Joan" and "Bugpowder," are frenetic and freeing, entering into a catchy symbiosis with the characters and their feelings on the screen. Being that Burroughs was writing literary jazz, and Cronenberg was filming cinematic jazz, it seems wholly appropriate that Coleman would be part of Shore's musical offerings.
As the orchestra and band played, the dialogue on the screen became difficult to hear. No worries there because Lincoln Center Festival included subtitles during those parts.
The entire evening was one long plaudit for Coleman's unique contributions and a celebration of the film itself, which still shocks and awes 25 years after its initial release.
By John Soltes / Publisher / John@HollywoodSoapbox.com
Naked Lunch (1991), directed by David Cronenberg and based on a book by William S. Burroughs, stars Julian Sands, Peter Weller, Judy Davis, Roy Scheider, Ian Holm and Monique Mercure. The special Lincoln Center Festival performance included musical accompaniment from Ensemble Signal, conductor Brad Lubman, Ravi Coltrane, Henry Threadgill, Charnett Moffett and Denardo Coleman. Rating:




Click here for more information.