REVIEW: 'Bronx Gothic' captures physically captivating, emotionally insightful performance piece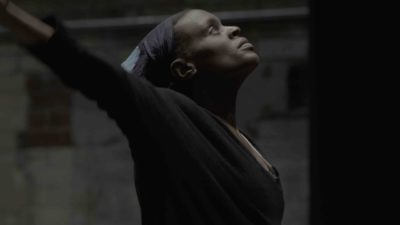 Performance artist Okwui Okpokwasili seemingly gives everything she has for her revelatory performance in her one-woman show, Bronx Gothic. Telling the story of two young girls growing up in the same Bronx, New York, neighborhood that the playwright-performer grew up in, the piece is an amalgam of dance, movement, drama and storytelling. All of the elements are stirring.
The new documentary based on this play is similarly titled Bronx Gothic, and it's set to premiere Wednesday, July 12 at New York City's Film Forum. Directed by Andrew Rossi, the film examines Okpokwasili's tour of the show and her final performance in the borough she once called home. It's a transfixing, moving 90 minutes of exploration, one that offers many scenes from the play plus interviews and talkbacks about the subject matter. It's the cinematic-theatrical equivalent of watching a movie with an actor's commentary track playing in the background.
Rossi takes an all-access approach to Okpokwasili and her life. He not only films her performing around the nation (Milwaukee, Philadelphia, New York City) but also at home with her family. One humorous and revealing scene shows the artist with her loving parents, two people who appreciate their daughter's theatrical statements but are a bit "old-fashioned" to her experimental presentation. Viewing Okpokwasili watch her parents watch a performance of Bronx Gothic on a laptop offers quite the interesting and complex perspective, one that can only be achieved by a movie after the fact.
If the film has shortcomings, they are not immediately apparent. No doubt some of the audio and visuals could be improved, but the rawness of the cinematic approach is appreciated. Rossi is able to work with the lighting of the play to his advantage. Also any conversation that feels too far out of range eventually comes into play and can be heard.
No doubt audience members will watch the film and consider the many weighty questions that Okpokwasili brings up about these two young characters in the Bronx. She touches upon race, abuse, discrimination, injustice, humor and family, all folded into a coming-of-age story that includes identity, sexuality and violence.
During talkbacks after the performances, the performer digs deeper not only on the subject matter of the play (she largely lets the performance speak for itself, which is greatly appreciated) but on audience members' reactions. She is genuinely curious about the questions that bubble to the surface among the diverse crowd. During these sessions, many tears are shed, revelations laid to bare and educational bits divvied out. One learns a lot after hearing Okpokwasili.
The actress-dancer leaves such a lasting memory. (In fact, I still remember her performance as Goneril in Young Jean Lee's Lear at Soho Rep.)
The slight unfulfilled feeling following these 90 minutes is simply because of the dynamism of Okpokwasili. No matter how hard Rossi tries, he never matches the intensity and emotion of the original theatrical presentation of Bronx Gothic. I'm sure that wasn't his goal anyway. Instead the film serves as a continuation of the dialogue for those who saw the performer in the piece and an introduction to those who are hearing this story for the first time. No matter where one might fall, there is a shared feeling of regret that Okpokwasili is not still offering Bronx Gothic to live crowds. One can only hope.
By John Soltes / Publisher / John@HollywoodSoapbox.com
Bronx Gothic (2017), directed by Andrew Rossi, features Okwui Okpokwasili. Running time: 90 minutes. The film begins Wednesday, July 12 at New York City's Film Forum. Rating:




Click here for more information and tickets.