REVIEW: Appreciating Woodberry's work beyond 'Bless Their Little Hearts'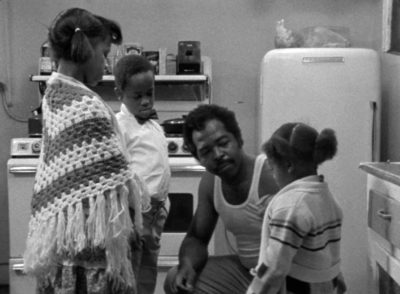 The L.A. Rebellion saw many African and African-American filmmakers join the UCLA School of Theater, Film and Television, and offer their creativity in the years following the Watts Uprising in Los Angeles. One of the central figures in the movement was Billy Woodberry, the man responsible for 1984's Bless Their Little Hearts (image to the right).
Another gem from Woodberry that may be overlooked because of its rarity is the short film The Pocketbook, based on a story by Langston Hughes. The director made this film four years before Bless Their Little Hearts, and the short serves as a near-perfect package of music, drama and lessons learned the hard way.
In the narrative, a young boy attempts to steal a pocketbook from an older woman. After his plot is foiled, the woman sits the child down and offers him some advice on life, crime and what he should be doing with his time. It's a snapshot picture that runs only 13 minutes, but it still packs an emotional wallop. Within the span of a few minutes an incident is dealt with from one poor choice to an ultimate act of redemption.
There's a sense of locality, authenticity and realism to the film, all qualities that are hallmarks of not only Woodberry's work but the entire L.A. Rebellion scene. To learn more about this cinematic movement, check out the recent documentary from director Zeinabu irene Davis.
There are several jazzy tunes that accompany the black-and-white film. These selections — from the likes of Lead Belly, Thelonious Monk and Miles Davis — enhance the picture and its historical value. The cast includes Ella "Simi" Nelson, Ray Cherry, David Jenkins, Al Williams, Christopher Thompson and Phillip Weatherspoon, all of whom offer subtle, yet effective, portraits.
By John Soltes / Publisher / John@HollywoodSoapbox.com
The Pocketbook (1980), written and directed by Billy Woodberry, stars Ella "Simi" Nelson, Ray Cherry, David Jenkins, Al Williams, Christopher Thompson and Phillip Weatherspoon. Running time: 13 minutes. The film recently ran on a double bill with Woodberry's Bless Their Little Hearts at New York City's IFC Center. Click here for more information.