REVIEW: 'Ascent' features photographic poetry of Mount Fuji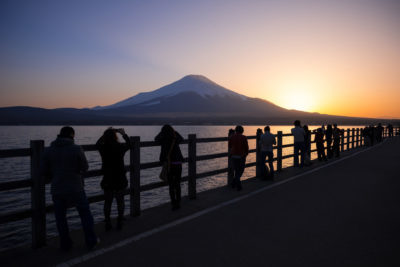 Ascent, written and directed by Fiona Tan, is a deeply moving and almost surreal journey into the history and poetry of Japan's Mount Fuji. The iconic mountain, represented so many times in art and on tourists' memory cards, has stood the test of time and seen the many changes bringing Japan into the 21st century. Tan is not interested in reliving every historical moment; instead, she tells the story of this mountain through carefully chosen images and postcards featuring the summit and its snowy crown. On top of the images she adds an English voiceover and pairs it with a Japanese voiceover by Hiroki Hasegawa. The resulting 80 minutes are a dizzying, ruminative exploration that is nothing short of brilliant.
Mount Fuji, even for those who have never seen it in person, is well known around the world. Perhaps its greatest fame comes from Thirty-six Views of Mount Fuji by Hokusai and the memorable print of a frothy wave, with its clawing hands of water, eclipsing the size of the gargantuan summit in the background.
Tan references Hokusai's prints, but she also expands beyond that piece of art. Much of the narrative is built around everyday photos of the mountain, captured through the lens of a camera-toting resident, tourist or passerby. The images are sometimes crisp and beautiful; other times, the mountain is pixelated or out of focus. Tan is interested in capturing the summit in all of its glory and shadows, whether that's majestic or foreboding.
She travels back in history to early staged photographs with Japanese women and men posing in the foreground as Mount Fuji stands ominously in the background. Other times, she offers images of soldiers trekking around the mountain during the buildup and height of World War II. There are many pictures of visitors scaling the heights of the mountain, and she follows them, step by step, and adds the images to her photographic journey.
The contrasts in the film are so stark and make for such a holistic portrait. There are a few images with flowers in the foreground that are breathtakingly beautiful, capturing Mount Fuji with a real sense of time and space. Others show the summit as a backdrop to trains, roads and urban lights, which somehow takes away a little of the serenity. However, that's Tan's purpose, to show the permanence of the mountain and the changing impermanence of the world around it.
The voiceover takes Ascent from an interesting project to a transcendent experience. She couples poetry with prose, telling stories and offering memories. The voiceover is never confusing, interruptive or secondary. Tan and Hasegawa's words are wonderfully complementary and provide a greater context of the images.
Ascent may not be for everyone. After all, it is a photo slideshow, but for those who give themselves over to its wonders, the film can be as transfixing as Mount Fuji itself.
By John Soltes / Publisher / John@HollywoodSoapbox.com
Ascent (2017), written and directed by Fiona Tan, recently ran at New York City's Film Forum. Click here for more information. Running time: 80 minutes Rating: