INTERVIEW: Bria Skonberg ready to bring new music to Highline Ballroom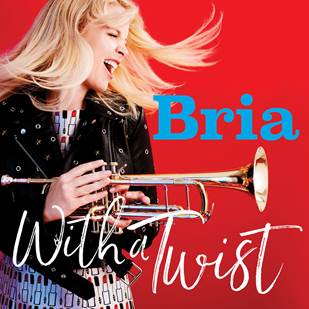 Bria Skonberg interprets the songs of many famous singers on her new album, With a Twist. She will celebrate these covers and her original songs at a special concert Friday, June 2 at New York City's Highline Ballroom.
The singer-songwriter is also an accomplished trumpeter, and fans at the concert can expect to hear her renditions of tunes by Bjork, Ed Sheehan, Leonard Cohen and Nina Simone, among others.
Recently Hollywood Soapbox exchanged emails with Skonberg about her upcoming concert and new album. Questions and answers have been slightly edited for style.
What can fans expect from the new album, With a Twist?
This was a really fun and ambitious album to make, inspired by love and adventure. I was so fortunate to collaborate with multi-Grammy-Award-winning arranger Gil Goldstein for a sound scape that would mirror this excitement. Many of the songs are well loved standards with a unique instrumentation of a jazz rhythm section plus various orchestra instruments like flutes, strings, brass and marimba, presented with both grit and finesse. I honestly haven't heard anything like it, and I love it!
How did you choose the different songs to reinterpret?
Producer Matt Pierson and I came up with the songs together, inspired by versions of artists such as Nina Simone, Peggy Lee, Bjork and more. Each one tells its own story, and I think of it as a collection of tales.
You have three original songs on the album. What inspired you to write these songs?
Falling in love 🙂 One of my favorites is 'Same Kind Of Crazy' because it's about finding that someone who can embrace and relate to your quirks.
Have you been singing and making music ever since you were a child?
Definitely! I started on piano and picked up trumpet in seventh grade for the school band encouraged by my dad who played back in school. I always loved singing but was honestly too shy to sing openly until ninth grade when I tried out for the school play and ended up being Sandy in Grease. I think performing on trumpet helped me gain confidence.
Will your Highline Ballroom concert highlight many of these songs? How would you preview the concert?
Yes, we'll be playing almost all of the new album songs with a large ensemble, which I'm dubbing the BS (Bria Skonberg) big band 🙂 I've been working on a smaller version for touring; however, for this party I'm going for it! There will be 11 phenomenal performers on brass, strings, etc., so you'll be able to hear the music the way it was intended, in a super hip live venue. The music is mostly upbeat; if anyone is inspired to dance I won't stop you!
By John Soltes / Publisher / John@HollywoodSoapbox.com
Click here for more information on Bria Skonberg's new album and upcoming concert at the Highline Ballroom.