INTERVIEW: Janis Brenner uses dance to investigate 'otherness'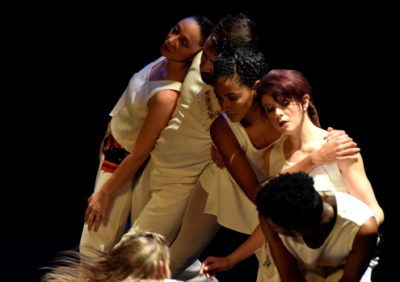 Janis Brenner & Dancers, headed by Janis Brenner, is set to offer its New York season June 1-3 at Gibney Dance: Agnes Varis Performing Arts Center in New York City. Over the course of three performances, the dance company will present two New York premieres.
On the docket are Once You Are Not a Stranger, which explores the theme of "otherness," and Soul River/Blues, which mixes eastern and western ideas. Dancers for the evening-length program include Kyla Barkin, Brenner, Kara Chan, DeAndre Cousley, Ruth Howard, Sumaya Jackson, Kristi Ann Schopfer and Aaron Selissen. Barkin is celebrating 19 years with Janis Brenner & Dancers.
Once You are Not a Stranger is a collaborative piece that brings together the work of composer Svjetlana Bukvich, installation artist Eva Petric, lighting designer Mitchell Bogard and costume designer Sue Julien. The dance is performed to live music with Brenner on vocals and Bukvich on keyboards.
Soul River/Blues is another work of collaboration, this time with Maya Dance Theatre in Singapore. The dance is inspired by the music of Ry Cooder (Buena Vista Social Club) and BV Bhatt's A Meeting by the River.
Recently, Hollywood Soapbox exchanged emails with Brenner about the New York premieres. Questions and answers have been slightly edited for style.
What can fans expect from the Janis Brenner & Dancers' upcoming New York season?
This New York season is especially resonant and important for us for a number of reasons, the first being that the company has not presented a full evening of work in our hometown in more than three years! Although we've been touring and have performed the two works on this program in such diverse places as Bosnia-Herzegovina and Maine (!), we've not been presented in NYC for a while. As well, these works, Soul River/Blues and Once You Are Not A Stranger, I see as crucial antidotes to the current situation in our country and in the world. The dances are very much about connection, relationship, and empathy: concepts we are always in need of, but particularly now. They are even beautiful at times, which I do not shy away from these days.
How long does it take to develop a work of dance?
Choreographers work in very individualized, unique time frames. That question for me is especially interesting in regards to these two works on our program, which came about in rather opposite ways: Soul River/Blues developed fairly quickly because I was invited by the Maya Dance Theatre in Singapore in 2014 to make a work about 'soul!' This was a large, complicated topic to pair down into a 16-minute dance, and I had only two weeks to create the work! Of course, I thought about it and worked out ideas improvisationally before going to Singapore with one of my dancers, but even still, it was a rapid creative period.
The major premiere, Once You Are Not A Stranger, developed with the dancers in the studio over a six-month period. We were investigating our own histories and ancestors/relatives, our own unique, personal ways of moving, and our ideas about empathy and "otherness" in a multi-cultural, multi-ethnic, multi-religious context.
Why is collaboration with other artists so important to Janis Brenner & Dancers?
I think that dance is inherently collaborative: It involves actually being in the room together as moving bodies and as creative entities. As well, my own background and life's work has always been interdisciplinary, as a dancer, singer, choreographer, teacher, artistic director and lover of creative input. Having the opportunity to create with artists from other disciplines — in this case, a brilliant composer, Svjetlana Bukvich; a young, wildly-creative video/set designer, Eva Petric; our inventive costume designer, Sue Julien; and my longtime, Emmy-winning lighting designer, Mitchell Bogard — has been a particular thrill this season.
What themes do you hope the audience picks up on during the dances? Do you consider the audience a lot when developing the piece?
In Soul River/Blues: a meeting by the river, the Ganges, the Delta, blues, 'soul,' souls, ashes and bodies washed out to sea by both design and ritual (Ganges), and by unintended force (Hurricane Katrina). The universal and the personal 'letting go,' in memory of those we've lost.
In Stranger: history and family. Differences and connections. Empathy and 'otherness.' Community and borders. These are some of the themes I wished to explore in creating this complex, 40-minute piece. The work was originally inspired by the 2016 visit to Bosnia-Herzegovina and being immersed in the complicated, difficult histories of that region of the world.
Yes, I do consider my audiences when creating work. Although I often work in a fairly abstract movement vocabulary, through improvisation, the work is always guided by concrete issues or atmospheres that we explore in the studio and intend to make real on stage. I keep in mind a quote from a Washington, D.C., newspaper years ago that stated: 'Janis Brenner's work resonates with such a deep feeling of humanity that even those unfamiliar with concert dance and contemporary art can connect what's onstage to their daily lives.'
How difficult is the arts scene right now in terms of funding, finding space, finding a home?
The arts scene in New York is perpetually nearly-impossible, and most of us keep plugging away nonetheless! Funding is the single most difficult issue, for both large and small organizations. Despite this, somehow New York City still seems to be the most vibrant artistic place and force in the world, and I have traveled to 35 countries in the course of my career. It is both a constant challenge to be an artist here and a blessing simultaneously.
By John Soltes / Publisher / John@HollywoodSoapbox.com
Janis Brenner & Friends will present its New York season June 1-3 at Gibney Dance: Agnes Varis Performing Arts Center in New York City. Click here for more information and tickets.