REVIEW: 'New Adventures of Aladdin' retells story well known to Disney fans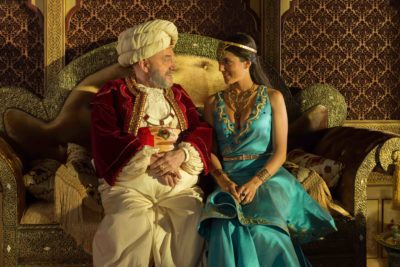 The New Adventures of Aladdin (Les Nouvelles aventures d'Aladin) is hardly a deep character study or thrilling special-effects fantasia. However, in a Mel Brooks kind of way, the film has its easy pleasures and well-earned chuckles.
Kev Adams plays the title character, Aladdin or Aladin, as a young, buffoonish wannabe prince who catches the eye of the princess (Vanessa Guide). He needs help with his aspiring regality, and so he employs the aid of a genie in a bottle (Eric Judor) who grants him seven wishes. Most of the wishes are wasted on misunderstandings and petty requests, but he saves a few in order to save the day.
Rounding out the supporting cast are Jean-Paul Rouve, William Lebghill, Audrey Lamy and Arthur Benzaquen, who directed the film. Daive Cohen wrote the adaptation of the classic tale.
For everything that works in the film, there is an element that drastically fails. First off, this is truly not the new adventures of Aladdin. Instead, it's the new storytelling of Sam. He's the character that Adams plays in the modern day. Sam is a mall Santa Claus who has a throng of screaming kids in front of him, and for some reason, he believes this tale of Aladdin will calm them down and keep them interested. There's no motivation behind the Sam character, so these bookends to the actual Aladdin story seem extraneous. If anything, it's a cheap ripoff of The Wizard of Oz. Audience members will see the parallels when they start spotting the characters in the Aladdin story represented among the workers and customers of the mall where Sam works.
What works? The actors are enjoyable and play along for as many laughs as they can gather. Adams is likable as Aladdin, although his screen time is one-upped by Rouve, who is devilishly cunning as Le vizir, the man who is trying to thwart the princess' suitors. Lebghill is also quite funny as Khalid, the man that Le vizir props up as a possible prince candidate.
The dubbing doesn't serve the movie well. The voices are fine, but the comedy is somewhat lost. It's probably best to watch the movie in the original French with English subtitles.
The New Adventures of Aladdin doesn't add much to the canon of this well-known tale, but it's an easy diversion for less than two hours. The cast works hard to keep the audience smiling and laughing, even though the total sum of its parts adds up to little more than a chuckle here and there.
By John Soltes / Publisher / John@HollywoodSoapbox.com
The New Adventures of Aladdin (2015), written by Daive Cohen and directed by Arthur Benzaquen, will be available on video on demand Tuesday, May 16. The movie stars Kev Adams, Vanessa Guide, Jean-Paul Rouve, William Lebghil, Arthur Benzaquen, Eric Judor and Audrey Lamy. Rating: