INTERVIEW: Jeremy Wade says goodbye to 'River Monsters'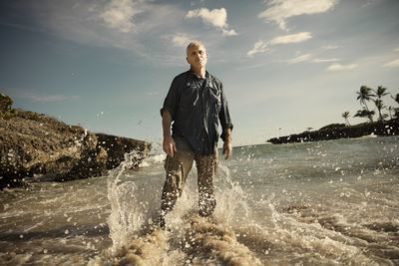 River Monsters, the hit Animal Planet series starring Jeremy Wade, is saying goodbye to its legions of fans. The final season kicks off Sunday, April 23 at 9 p.m. on the network, and for Wade, the moment is a bittersweet one. For the past decade, Wade has been plying the waters of the world in search of large and interesting fish. From tiger fish to catfish to the legendary goonch, the specimens have all been special indeed.
Wade has been around the world on a constant tour of what freshwater (and on occasion saltwater) can produce. He investigated local legends, heard from victims of fish attacks and dropped his line in the murky waters to find these so-called monsters.
His fans will miss him.
Recently, Hollywood Soapbox talked with Wade on the phone about the final season. Here's a sample of what he had to say.
On the show's history …
"We never expected it to be going this long. I think probably for the last eight years, we've been thinking it's the last one, but the reality is there was a list of fish that I had in my mind back then when we started. And we've done all those, and we've done quite a few more besides. But during that time, we have built up this very enthusiastic crowd of viewers, and so I think they're all feeling a bit bereft. … So, yes, it is strange. It's suddenly a bit like going around the merry-go-round. I've just been going around and around without getting off, and suddenly I'm off. And I'm feeling a little bit dizzy and disorientated."
On deciding this upcoming season was the final one …
"We're always thinking into the future, so we had enough for one season. And then beyond that, we couldn't really see anything else, so as we started filming, we knew this was going to be it."
On the adventures of the final season …
"Yes, we've saved some from the best for the last. We've got, in this final season, my largest fish by quite a long way, the deepest I've ever fished as well, which this was in Norway, and it was equivalent to sitting right on top of the antennae on the Empire State Building and lowering a bait down to street level. And then, of course, you've got to bring something up from that depth, which [is] actually potentially considerably bigger than me, and the other thing, which was really an intense experience for me, was I went the deepest below the water that I've ever been. Obviously, I just started off just putting a line in the water. At various times, I've gotten in the water myself. I've been diving with various creatures or looking for them. This year I actually go down in a submersible in the Cayman Trench of Honduras, and that was over 2,000 feet. And it was actually a homemade submersible, so it's not one of these things that you might find on someone's private yacht these days. … The idea that we were at the bottom of the ocean in a situation where if anything went wrong, nobody's going to be able to help us and probably even find us — the middle of the night as well. So we go down at night hoping to encounter something on the bottom, and at that depth, you're talking about 45 minutes sinking through the water before you reach the bottom."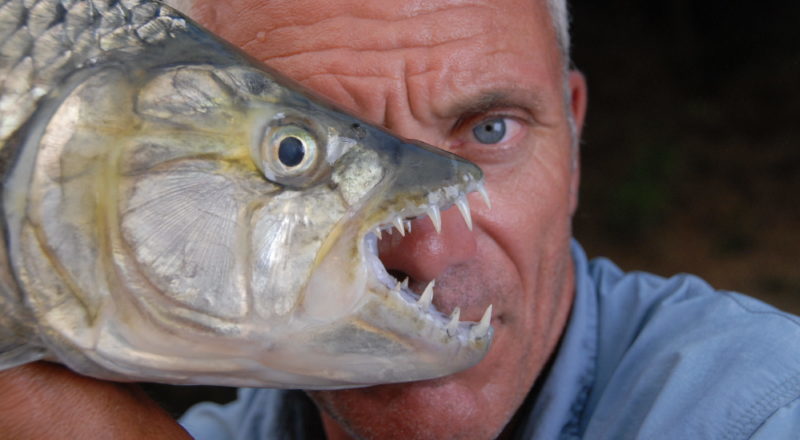 On the danger of going down so deep …
"I found it was always there in the back of my mind, and I was actually in it for quite a long time. I was down there for about, on one occasion, I think between eight and nine hours, so it's not just a quick experience. But the thing is when there's something then happening down there, you tend to forget all the worries because it's really another world. It's not an environment that many people have experienced at all, but then when you think about it, that is more representative of the world than the familiar world of cities and people. Most of the world is ocean, and most of the volume that living things live in is there. It's the ocean, but it's so unfamiliar to us."
On considering Ocean Monsters rather than River Monsters, an experiment they tried last season …
"I think that was limited. That was interesting actually because in a sense if we'd had half a dozen seasons out of freshwater, you'd think there would be at least that number in the sea. The thing is there's much more variety in terms of environment in freshwater, and there's actually almost as much variety in terms of fish in freshwater as those in the ocean, even though it's a tiny fraction of the amount of water. The other thing about the oceans, there are mysteries in the ocean, but a lot of the creatures are actually quite familiar. And I think one of the reasons that River Monsters has scored really well is that we've been featuring creatures that just haven't been seen even on these really big budget natural history programs. The freshwater creatures are really unknown whereas in the oceans, an awfully lot has been done. We dipped our toe in, and we got some amazing natural history in that one season when every episode was in the ocean."
On his future beyond River Monsters …
"Well, one thing I'm hoping to do is write a little bit more. What I like about writing is it's more a personal thing as against TV being more collaborative, but I would like to do more TV. And obviously, we know we've got this big audience, and there are definitely other stories out there, although not the same kind of stories. So we are working on bringing something else to the screens. I think people can watch the space. … I still got a bit of fitness left. I've still got all my fingers and toes and legs. I've got a couple more years worth of something I think."
By John Soltes / Publisher / John@HollywoodSoapbox.com
River Monster's final seasons premieres Sunday, April 23 at 9 p.m. on Animal Planet. Click here for more information. Click here for Hollywood Soapbox's other interviews with Jeremy Wade.