INTERVIEW: Black Grace brings New Zealand contemporary dance to NJ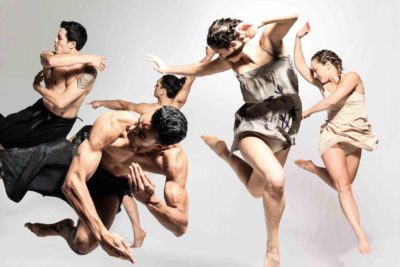 Audiences can travel to New Zealand and the South Pacific Friday, April 21 for a lot less than what it costs to book a flight to Auckland. All they need to do is head to the State Theatre in New Brunswick, New Jersey, for a performance of Black Grace, New Zealand's leading contemporary dance company. They will be transported to the cultural practices, both traditional and modern, of many South Pacific communities.
The evening of dance is choreographed by the company's founder Neil Ieremia, and one of the leading forces on the stage will be Sean MacDonald, who has been with Black Grace from day one.
MacDonald (Ngāti Kahungunu, Ngāti Raukawa) performed in the company's inaugural season in 1995 and has been working with Ieremia off and on for more than two decades. He trained at the Auckland Performing Arts School and New Zealand School of Dance, and has toured around the world and back again.
"The company started when Neil Ieremia, the artistic director and founder. He just wanted to start a company and tell stories from his perspective — someone male growing up in New Zealand — and so he got a group of men," MacDonald said in a recent phone interview. "There were 10 in the first show, guys that hadn't trained and danced. A lot of them had come from sporting backgrounds, and then they've gone into training. There wasn't that much of that sort of thing around, sort of telling our stories of Polynesian men, Samoan men … who just wanted to dance really, and that's how it started. Just in an old library hall we got together, and we made up a show, which was called Black Grace, and carried on from there."
Black Grace, which features male and female dancers today, is still prominent 22 years after that initial idea, and this longevity speaks to the company's strength and its uniqueness among contemporary dance offerings.
On April 21, audiences in New Jersey will have a chance to see a series of short pieces and one long piece. MacDonald will dance in Minoi, which premiered in 1999 and fuses a Samoan dance style with western contemporary dance.
"It uses the form Fa'ataupati, which is Samoan form of dance body percussion where you use your body," he said. "You slap your body to make rhythms and make sounds, so it blends that with song and humor. And it incorporates the modern dance motifs meant for six men. It's about childhood memories. … It's quite high impact, very rhythmical, and when it's done right, it has a lot of wit and humor to it as well. It's usually a good start for the show. It kind of sets the tone for the evening, I think."
MacDonald will also perform in Mother, Mother, which was made in 2013 and originally choreographed for a music video for the band Fat Freddy's Drop. After intermission, MacDonald will also dance in the ensemble piece As Night Falls, a longer work inspired by tragic news headlines but that tries to promote hope as well.
When Black Grace performs, they often take the mantle of being ambassadors of New Zealand. Because many of these dance styles will be brand new to audiences, the company has an important role to play.
"It's a lot of pressure in a way because you kind of want to do it right," MacDonald said. "You don't want to do a token or a surface representation of it. Absolutely we're ambassadors. We were at the New Zealand embassy last night here in Washington, [D.C.]. We did a short performance there, and it just brought it home. We are on the other side of the world, and we're representing our country, our cultures, our ancestors. And you want to do it right, to do it right so that other companies and other people can come over here as well and share in that as well and share our stories. It's quite amazing that it translates so well. I think the audiences can relate to it in some way. I suppose it's a bit different for them, and they do get a feel for what it's like here in the South Pacific because we're New Zealanders of these different cultures. So we've got that mix of the western and then also our own flavor, our own perspective on the world."
When Black Grace tours the world, they often offer master classes to aspiring professional dancers at colleges and universities. MacDonald appreciates the students' enthusiasm and appetite for learning.
"We're all from different parts of the world, but this thing called dance and art is uniting us," he said. "I think it's one of the things that we like to do is give back to those communities and especially the younger people. If we can inspire even just one person to go, yeah, this is great. This is what I want to do, and it's possible, then that's amazing. That's great, I think, just to show them these other possibilities of what you can do with your life. … It's a great opportunity to be able to go out there and do that because you can just tour. You go into different cities. You go into a theater, and then you leave. You don't really have a connection, so through these classes and master classes, again it gives us a chance to connect more to where we're at and where we are in different places."
After a performance, the dancers can be quite drained. Many of these traditional styles can beat up the body, but MacDonald finds that when he's on tour, the momentum keeps him going.
"The work is highly physical, highly athletic, so it does take a toll on the body," he said. "My body is so used to it that it knows what to do. It's been through the rigors for a while now, so it's kind of seasoned. So I have that on my side. … After a good shower and good breakfast, you're ready to go. It's amazing what the body can do, what you can put it through and what it's able to cope with. It also helps that it's what I love doing. It's what I enjoy, so the mind and body are connected, which helps a lot."
By John Soltes / Publisher / John@HollywoodSoapbox.com
Black Grace will present an evening of dance Friday, April 21 at the State Theatre in New Brunswick, New Jersey. Click here for more information and tickets.