INTERVIEW: American Repertory Ballet stages new ballet based on 'Pride and Prejudice'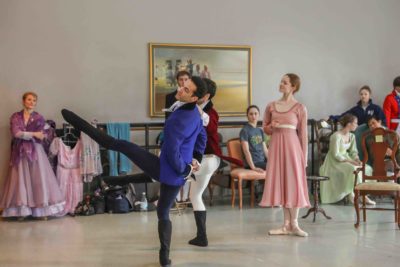 American Repertory Ballet is gearing up to stage a balletic adaptation of Jane Austen's beloved novel Pride and Prejudice. The performances run April 21 and 22 at the McCarter Theatre in Princeton, New Jersey.
At the helm of the new adaptation is Douglas Martin, who choreographed the piece and also serves as artistic director of American Repertory Ballet. For him, the ambitious project has been in development for five long years. Throughout that time, he has been devising creative ways to adapt Austen's story of Elizabeth Bennet and the interesting ways she navigates love and life among the landed gentry of the British Regency.
"So what happened is about five years ago I was talking to a friend … about new ideas for full-length ballets, and we both kind of mused about Pride and Prejudice," Martin said in a recent phone interview. "Then it made me realize that there are four really great relationships that tell the story. There are actually more than that, but the four main relationships, the people who get together end up getting married. And I could focus on that rather than just the story of Darcy and Elizabeth."
The rehearsal process for the production has been busy. American Repertory Ballet has had to work through the choreography for this new show and also present other ballets at the same time. However, for the past few weeks, they have been focused solely on the world premiere of Pride and Prejudice.
"Now is the time when we build extra meaning into every part," Martin said in early April. "So we go through and comb through all the dance and the choreography. We comb through and add extra change of spacing, work on the emotions of each thing, and that's the process we're in right now."
The actual movement in the piece, which features period dancing like jigs, reels and the minuet,  is challenging for the dancers, but every great ballet requires some sacrifice on the part of the performers. Martin believes that Pride and Prejudice is unique because of the emotional evolution of the characters.
"This is even more challenging because the emotional curve is so great from, say, where Darcy is starting with that prideful prejudice he has for the country people and people underneath his station in life and how he has to change those feelings," Martin said. "It's not just like getting to know someone a little bit better. He actually has to go from disliking these country people to being kind of intrigued by the strength of Elizabeth to falling in love with her but being unhappy with himself to actually then finishing up and realizing that he had the wrong idea about who he was, so that's a lot of range for that person to go through. And in a similar way, so does Elizabeth. She has to feel like this guy is outrageous and full of himself, but then she has to gain a respect for who he really is through his transition and her transition. So, yeah, there's a real challenge there that's beyond what our normal situation is in ballet."
He added: "Dance is a language. It's all about the expression of energy, relationship and emotion, so we can't use any of the words."
The world premiere of Pride and Prejudice features music by Ignaz Pleyel and costumes and sets by Christina Giannini. John Devlin will conduct the Princeton Symphony Orchestra for the piece.
Martin believes the production will be a milestone for him and American Repertory Ballet.
"I will say it has been an amazing challenge," he said. "While I have used original music before, this has been an amazing challenge to create a score for this, such a major ballet. … There have been major, major challenges for this, and we have a phenomenal production planned as well. We're really stretching ourselves to make this happen, so, yes, I do think it will be a milestone for all of us. I hope it's not the last milestone."
By John Soltes / Publisher / John@HollywoodSoapbox.com
Pride and Prejudice will play April 21-22 at the McCarter Theatre in Princeton, New Jersey. Click here for more information and tickets.