INTERVIEW: Vangeline Theater wants audiences to 'Wake Up and Smell the Coffee'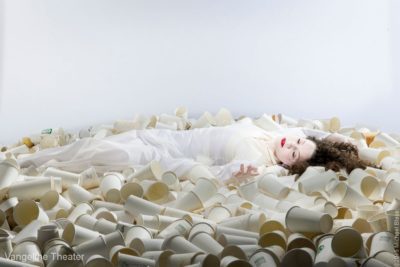 Vangeline Theater, the dance company headed by artistic director Vangeline, will present a special eco-centered show April 20-22 at Triskelion Arts in Brooklyn. Being that this weekend is Earth Day, the show seems perfectly timed to engage audiences on their environmental impact and carbon footprint.
Wake Up and Smell the Coffee: Butoh for Waste Prevention sets out to explore the amount of garbage that is created by coffee cups around New York City. This will not be a monologue show or play or musical. Vangeline is an artist who utilizes the unique art form of butoh, an avant garde dance that originated in Japan. Her company is comprised of female dancers who honor the traditions of butoh and also reinterpret them for a 21st-century audience.
"Butoh is an art form that originated in the 1950s, and it's a very controversial art form still today," Vangeline said in a recent phone interview. "It's called the dance of the subconscious, dance of the unconscious, so it deals with all the stuff that we don't want to deal with, basically all the things that we repress and are uncomfortable with. So I thought it was very fitting to deal with garbage, in particular coffee trash. All these coffee cups never get recycled and are taken away, whisked away from us into landfills where we're not aware that they're sitting there for the next 500 years, so the piece is an ensemble piece that I've directed and choreographed with eight dancers. But it pretty much deals with the subject of global warming and the dangers of non-recyclable waste."
The company's members began the dance project by traveling around New York City and collecting used coffee cups. They gathered approximately 1,500 items, cleaned them and will now use the cups for the set of Wake Up and Smell the Coffee.
"We're dancing actually in the set of cups," she said. "The used cups, the collected garbage is really one of the dancers in the show, one of the elements that we [put] predominantly there, and it's also to show people that this is something that we're generating. It can't really be avoided."
The fact that coffee consumption can produce so much trash was a personal revelation for Vangeline, especially since she and the dancers are avid coffee drinkers. When she found out the amount of non-recyclable material that is wasted every year, she felt compelled artistically to tell a story and engage the audience.
"It was also quite an experience to go around New York and collect garbage from the garbage can and clean it," Vangeline said. "It was really profound for most of us because it's not an experience that most of us have. We have garbage collectors, and we don't deal with the garbage. But once you go and you pick it up and you clean it, it's an act of responsibility of trying to acknowledge the problem or take responsibility for the problem."
The piece has been in development for three years, which is par the course for Vangeline Theater. When they create their evening-length butoh pieces, they explore several themes and try a variety of artistic choices. Wake Up and Smell the Coffee first premiered in 2015, but the 2017 piece is much more polished by the ensemble.
"There's a craft involved, and decisions about timing and the craft [have] to support the narrative," Vangeline said. "There's about 12 tableaus and vignettes in the show, and I really took the time to develop each one of them. … You want to have an impact, and you want to present having a responsibility to the art form butoh as well, to the craft of butoh. So it's a dual responsibility."
Butoh's origins in 20th century Japan were controversial, mostly because of the topics that the art form attempted to address. It earns its moniker as an avant-garde dance form.
"Historically it's always been really exploring themes that are a little bit taboo," Vangeline said. "The aim of the performance was not just shock value. It was not just to shock people, but like a mirror, like a societal mirror and mirror back to the audience and the public an aspect of our psyche, of our lives that we don't want to look at. So I think that historically has always been part of butoh."
Some of the topics of a butoh performance include aging, illness, the environment and sexuality. It is worlds away from ballet, for example, in how it presents dancers and defines aesthetic. "I think the aim is to really say we are vulnerable, and maybe we move through life trying to make a show of power when really we're all pretty vulnerable inside," Vangeline said. "So it's an acknowledgement of our vulnerability as human beings."
For Wake Up and Smell the Coffee, Vangeline hopes the audience walks away with some education along with their artistic appreciation.
"When people will enter in the lobby, there's a mini video that will be playing that explains why we're doing this," Vangeline said. "We have reusable cups that people can purchase, or people can bring their own cup and get coffee. The message is, I hope, people can be empowered to take action. … People feel helpless and disempowered in front of a problem like trash or the environment. In general, in modern life, people feel pretty overwhelmed. In our daily life, we can make a very small action every day, a very small choice. … That small action can have a ripple effect and have really great consequences on the ecosystem and the planet, and also I think it can give people a sense of pride and empowerment."
By John Soltes / Publisher / John@HollywoodSoapbox.com
Vangeline Theater will present Wake Up and Smell the Coffee: Butoh for Waste Prevention at Triskelion Arts at 106 Calyer St. in Brooklyn, April 20-22 at 8 p.m. Click here for more information and tickets.