INTERVIEW: Hunter Foster brings his 'Million Dollar Quartet' to NJ's Paper Mill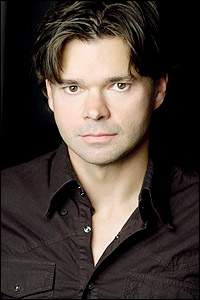 Broadway star and Tony Award nominee Hunter Foster is well known to audiences for his many musical theater roles in New York City. From Little Shop of Horrors to Urinetown to Hands on a Hardbody, the shows that Foster has starred in have been numerous and diverse.
For the past few years, Foster has been digging deep into one of his last Broadway outings. Million Dollar Quartet tells the true story of Carl Perkins, Elvis Presley, Johnny Cash and Jerry Lee Lewis, and how they met in December 1956 for a legendary jam session at Sun Records in Memphis. In the original Broadway cast, Foster played producer Sam Phillips who helped put this "Million Dollar Quartet" together.
When Million Dollar Quartet comes to the Paper Mill Playhouse in Millburn, New Jersey from March 29 to April 23, Foster won't be in the role of Phillips. Instead, he'll be the man responsible for the entire show. This production of the hit jukebox musical happens to be directed by the Broadway star, and this behind-the-scenes role is a career change that Foster has taken to and excelled in over the last few years.
"I had been directing Million Dollar Quartet a few times," Foster said recently in a phone interview. "Actually I'm directing it currently in St. Louis at the St. Louis Rep, so with my relationship with Paper Mill, I reached out to them and said I would love to bring my production to Paper Mill. And they thought it was a good idea. That's sort of how it all happened, so it'll be my sixth production that I've directed."
Foster is fascinated by the show because it depicts one of the milestones in the beginning days of rock 'n' roll. Without Phillips, it's hard to believe the decades after this jam session would have been the same musically.
"When he discovered these artists and then when he was doing all these recordings, it's sort of like the beginning of rock 'n' roll," Foster said. "Carl Perkins influenced the Beatles, and Jerry Lew Lewis influenced Elton John. And Elvis obviously influenced a host of artists all the way to Michael Jackson. … You really see the origin, almost like ground zero, of the music that we know today. There really wasn't that much of that kind of stuff before it, and Sam really created something. They call him the father of rock 'n' roll, and it's really true."
Foster grew up a fan of Presley's music, and his grandfather was a big Cash fan. Hearing this early rock and country music in the house left a mark on the young Foster, who was living in Georgia during those years. "There's a real southern success story here," he said. "It's about these four guys. A lot of them, especially Carl and Jerry Lee and Elvis, were poor. They came from nothing, and they were able to turn that into success."
Foster has seen audience members become emotional at the show because these four singers represent more than their hit songs. The show, while still exuberant and upbeat, has an indelible quality of bringing people down memory lane, sometimes to their youth, sometimes to images of their parents and grandparents.
"There's a famous picture, which the whole show is based on, in which you see them when they're in their 20s, and they have their whole lives ahead of them," Foster said. "We know all the troubles and all the things that came about. Elvis died young, and the troubles that Johnny had and Carl had and Jerry Lee. There's something interesting seeing them as kids. I find that to be a great story to see these kids in their prime before all the success."
When Foster sits with his actors before a production, he reminds them that the show is not an impersonation revue. There are recognizable tunes, for sure, and these include "Blue Suede Shoes," "Great Balls of Fire," "Walk the Line," "Whole Lotta Shakin' Goin' On" and "Folsom Prison Blues." But Foster wants the actors to dig deeper into the characters.
"The one that doesn't ring true is when you see people who are just playing these people as opposed to bringing their own sense of self," he said. "What we remember is different than what it actually was, if that makes sense. So how we remember Elvis or remember Jerry Lee is very different from the actual people in a lot of ways, and we each have our own experience of remembering who those people were. And so I say it's better for us as actors to have an essence of who these people were but not to do an impersonation. I think that's when it rings false. Still bring yourself. People will come, and they'll believe. If we do it in a truthful way, people will believe that this is who these people were. I feel like that will ring true at the end when they see the picture and have an emotional experience. That's the big thing with me. I don't want to have anyone giving an impersonation. I want them to be truthful and honest and to bring a bit of themselves into these characters as well, and that, to me, rings true."
Foster gravitated to directing because he was always fascinated by the creative process when performing his acting roles. He loved being in the room during rehearsals and collaborating with writers and directors.
"I didn't realize that I wanted to do this until four, five years ago when I started doing it, and I realized oh my God," he said. "Not that I don't enjoy performing, but I think the love that I had of performing was more about putting everything together. That sort of translates to directing because now that I've been directing, I can make creative decisions, and I can be involved. … I love putting all those elements together and having a real clear vision of what I want. And that, to me, is just really, really fulfilling in a way that I never thought it would be. Again I'm not taking anything away from performing, but it's something that I never really knew. But probably a part of my love of acting was being part of the creative process. Now I'm able to go even further with that because now I have a creative say on how shows are being done."
By John Soltes / Publisher / John@HollywoodSoapbox.com
Million Dollar Quartet, directed by Hunter Foster, will play the Paper Mill Playhouse in Millburn, New Jersey, March 29 to April 23. Foster will take part in an on-stage conversation before the March 29 performance. Click here for more information and tickets.