INTERVIEW: Klezmer-rock band Golem are ready to get married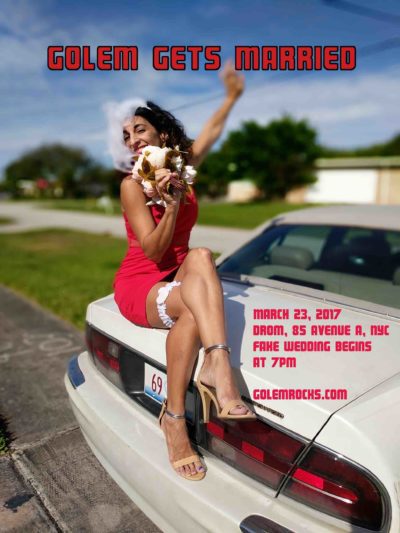 You are cordially invited to a Jewish wedding ceremony Thursday, March 23 at 85 Avenue A in New York City. If you don't know the bride or groom, no worries. If you never received an invitation in the mail, no worries. If you are nervous about which cousins or distant relatives you might run into, no worries.
This is a wedding for everyone.
Klezmer-rock band Golem, featuring the musical talents of Annette Ezekiel Kogan, Aaron Diskin, Jeremy Brown, Curtis Hasselbring, Taylor Bergren-Chrisman and Tim Monaghan, are combining their two professional loves — playing wedding gigs and rocking out at concerts — into one evening of rousing entertainment, catchy songs and plenty of wild fun.
The show, coined Golem Gets Married, is a one-of-a-kind event, and Kogan is excited to see how it turns out.
"We usually play concerts basically in rock clubs and festivals and all kinds of venues, but this one is different," she said recently in a phone interview. "It's more of a performance art meets music event, so we're putting on a fake wedding. We're going to have a Jewish wedding ceremony with a bride and groom who will most likely be a drag couple, and so we're going to have our ceremony music. … Then we're going to have some wild hora dancing, picking up the bride and the groom and the chairs and that whole nine yards, and then for the rest of the night, it's going to be a wedding dance party. And we're going to play our own Jewish eastern European music mixed with rock covers and all other kinds of genres that we usually play at weddings but never play in public."
Kogan founded Golem 17 years ago in New York City, and they continue to offer unique interpretations of Yiddish and eastern European music. They've taken their tours to France, Germany, Poland, Sweden and Mexico, in addition to many cities across the United States. Their albums have included Homesick Songs, Fresh Off Boat, Citizen Boris and Tanz. Kogan serves as both vocalist and accordionist for the band.
"We do play weddings a lot, so I'm always wanting people to hear how we have these great versions of rock covers," she said. "I was always kind of looking for some possibility to be able to play those out in public, but I was actually reading a book about the Jewish hotels in the Catskill Mountains that were flourishing the '50s and '60s. So that was where many Jews from New York City would go spend the summer. I had no idea about this, but a lot of the hotels on Labor Day weekend at the end of the summer would put on a mock wedding with the bride and groom in drag and a fake rabbi. And everything was really fun and funny, a lot of drinking, and it was kind of a way to bring the summer to an end. And I thought, well, we need to do like a 21st-century version of this."
When Golem creates their fake wedding March 23, there will be some authenticity to the proceedings. Because the band plays actual weddings, they are familiar with the ceremony music, and their songs will cut across many traditions, from Israeli to Orthodox to eastern European Klezmer. There will also be some James Brown and Van Halen covers thrown in for good measure.
"A lot of research has gone into that, not for the fake wedding, but for the real weddings, and usually when we play concerts in rock clubs, we play our more rocking, danceable songs that are on our albums," Kogan said. "So it's actually not only a chance for us to play our rock covers, but it's a chance for us to play also our very traditional acoustic eastern European music."
When Kogan founded Golem, she had it in mind to bring some songs from the 19th century and early 20th century to an audience in the 21st century. She wanted to infuse them with a rock sensibility, and, in many ways, she has realized her original dream.
"People of all ages and backgrounds, not only Jewish, come to us and say that they really feel some rapport with our music," she said. "A lot of musicians hate to play weddings, but I find it a very important part of what we do because it's not just playing music on a stage where people pay money to come and hear it. It's like music in an organic situation, which is creating the emotions and the event itself, so I think it's important to also play music in that organic way."
Kogan grew up playing classical piano, but she wanted an instrument that fit better into a band. She eventually transitioned to the accordion because it has a set of keys on one side. Plus, the instrument allows the band to further explore eastern European music. "I love the sound, and I love how it can be a one-man band and play melody, harmony, bass, rhythm, the whole thing," she said.
For Golem Gets Married, which will also feature special guitarist Brandon Seabrook, Kogan hopes that concertgoers will enjoy themselves and show up dressed as if attending a wedding, but there's also a deeper side to the evening. "I do want people to learn something about the Jewish wedding traditions because I think they're really beautiful, and a lot of people, including a lot of Jews, don't know that much about them," she said.
By John Soltes / Publisher / John@HollywoodSoapbox.com
Golem, with Annette Ezekiel Kogan, will present Golem Gets Married at Drom, 85 Avenue A in New York City, on Thursday, March 23 at 7 p.m. Click here for more information and tickets.