INTERVIEW: Cosplayers bring their creative best for new Syfy series
Cosplay Melee, the new Syfy reality series, is set to premiere Tuesday, March 21 at 10 p.m. with some of the best and boldest cosplayers on the convention scene. They will compete head to wookie head and stand toe to Gorn toe.
One of the contestants is Justin "Fred" Reed, a professional war game miniature painter with more than 20 years of experience. The United Kingdom native, who grew up loving Judge Dredd and Doctor Who, spotted an announcement for the series on a replica prop forum on Facebook. He showed the post to his wife, who, in turn, encouraged him to apply. He put in an application, but he never thought there was a chance of winning a spot on the competitive series.
The TV experience was a culmination of years of cosplaying and costuming for Reed. "It was awesome, quite frankly, and I've been describing it as being the ultimate three-day con crunch with some new friends in the best equipped hotel room on the planet," Reed said recently in a phone interview. "Time becomes an issue, but it really was fantastic. They gave us everything that we needed to get the job done and made it as easy for us as they possible could."
Each week, Cosplay Melee will see four contestants create detailed and lavishly creative costumes and also work on their characterizations when cosplaying, which is a comic-convention term for a fan who not only looks the part but acts it as well. The contestants are judged by a panel of professional cosplayers and costume experts. Yvette Nicole Brown from NBC's Community hosts the series.
"You go there without a great deal of knowledge of what to expect, particularly with a first season, so I went there with maybe a half dozen different ideas covering science fiction, science fantasy, anime, robots, very basic plans that I thought that I could adapt to whatever they threw at us," Reed said. "Then when you actually get there, you get a more specific idea that you can narrow it down to. We were given space operas, which is a huge genre in its own right. … Star Trek, Star Wars, Stargate — think of anything with a huge number of seasons, and that fit. And I latched on to the idea because just before I went out, I actually got to see the second Star Trek movie with Kahn in it, and that's where I went. I went into the background story of Star Trek because you have to come up with something original, so I actually came up with the idea of one of Kahn's gene brothers. So I set my character right back in the beginning of the Star Trek universe during the Eugenics Wars on Earth."
Reed said he is nearly 50 years old, which means he was born shortly after Star Trek: The Original Series aired on television. He has loved science fiction ever since he was a child. In particular, he was fascinated by Star Wars, Star Trek and Doctor Who.
"You go back into my childhood, costuming wasn't really a thing, but making model airplanes and making model tanks was," he said. "That was something that I shared with my father, so we would sit down and do that together. That was, I think, the start of my journey for being creative. Then later in life I worked for a company that manufactures war game miniatures, and so I started to learn how to paint those and do them in small details. Part of what they encouraged us to do in the store was to make replicas of the props and the weapons from the miniatures to put them on display."
After Reed moved from the U.K. to the United States, he fulfilled his dream of attending an American comic convention. One day, he decided to travel to Atlanta for the annual Dragon Con, a place that's like "Nerdy Gras" or "Nerding Man," as Reed put it.
"I was just overwhelmed by the work that was being done by people, and I was like, I have to get in on this," he said. "That's where [my wife and I] both fell in love with it, and that was eight years ago. And we haven't looked back since. We've got a garage full of costumes and various suits of armor, all produced by the pair of us because the wife and I work as a team. She does a lot of the design concepts and the arty stuff, and she does all of the seamstress work. And I do hard props and armor plating."
Today, Reed cosplays as much as he possibly can. He attends most of the conventions in a 200-mile radius of his home, and that means he's cosplaying approximately once a month. Traveling to some of the larger conventions in New York and San Diego can be cost prohibitive, especially when transporting a large and elaborate costume.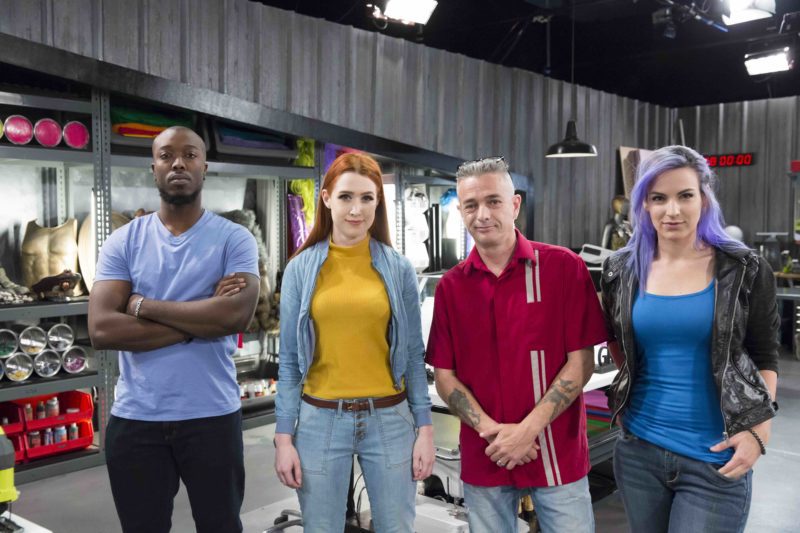 He has many highlights from his time at comic cons. Two memorable ones from Dragon Con come to mind:
"I decided to make a steampunk Bender from Futurama," he said. "So I'm walking around in this enormous brass Bender, and it's made out of a trashcan and a pole and a whole bunch of plastic. And it actually looks pretty spot on. Now I didn't realize that John DiMaggio, who is the voice of Bender, happened to be in the Hall of Fame when went in there in it. He spotted me, leapt from behind his table and took loads of photographs with us, tweeted them, was fairly enthusiastic about it and joined us in a drink from the bar, which I actually had fitted inside my chest. That was very, very cool. The second one was getting shushed by Nichelle Nichols, being told that I was being too enthusiastic, and she kissed me on the top of my head and told me to go on my way."
That Nichols encounter was a bit of a series mashup. Reed was in the general signing area because he was talking up Trenna Keating, who played Doc Yewll on the series Defiance. His enthusiasm for the character's makeup was so loud that Nichols, who played Uhura in Star Trek: The Original Series, apparently found that the enthusiasm was interfering with her line. Reed said the experience was all in good fun: "She was lovely," he said of the legendary actress.
Reed admitted that he's not sure he wants to make cosplaying a career. He didn't try out for the Syfy series to receive a job offer. He creates these costumes and characterizations because he enjoys building the artistic pieces and spending quality time with his wife.
"There are plenty of times when we have sat at opposite ends of the dining table with her end, which is ordered and lovely and laid out perfectly, and then there's my end, which I like to call a creation explosion," he said with a laugh."Occasionally she just picks up a ruler and shoves it all back on to my side."
Reed also doesn't see the series or the world of cosplaying as cutthroat and overly competitive. He cherishes the camaraderie with his fellow cosplayers much more than trying to win a contest against them. "We were all there working together but also working against each other, and there were plenty of times when people dropped what they were doing to help the other person," he said. "I know for a fact that the people that were there with me feel the same way. I would not want to win a competition if I did it at somebody's expense by watching them fail when I could have helped, and the vast majority of the community is like that. There is shared space. There is shared knowledge. Most people are super supportive."
By John Soltes / Publisher / John@HollywoodSoapbox.com
Cosplay Melee will premiere on Syfy Tuesday, March 21 at 10 p.m. Click here for more information.