INTERVIEW: Comedian Carrot Top still tops after 30 years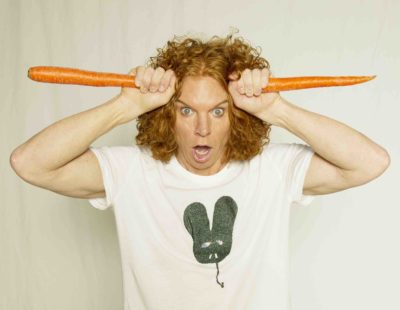 Carrot Top may be one of the smartest, most successful brand ambassadors of all time. The standup comedian is instantly recognizable for his clever jokes, hilarious routines involving a multitude of props and that iconic red hair.
Nowadays, Carrot Top has set up his prop shop at the Luxor in Las Vegas, headlining a comedy show in the famed venue for more than a decade. It's rare when he leaves the desert and heads to the East Coast, and that's why his March 19 date at the State Theatre in Easton, Pennsylvania, is so special. Tri-staters don't have to purchase a ticket to Vegas to see the entertainer; he's bringing Vegas to the local area.
"It's going to be awesome," Carrot Top said in a recent phone interview. "It'll be a nice reunion in a sense. I used to play Easton on our schedule back in the day every year, sometimes twice a year, and then we got the gig in Vegas. And it's kind of kept us there for 11 years."
If audience members haven't caught a Carrot Top show since his last time in eastern Pennsylvania, they will notice his act has evolved and changed since those early days. He's also throwing in some unique jokes and gags for this road show.
"I'm putting together a thing called Carrot Classics, and it's going to be a throwback to all my stuff from when I first started, like in the late '80s," he said. "It's kind of a cool little retro throwback, and some of the stuff, which is kind of funny, still plays. It's relevant. I mean, it works, and some of it you can tell that it's a 1986 kind of thing. So it's going to be a lot of fun."
Carrot Top is one of the top draws in the comedy world. Few stand-ups can say they've been going strong for more than three decades. Fewer can say they have a successful residency in the entertainment capital of the world. Fewer still have the instant recognizable factor that Carrot Top commands.
"When I started I never thought that I would have any success really to be honest," he said. "I never ever thought this long down the road that I would still be performing and doing things. It's awesome."
One of the largest career shifts in Carrot Top's 30 years of performing was when he signed on the dotted line for that long residency at the Luxor. He remembers the day he was presented with the offer, and he had some hesitation. He said it wasn't an easy decision because he was used to playing Vegas for a couple of weeks and then heading on the road to different venues.
But since those early days 11 years ago, Carrot Top has grown into his shoes as an above-the-marquee draw on the Strip.
"It used to frustrate me I think because Vegas crowds are such a diverse, all-over-the-map kind of thing, and not necessarily those who come to your show are fans," he said. "Like when I go to Easton, Pennsylvania, I think people are planning to go see me, and I know they got a babysitter. They know what they're in for in a sense. Whereas in Vegas, a lot of times they're like, well, we couldn't get into Celine Dion, so we'll go see Carrot Top. When they asked me to consider signing it, I was very reluctant. I remember thinking about it for a long while, and then finally I said, 'OK, I'll sign on.'"
The first contract was for a few years, and then the performer added a couple more, then five more. Now he will hit the 15-year mark in a few years.
"I'm very, very, very grateful and happy that I did make that decision," he said. "When I started back then, it wasn't like it is now where everybody wants a room. … Britney Spears and Ricky Martin, Cher, everybody that you can think of now wants to play Vegas. It's like become the new thing. Not that when I started it was like not the thing, but people used to make a joke: Once you start playing Vegas, you go there and die kind of thing."
Whether he's on the road or performing at the Luxor, Carrot Top is always writing new jokes and creating new props. His shows have always been a hodgepodge of techniques and styles, though he's probably most beloved as a prop comedian.
"I don't do a lot of political stuff," he said. "I made a joke: I had a really odd crowd last night. And it shows me doing a joke, and then it cuts it to the Congress where half of them are standing and half of them are staring at me. That kind of thing would be a current event that I would put in the show, and probably depending on the shelf life of it, sometimes it might last forever. … Or you bring it back every time there's one of those speeches kind of thing. … I just made a new joke last night that [Donald] Trump is like having a new puppy. You wake up, and you're like, all right what did you do now?"
The comedian keeps any political jokes silly, light-hearted and always in good fun. He ha never seen himself as a Bill Maher or Dennis Miller, so he keeps the deep social commentaries to the other comics. He's also conscious of the fact his audiences are often split down the middle politically, and he doesn't want to alienate one side or the other.
THE BEGINNING
Comedy for Carrot Top began at a young age, AND it gained steam when he was attending Florida Atlantic University in Boca Raton, Florida. He remembers his first prop was when he had a sign for the Neighborhood Crime Watch in his dorm room. "Everybody that came would always laugh and go, 'That's funny. Where'd you get that?' I said, 'I stole it,' and everybody laughed," he said.
When he started working with props and performing in those early days, he realized that branding himself was a good idea. He developed the name Carrot Top (his original name is Scott Thompson), and he actually had a logo before he even had an act. "All the other comics were like, 'What the f—, you don't even have an act,'" he said. "I said, 'I know. I have a logo, so the hard part is done. I've got that.'"
After the Neighborhood Crime Watch joke went over so well, he grabbed a sign for Butts Road, an actual road in Florida. There were plenty of one-liners from that one. "I had six or seven sign jokes," he said about those early days. "The lady that booked the club said, 'I love that. You should try to come up with more of that.' So I kind of just went back in the dorm room, and I just started thinking visually of things that would be funny."
Carrot Top said he grew his red hair out because he was surfing at the time, but those red locks became part of his image as well. So shortly after starting, he already had the look, the logo, the brand and the fulfillment on his college degree in marketing.
"I've been very blessed to have a long career and also a big fan base that continues to want to come out to see the show, so it's been great," he said. "It keeps me motivated to keep doing the show and have fun with the show. The fact that I'm still doing it kind of motivates me more than it did back in the day."
By John Soltes / Publisher / John@HollywoodSoapbox.com
Carrot Top will perform at the State Theatre in Easton, Pennsylvania, Sunday, March 19 at 7:30 p.m. Click here for more information and tickets. Click here for more information on Carrot Top.