REVIEW: 'Ugetsu' finds village potter being seduced by mysterious princess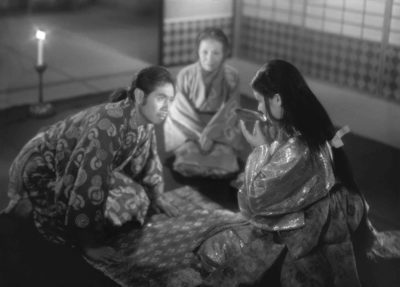 Ugetsu, director Kenji Mizoguchi's classic 1953 drama, has one foot in the real world of 16th-century Japan and another foot in the unexplained world of the supernatural. Both of these extremes mess with the desires, circumstances and ultimate redemption of the characters in this wonderfully layered and artfully introspective film.
Masayuki Mori plays a potter, Genjurô, a man who can turn out exquisite bowls and vases for his buying customers, but Japan's civil war has thrown his business and his personal life into a whirlwind. The audience first sees him enjoying the peacefulness of village life, but the idyllic image is soon upturned when marauding troops head into town looking to capture the women and kill the men. Mori's character stays close to his kiln, recognizing that the oven, where his latest output is being made, is his only chance to jump classes and leave poverty behind.
In many ways, Ugetsu is a meditation on class warfare as much as it is about actual warfare. Mori's character is someone who will risk life and limb to not only save his family but his business interests as well. He is personally affronted by this civil war and its willingness to destroy his money-making art form.
Genjurô eventually is forced out of the village and on to a canoe with his wife, child and two friends, one of whom wants to become a samurai in the same way Genjurô wants to jump classes. The five of them head for the promised land on the other side of the lake, away from the warring marauders and into a busy marketplace for Genjurô to sell what pottery he was able to salvage.
In this new and busy town, Genjurô has an unusual customer who buys many of his wares. Machiko Kyô plays Lady Wakasa, a mysterious princess who is attended to by her dedicated nurse. Genjurô is smitten by the beautiful and reserved princess, and he is ecstatic that his pottery has found such a wealthy and impressive patron.
When Genjurô is invited back to Lady Wakasa's residence, the mystery deepens, and the village potter finds himself a far, far way from home and perhaps reality.
Throughout the 97-minute drama, Mizoguchi and his cinematographer, Kazuo Miyagawa, are able to hold the eyes of the viewer with sumptuous, sweeping visuals that highlight the countryside, the marketplace, the eerie lake and the simplicity of village life. The set pieces are expertly rendered, and the scenes featuring dozens of extras are gargantuan in scale.
The acting is unanimously excellent, the type that draws the audience in with its bold flourishes and quiet moments of contemplation. Mori, in particular, is a giant of a performer, someone who is able to convey the hurt of this village potter and his lost ambitions, but also showcase his wonderment over attaining an audience with a legendary princess. He rolls through many emotions, all of them real and backed with that one thought in mind: I need to escape this poverty.
Ugetsu, which recently played New York City's Film Forum in a new 4K restoration, is one of the best Japanese films of the 20th century, a visual document that can easily stand with the greatest of Akira Kurosawa's oeuvre.
By John Soltes / Publisher / John@HollywoodSoapbox.com
Ugetsu (1953), directed by Kenji Mizoguchi, stars Masayuki Mori, Machiki Kyô, Kinuyo Tanaka and Mitsuko Mito. Rating:




Click here for more information.