REVIEW: Broadway's winter offerings soar, fall, explode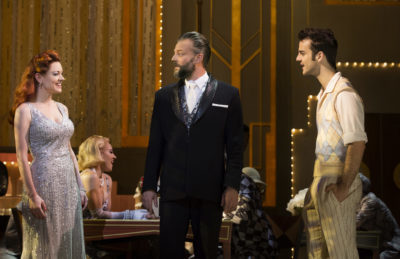 NEW YORK — Broadway shows over the past couple of months have been a mixed bag. The theatrical community has bid farewell to some top-notch productions, including The Color Purple, and also ushered out some less-than-stellar shows, including The Front Page.
Here's a sampling of what Hollywood Soapbox has experienced:
Aladdin — Disney has creatively accomplished a lot on Broadway. The company's The Lion King, directed by Julie Taymor, still draws thousands of people on a weekly basis — and for good reason. Memories of Beauty and the Beast, Newsies and Mary Poppins still linger, while other memories (Tarzan, The Little Mermaid) are hopefully going to be repressed. The latest Disney production on Broadway is Aladdin, based on the hugely successful film. This musical will surely run for years and years, and that is thanks to the first-rate cast members who bring Aladdin, Jasmine, Jafar and the Genie to life eight times a week. The actual musical is a ho-hum affair. Except for the brilliantly staged "Friend Like Me" and "Prince Ali," the show fails to soar, and that's a tough reality for a musical with a flying carpet.
The Color Purple — When the remount of The Color Purple hit Broadway, there was a fair number of head-scratchers. It had only been a few years since the original production played the Broadway Theatre, so skepticism was high for the John Doyle import from London. Those skeptics were proved wrong. This scaled-down, high-impact revival captured everything this wondrous musical could be. Cynthia Erivo's Tony-winning performance will now be entered into the pantheons of Broadway history as one of those moments of sheer power and resilience. The show closed in January.
Holiday Inn — Irving Berlin's music should always be on Broadway. It swings and sways in all the right places. The sweeping melodies and toe-tapping rhythms have kept several jukebox musicals afloat, and that includes Roundabout Theatre Company's recent premiere of Holiday Inn. Kudos to Bryce Pinkham, Corbin Bleu, Lora Lee Gayer and Megan Lawrence for spinning a heartfelt tale of love and warmth at a new musical-centered hotel in rural Connecticut. The production had one too many parallels to White Christmas, which has played Broadway before, but there was enough fun and pizzazz to go around. White Christmas 2.0 is better than no White Christmas at all. The show closed in January.
Oh, Hello on Broadway — It may surprise theatergoers to know that perhaps the best production so far this season has been thanks to a comedy duo making their Broadway debuts. Nick Kroll and John Mulaney, comedians extraordinaire, brought their funny characters Gil Faizon and George St. Geegland to the Lyceum Theatre for a hilarious show that included gut-busting monologues, trips down memory lane and even celebrity guests. At my performance, Alan Cumming joined Kroll and Mulaney on stage for a quick episode of Too Much Tuna, Faizon and Geegland's interview show that includes not only the canned fish but plenty of riffs and one-liners. This one deserves a return engagement. The show closed in January.
The Front Page — All of the elements for a quality night at the theater were in place for the recent revival of The Front Page. The cast had star wattage like no other production on Broadway. Forget Glenn Close. Forget Josh Groban. Forget Patti LuPone and Christine Ebersole. This revival featured — take a breath — Nathan Lane, John Goodman, John Slattery, Jefferson Mays, Holland Taylor, Sherie Rene Scott, Robert Morse, Dylan Baker, David Pittu, Dann Florek and Christopher McDonald. The cast performed the three-act comedy by Ben Hecht and Charles MacArthur with dedication and poise. They tried their best, but the material fell flat more often than it stung. Watching these journalists work in Chicago amidst a saga of a man facing the death penalty never felt immediate or fresh. In a time when press freedom is so much of the moment, the play felt oddly stale. The show closed in January.
Jitney — August Wilson is one of the most important and talented playwrights in history, and his decalogue of dramas documenting the African-American experience in the 20th century is a crowning achievement that will give back to theatergoers for generations to come. Although Jitney cannot be ranked among his best (like Fences or Joe Turner's Come and Gone), the recent Manhattan Theatre Club production turned out a smart and affecting production thanks to director Ruben Santiago-Hudson. The talented cast included John Douglas Thompson, André Holland, Brandon J. Dirden and Anthony Chisholm, among others. The drama, set in a Pittsburgh taxi company, can feel uneven a bit, but at the center of the narrative is a powerful story of a father and his son, a common theme for Wilson's plays. The show closed in March.
The Present — Cate Blanchett, Richard Roxburgh and the Sydney Theatre Company have done justice to an early Anton Chekhov drama, which has been updated, modernized and retooled by Andrew Upton. The original Platonov by Chekhov probably didn't feature a Talking Heads soundtrack, but the heightened familial drama is very much in the Russian playwright's wheelhouse. The occasion of the play is Anna's 40th birthday, which has prompted a family party in the old country house. Revelations emerge. Secrets are divulged. Explosions — not only the metaphorical kind – rock this extended family and their understanding of love and their shared history. Blanchett and especially Roxburgh are in fine form. It's a gift for theatergoers that Sydney Theatre Company has become such a powerful force in the theater world.
Cirque du Soleil: Paramour — Cirque du Soleil has changed the world of performance for the better. Their many productions have amazed audiences with dazzling theatrics, death-defying acts, transfixing music and creative costumes. Their debut on Broadway is Paramour, a throwback show that honors the glitz and glamor of early Hollywood. The show works as a fun evening at the theater, but it never reaches the same heights as the big-top creations from Cirque du Soleil. The original songs, sung by an able cast, are catchy and alluring. The dancing is infectious and fills the large stage at the Lyric Theatre on 42nd Street. The actual circus acts, which are nicely blended into the overall narrative, earn oohs and aahs from the crowd, but there have been better sequences in other shows. In fact, the climatic scene in Paramour plays out on a trampoline set that seems like it was borrowed from Cirque du Soleil's now-shuttered Iris in Los Angeles. Also, it would have been nice for Cirque's Broadway debut to sidestep Hollywood and have a story that focused on an ingénue looking to make it in Midtown Manhattan.
By John Soltes / Publisher / John@HollywoodSoapbox.com