INTERVIEW: Larry Kirwan remembers Irish history with songs, stories, plays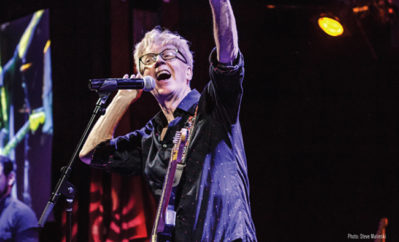 Larry Kirwan, founder and frontman of the legendary Black 47, has kept busy in the years since his band retired in 2014. One look at the musician's March calendar can prove that statement true.
He's gearing up for a collaborative concert on St. Patrick's Day at B.B. King's in Midtown Manhattan. On the docket are The Pogues' Cáit O'Riordan and Black 47's Chris Byrne, among others.
On March 30, Kirwan will present Ireland — A History in Song at Bergen Community College's Ciccone Theatre in Paramus, New Jersey. His new play will also soon premiere at Irish Repertory Theatre in New York City. Rebel in the Soul begins previews April 12.
There's also a book, an upcoming tour of Ireland, a documentary and so much more for the multi-hyphenate who has been creating music for decades and shows no sign of stopping.
"I've always seen history as being a story because that's the way we learned in Ireland, and with Black 47, the band that I was with for 25 years, quite a lot of the songs dealt with events in Irish history," Kirwan said recently in a phone interview. "So I wrote a book not too long ago called A History of Irish Music, and it occurred to me, after I wrote that and people liked it, that it would be a good idea to put on a show."
Kirwan's musical exploration at the Ciccone Theatre begins in 1169 when the English invaded Ireland. Oddly enough, they invaded through Kirwan's hometown of Wexford, on the southeast corner of the island.
"So history really started there because it was the closest spot to England and the closest spot to Europe," he said. "I equated the story of Irish history with the story of my town and with the story of my grandfather, who raised me and who pretty much passed on all his knowledge of Irish history to me. So, yeah, I deal with it right from the beginning, but then I do a lot with the history of the Irish in America and how they happened to come here through the potato famine and how they changed America, too. So it's not just a history of Ireland either. It's a history of Irish America to some degree."
Although Kirwan's concert experiences have a fair dose of history and politics, he doesn't like the label "educational." After all, he's a rock 'n' roller, and there's nothing that would put fans to sleep quicker than a music-infused lecture. Instead, Kirwan presents an idea, and if people are attracted to the concept, they can find out more details after the concert.
"I never see it as educational, more as opening a door or opening up a window, so that people can take a look in," he said. "Most people have no idea of where they came from, and that was one of the things I found really moving as Black 47 traveled throughout the country was that people had gotten to these places through their forebears but didn't really know anything about their forebears or where they came from. And in a certain way, I set out to change that, more to point them in directions than anything else. A song is always three, four, five, six, seven minutes long. It's kind of a glimpse at something. It's not a book, or it's not a play where you can really develop everything. But it's a glance at something."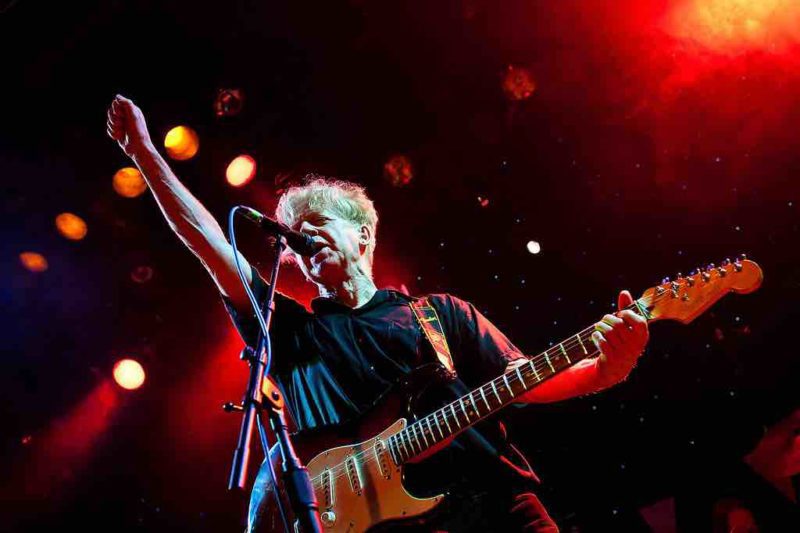 Kirwan's artistic energies have always been diverse and cut across many platforms. However, for a quarter of a century, much of his focus was on his band, Black 47. The Irish rockers tore up dance halls in New York City and around the world, exporting their unique combination of numerous genres. They recorded a host of records, appeared on national television and held down residencies throughout the Big Apple.
"I miss the guys," Kirwan admitted. "I don't miss the band because I felt that the band had done what it really could do in that 25 years. We played 2,500 gigs and did 16 albums, and we changed the way Irish Americans look at music because we brought back funk and reggae and hip hop and all those different elements into it — and, you know, made it more of an American music, which is what I was always interested in. I loved the 25 years that we did."
Today Kirwan has much more of a "life goes on" attitude. He's keeping busy with plays, musicals and songwriting. There's even a documentary about Black 47's remarkable run. Fanatic Heart, which is also the name of a Black 47 song, recently premiered.
"It was a great world because we just brought so many different types of people together and opened up that musical world to a lot of people," he said. "We never saw ourselves as an Irish band really. We saw ourselves as very much an American band that was playing Irish music sometimes but combining it with a lot of other types of music. We were adventurous. We had a lot of fun mixing different genres and putting across different social and political messages at the same time."
The political part of Black 47 and Kirwan's oeuvre cannot be understated. A closed fist is often the image of the band, and one look at the band's album and song titles can offer some hints of their socially charged lyrics: Iraq, Trouble in the Land, Fire of Freedom.
"I saw change as being a really good element and moving things forward, and you can really move things forward by looking backward and seeing what happened," Kirwan said. "We always saw that, say, for instance, with the Irish situation, that the only way it was going to solved was when the U.S. got involved in it. That wasn't an original idea. Irish leaders from Michael Collins, Éamon de Valera, Charles Stewart Parnell had the same idea, so we were just moving it up into modern times and getting Irish Americans to put pressure on their representatives. And eventually it worked out when President [Bill] Clinton took a real interest in it, in the peace process, and that wouldn't have happened if Clinton hadn't got involved. And Clinton wouldn't have got involved if different Irish-American groups, like Black 47, put pressure on politicians, but, yeah, I was very involved politically and still am. I don't see music and politics as being separate as some people do."
Kirwan's Wexford upbringing didn't include many musical instruments in the house. His grandmother did have a piano, but the real musical influences came from the street, where people would sing as they walked around.
"It was a small town, Wexford, but it had about 15,000 people, so you were only one degree separate from the other 14,999," he said. "You either knew them by sight, or you knew someone who did know them. And it seemed to me that everyone liked music back then. People would whistle if they weren't singing."
Wexford being a seaport, music was not only present but diverse. The sailors would bring back tunes from their ocean adventures, and a young Kirwan was there to listen intently.
"My own father was a sailor," he said. "He introduced me to calypso and to tango music, so when reggae came out, I instantly knew how to play it. It was just part of my DNA from listening to calypso and tango, but then there was all other types of music. There was a lot of opera and light opera, and then of course rock 'n' roll was just everywhere. Partly because of Wexford, too, being so close to London, young people from Wexford went there to work and brought back 45s of Gene Vincent and Eddie Cochran, people like that. … You could feel rock 'n' roll in the streets of Wexford, and then, of course, there was a huge Irish traditional thing of just so many Irish traditional songs that everyone knew. And there were rebel songs, so I guess the rebel songs were probably my first influence of political songwriting."
When the Beatles exploded onto the scene, everyone in Wexford seemed to be in a band, so Kirwan followed suit. At the time, there were "show bands" that would pack crowds into dance halls. They would play covers of radio tunes, and the musicians would need to know how to play in every key.
"I think that was a big musical influence," he said. "If you're playing guitar in a garage band, you tend to play in the same E or A or whatever for rock 'n' roll, but in these bands, it would be brass players. So you had to play with brass, and that was a big influence also when it came to performing in Black 47 and having a trombone and a saxophone."
Kirwan concluded: "I guess what I'm saying is you're the sum of your experiences in the long run, for better or worse."
By John Soltes / Publisher / John@HollywoodSoapbox.com
Larry Kirwan and Friends will play B.B. King's Friday, March 17 in New York City, and Kirwan will present Ireland — A History of Song Thursday, March 30 at the Ciccone Theatre at Bergen Community College in Paramus, New Jersey. Click here for more information and tickets.