INTERVIEW: Gloucester fishing comes into focus on new season of 'Wicked Tuna'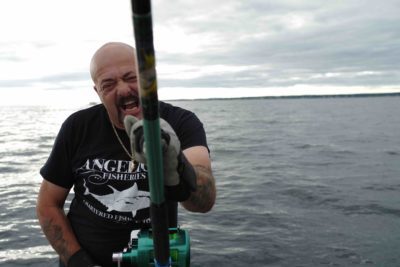 The captains of Wicked Tuna, Nat Geo's top-rated reality series, return for a sixth season Sunday, March 12 at 9 p.m. The cutthroat show about angling off the coast of Gloucester, Massachusetts, pits captains and their boats against each other in a no-holds-barred search for the largest tuna. And that's largest in terms of size and profits.
Among the returning captains are Tyler McLaughlin of the Pinwheel, Dave Marciano of the Hard Merchandise, TJ Ott of the Hot Tuna, Paul Hebert of the Wicked Pissah and Dave Carraro of the FV-Tuna.com. They might be friendly on land, but in the open, choppy waters, they are competitors with the final prize in mind.
Hollywood Soapbox has spoken with several of the captains over the years, including stars of Wicked Tuna's spinoff, Wicked Tuna: Outer Banks. Check out our coverage here.
Recently, Hollywood Soapbox spoke with Marciano about the upcoming season and the bounty of fish that actually changed the angling for everyone. Answers have been edited for style and brevity.
On what audiences can expect on the new season …
"They can expect a lot of excitement. Obviously I can't say who caught what yet, but they wrapped up filming six weeks early this year just because the fishing was so good. When they get done with spinning that in the editing room, you can expect a lot of excitement and a lot of competition. … It was one of the best years I've seen in a long time, at least in decades anyway."
On why the fishing was so good …
"It's a combination of environmental conditions. Plus what we got going for us is the health of the resource. Ever year the stock is getting stronger and stronger and larger and larger, and that's definitely helping things out on the fishing grounds."
On the cutthroat competition …
"We're out there competing for fish. These fish are worth money. Even though we do try to get along as boat owners, ultimately the elbows get up because these fish are worth a substantial sum of money, but the bottom line is at the end of the season, or when it's going into next year, we all make it a point to not carry grudges. … Well, for me, it's real simple. It's a paycheck. We need to get this fish. We need to make that paycheck. … When we're out there fishing, we're spending around $500 a day just to go try, so if you have a lot of days where you don't produce, you can go backwards real fast."
On watching the show with his family …
"For our family, every Sunday night is like Super Bowl Sunday at my sister's house. We all bring a bunch of food. I come over, and my siblings come over. And my parents come over, and friends of the family come over. We cook a bunch of food, and we watch the new episode. … I do enjoy it, but I'm realistic. It won't last forever, and while it's here, I guess I look at it as we're very fortunate. It's definitely been the opportunity of a lifetime. We're doing things that we never imagined doing, and walking through doors that I never imagined walking through."
On Wicked Tuna's continued appeal to audience members …
"I think it's a combination of number one you've got the production company, Pilgrim Productions, who take the raw footage of what they get in the boat, and they're the ones who decide how to assemble it all together and make it good TV. I think it's a combination of characters that we have. I think if it were any one of us, the show would get real boring real fast, but with that cast of characters they assembled, I think it does the show justice. It's like major league sports. Everybody's got a team they root for, and everybody's got a team they hate."
On the camaraderie of the captains …
"One thing we know for sure is, in a sense, we're all brothers. We're all out there working to make a living. We all have the end goal in mind. Everybody has the right to be out there trying to make a living, and even though tempers flare and arguments may happen because these fish are worth money, at the end of the season, we all know we're all going to be back at the beginning of next season. So it doesn't do any good to carry grudges through."
By John Soltes / Publisher / John@HollywoodSoapbox.com
Wicked Tuna returns to television Sunday, March 12 at 9 p.m. on Nat Geo. Click here for more information.