INTERVIEW: Mia Borders balances between happy songs, breakup songs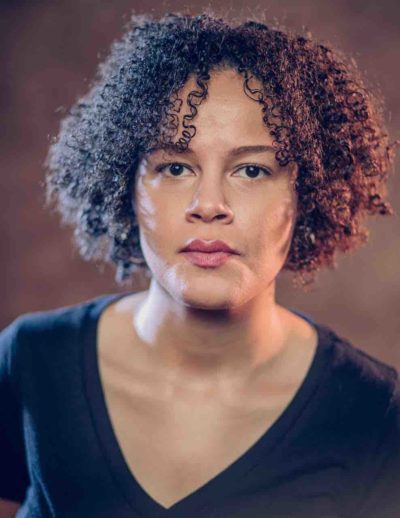 New Orleans singer-songwriter Mia Borders is looking to expand her musical horizons in 2017. She hopes to take her songs farther from her hometown of New Orleans, breaking into untapped markets, playing venues she's never rocked yet and maybe returning to Europe and South America for tours. Borders wants more, and only a fool would bet against her.
Last year, the singer released Fever Dreams, a 10-song album that features R&B, soul, funk and rock. Songs such as "Cool Breeze," "We Got It" and "Sand/Stone" show the musician's versatility and musical talents.
"I wanted to make an album that was more of a feel-good album, which to me just means more happy songs than breakup songs," Borders said in a recent phone interview. "I don't actually know if I accomplished that. I tend to just veer toward the heartbreak stuff, but it was a conscious effort in terms of experimenting with different sounds. My drummer and I are both into more experimental stuff, and so we kicked files back and forth in this different vein."
Fever Dreams is a creative departure for Borders, especially after 2013's Quarter-Life Crisis, which was produced by Anders Osborne. Knowing Osborne's music, it should come as no surprise that Quarter-Life Crisis was heavy on the rock sound. Borders appreciated that style at that time in her life. "Emotionally that's where I was," she said. "That helped me get a lot of stuff out, but with this record, I wanted to do something that's more reflective of what I enjoy listening to, which is R&B and hip hop and soul. And so I went into the project knowing that that's the kind of record I wanted to make."
The difficulty of pinpointing one style for Border's oeuvre is a byproduct of New Orleans. The Louisiana city is known for blues, jazz, funk, rock, zydeco, Cajun and soul, and many musicians, including Borders, sprinkle a little of each genre into their recordings.
"I've never really tried to put myself in one category," she said. "Other people do. It's very easy for somebody outside New Orleans to just say, oh, she's a jazz singer, which is very weird and inaccurate, but, I mean, I like doing a little bit of everything, mostly because I listen to a little bit of everything."
When performing live, which Borders does extensively, the singer enjoys being outside at large, open-air festivals. She'll find a few of those in New Orleans, for sure. In fact, she's scheduled to appear at this year's French Quarter Fest in early April.
Other times, she can be found singing in more intimate clubs and concert halls. She recently had a residency in Key West, Florida, and regularly holds down sessions at NOLA venues like Chickie Wah Wah, Three Muses and The Rusty Nail.
"Those open-air festivals have always been a favorite of mine, but at the same time, we're starting to do smaller stuff on the side," she said. "That's really fun, too. You get to interact more intimately with audience members and do some more crowd work and stuff like that, and so it's a lot of fun. But I just love being outside."
Borders grew up with an appreciation for music. Her family took her to Jazz Fest in New Orleans, which was one of the only family-friendly opportunities in town for so-called adult music. Bourbon Street and Frenchmen Street probably wouldn't have cut it.
"Music was always playing in the house, whether it was a radio or record player," she said. "Even just being from New Orleans, it was always a part of our curriculum at school. Everybody had to be in the choir, and I think most schools down here are like that. It's where we come from. It's how we're raised, and so for a few of us that are lucky enough to make it a profession, we get to share a little bit of New Orleans with everybody else."
After college, when Borders was considering another academic degree or continuing with music professionally, she came to a crossroads in her life. When gigs started picking up, and her schedule grew busier, she committed herself to the music profession and hoped it would pay the bills.
"I have a long tattoo across both of my arms, and so that was when I got that to confirm that this is what I was going to do because my other option was going to law school," she said. "I wouldn't want to be a lawyer with these tattoos. That was my commitment."
On her arms is tattooed a quote: "It's better to die standing than to live on your knees."
That commitment has paid off, but there are still times when the gigging gets rough. If she goes a few days or weeks without a concert, she starts to question herself and that decision she made. "I start prioritizing which bills need to get paid first, but, for the most part, I do appreciate the fact that I'm very lucky," she said. "Not every musician gets to call it their full-time profession, so I try not to take that for granted."
Borders said when she made the decision to play music professionally, it was always going to feature her singing and playing guitar. However, there was a third part to the dream as well: dancing. Borders said she wanted to be the next Janet Jackson, but now she's focused solely on that voice and that guitar.
"I've always wanted to play guitar since before I could play guitar, when I was stuck playing piano," she said. "I knew I would eventually pick up a guitar, and I felt comfortable as soon as I did."
She added: "I totally respect musicians who can just stand up on the stage and ask for requests and just play whatever people yell out to them. Sometimes I really wish I could do that, but I wouldn't be emotionally satisfied because writing, whether it's a song or an essay or a screenplay or short story, it's just a part of who I am. It's what I've always done, and so that's a really big part of what I do. And even when we do covers, they're songs that mean something to me, and I'm able to reinterpret in a personal way. But I think there's definitely room for all of us. I've enjoyed many a cover band show down here. I'm in awe of bands like that."
When Borders began her career, she was more of a long-term planner. She had goals for herself like performing on television and being on the cover of a magazine. "Once those things started to get checked off the list, I think I became preoccupied with the present," she said. "Every once in a while, I have to reset and realize that I need to set up my calendar for the rest of the year, but, for the most part, it's just a day-to-day thing."
By John Soltes / Publisher / John@HollywoodSoapbox.com
Mia Borders will play several concerts in the coming weeks, including French Quarter Fest in New Orleans. Click here for more information.