INTERVIEW: Artists celebrate Women's History Month with 'Yes We Can!' at Ceres Gallery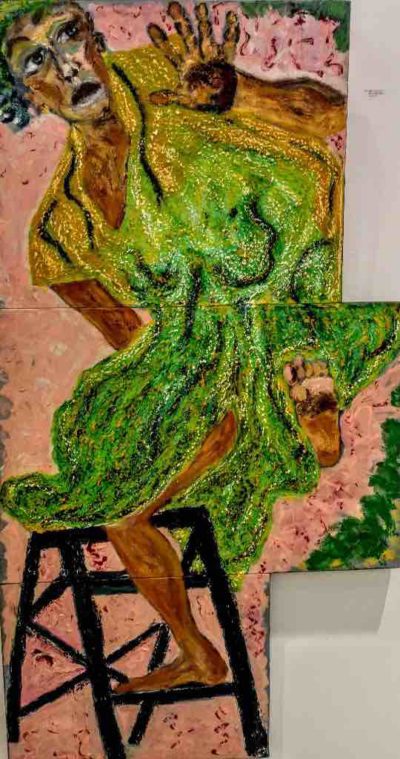 Mixed media artist Ruth Bauer Neustadter is not letting Women's History Month go without making a profound statement through her artistic expression. She has convened a group of artists for a special evening of dance, music, theater and poetry. Yes We Can!, featuring dancers Claire Porter, Nai-Ni Chen and Lynn Needle, will take place Wednesday, March 15 at 7 p.m. at the Ceres Gallery in the Chelsea neighborhood of Manhattan.
Bauer Neustadter will also perform that evening with dancers from the Center for Modern Education. They will bring to life the choreography of Elissa Machlin.
Audience members can also expect music from oboist Marsha Heller, English horn player Sarah Devol, songwriter and guitarist Rhonda Schuster and actress-singer-keyboardist Beth Falcone. Felted sculpture by Susan Kaplow will be on display next to pieces by Bauer Neustadter.
The evening promises to be 90 minutes that showcase the talent, diversity and power of female artists during Women's History Month.
For those who enjoy Bauer Neustadter's art on March 15, there's also the chance to take in her new exhibition, Go Figure, which is on display at the Ceres Gallery through Saturday, March 25.
Recently, Hollywood Soapbox exchanged emails with Bauer Neustadter about her artistic approach, her dedication to Women's History Month and her use of mixed media in Go Figure. Questions and answers have been slightly edited for style.
What is your hope for the Yes We Can! program on March 15?
March is Women's' History Month. It is my hope to show the importance and value of the arts and the power of women in the arts in our society. Through the visual arts, dance, music, voice, theater, poetry, we can express issues of great importance. During this period of political upheaval, there is such a need to voice opinions, as well as release emotions, which are pent up in so many of us. Women have a particularly powerful way of expressing themselves. Through the arts, we can share these strong feelings with others. 'Yes We Can,' 'Si se puede,' was a slogan coined by Cesar Chavez in 1972. Chavez, a farm worker, educator, environmentalist and a civil rights leader, was the original force behind this slogan.
It is my hope that women will be moved to action in whatever way suits them. What that action is depends, of course, on the woman. At the very least, there will be joy and awe in the room, things we need much more of these days.
What went into the curation for the evening? Were you hoping for diverse voices?
As an artist, I travel in the world of the arts. My first art form was dance. It was easy for me to find wonderful women artists in various areas of the arts. We have a wonderful, diverse program of classical music, folk music, modern dance, poetry and theater all related to women's issues.
In Go Figure, you use recyclable materials. What was your motivation for using these materials?
I love texture, and I've been an environmentalist my whole adult life. Every morning, I go for a walk and find debris, junk and thrown-away objects, which call to me. I collect them and make art pieces using them in my paintings. The recyclable materials can have very poignant messages. People are always asking questions about what they see in my work.
Your work features a wonderful combination of art, dance and other forms. Do you find that your dance history informs your art, and vice versa?
Absolutely, yes. The texture is a part of the choreography of my paintings. In addition, I developed a method of combining canvases together to form interesting shapes. I paint figures on these multiple canvases. The result is movement, a kinesthetic response and a need to move around the painting.
At what age did you realize artistic creation was going to become a passion in your life?
I was born into a very gifted artistic family. At an early age, I closed my bedroom door to be alone and create art. I started dancing at age 7 and never stopped.
By John Soltes / Publisher / John@HollywoodSoapbox.com
Yes We Can!, which is free and open to the public, will be presented Wednesday, March 15 at 7 p.m. at the Ceres Gallery, 527 W. 27th St. #201, in New York City. Go Figure by Ruth Bauer Neustadter is on display at the Ceres Gallery through Saturday, March 25. Click here for more information.