INTERVIEW: Experience Harry Potter's magical story with the NJ Symphony Orchestra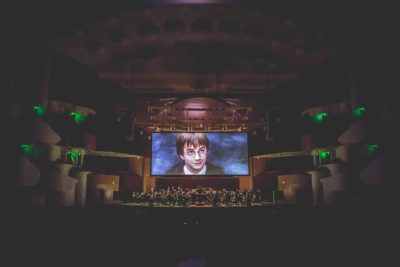 The New Jersey Symphony Orchestra will team with CineConcerts for a landmark event that brings to life the blockbuster film Harry Potter and the Sorcerer's Stone. The iconic movie of magic and wonderment will play on a 40-foot screen while the orchestra plays every note of John Williams' memorable score. The sweeping compositions will fill the New Jersey Performing Arts Center Saturday, March 11 at 2 p.m. and 7 p.m.
For those who want to continue the saga, the band is getting back together again for the second part in the wizard series. Harry Potter and the Chamber of Secrets will play Saturday, Oct. 28 at the Garden State venue. The NJSO is staying busy because they will also offer encore performances of The Sorcerer's Stone at Radio City Music Hall March 31 and April 1.
The wizard behind the curtain on these performances is not Harry or Dumbledore. It's Justin Freer, president of CineConcerts and producer/conductor of the Harry Potter films. His company has broken the mold on these cinematic experiences, giving the live treatment to such franchises as Star Trek, It's a Wonderful Life, Breakfast at Tiffany's, Gladiator, The Godfather and others.
Recently, Hollywood Soapbox exchanged emails with Freer about the upcoming performances with NJSO. Questions and answers have been slightly edited for style.
What is special about the Harry Potter films that make them a good fit for Cineconcerts?
The Harry Potter film series represents some of the beloved films in our craft. Add to that the wonderful music making involved in all of them, and we are given a fantastic opportunity to preserve and present these pieces of art in a very unique and immersive way. John Williams' music score to Harry Potter and the Sorcerer's Stone is, I believe, one of his finest. Just like JK Rowling's Wizarding World, the music is filled with so much magic, beauty, majesty and adventure.
What can audience members expect at a performance?
One of the many things that makes this concert experience incredibly unique is the ability to hear a live 90-piece orchestra breathing life into the film while the picture is simultaneously shown on a massive big screen. This kind of musical energy that can only be created by a live orchestra brings both a sense of power and connection to the characters, stories and emotions on screen that only live music can give us. Add to that being surrounded by thousands of other fans in the same hall, and the experience becomes a wonderfully communal one as well.
How challenging is the score by John Williams?
John Williams is a masterful composer, and he knows very well how [to] write for each instrument. So everyone in the orchestra is challenged with some rather difficult music to perform, but the end result is always rewarding due to the high quality of each piece of music through the film. I think the greatest challenge on stage for all [of] us, however, is maintaining synchronization to the film over the course of a 2.5-hour film.
What was your original idea when founding CineConcerts? Do you feel the company has met its original goals?
CineConcerts was founded with the idea of preserving and presenting some of the finest music in our literature. That much of it happens to be written for film is certainly a sign of the times we have lived in as musicians for now 90 years since the first "sound films" were released. I adore this craft of film music, and there is so much out there that is worthy of performance in this format. So I hope this genre will only continue to evolve in the coming years, so yes, I think we've met many of our original goals. And we continue to add other goals as we evolve and look forward to an evolving industry.
Your career has included everything from composing to conducting to playing a variety of instruments. When did you first realize that conducting was a path you'd like to explore?
I conducted my first professional concert when I was 16, so I've been exposed to that particular side of the craft for about 20 years, but much of those last 20 years have been spent composing, which is a craft perhaps most dear to my heart of all those in music. With the proliferation of these live to film concerts, I've dived back into conducting some, which comes with great challenges and humility, but I do miss composing and look to return to that some in the near future.
Is it difficult to move from one symphony to another on this Harry Potter tour? What's the rehearsal process like for each symphony?
Working with the local orchestras on Harry Potter and the Sorcerer's Stone in Concert is one of my favorite things of this whole endeavor. Recreating the energy of the score with a new group of musicians is a very exciting prospect and one which energizes me wherever we take this concert in the world. The rehearsal process is quite short actually, only two 2.5-hour rehearsals generally, which means we have a great deal of music to learn in a limited amount of time. So we all have to be on our toes throughout each rehearsal. Collaborating on this music with many of the great musicians in the world is a real pleasure.
By John Soltes / Publisher / John@HollywoodSoapbox.com
Harry Potter and the Sorcerer's Stone in Concert will play the New Jersey Performing Arts Center with the New Jersey Symphony Orchestra Saturday, March 11 at 2 p.m. and 7 p.m. Click here for more information and tickets.