INTERVIEW: Top comedians ready to stand up against domestic violence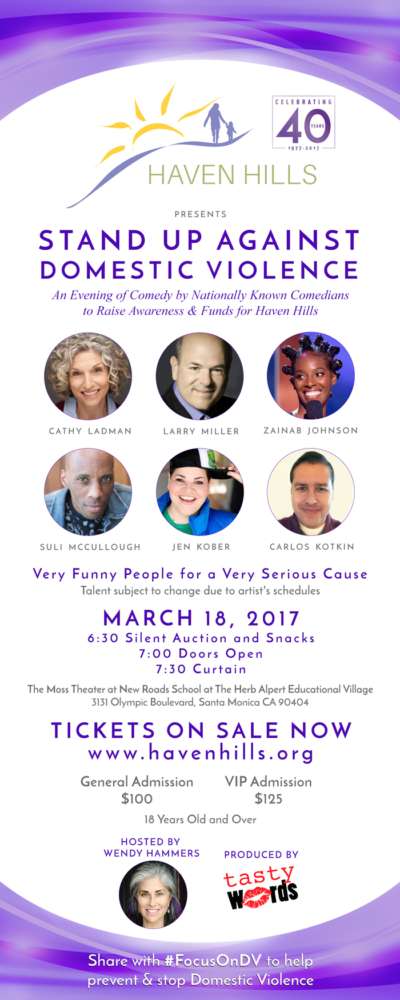 Haven Hills, one of Los Angeles' oldest and largest domestic violence organizations, has been helping victims and providing crucial services for four decades. To honor their 40th anniversary and extensive work on this serious issue, the organization is throwing a benefit fundraiser in Santa Monica, California, featuring some of the top comedians in film, TV and standup.
Stand Up Against Domestic Violence, produced and hosted by Wendy Hammers and her Tasty Words Productions, will take place Saturday, March 18 at The Moss Theater at New Roads School in Santa Monica. Ticket buyers can expect to see comedians Larry Miller (Pretty Woman, The Nutty Professor), Cathy Ladman (The Tonight Show, Charlie Wilson's War) and Suli McCullough (The Tonight Show With Jay Leno, Dying Laughing), among others.
"So we've been around for 40 years," said Iliana Tavera, executive director of Haven Hills in a recent phone interview. "We started in 1977 with a hotline for victims who were seeking services in the city of Los Angeles, and then slowly over the years, we've expanded to include a crisis shelter, which provides 30-day emergency housing for victims who are fleeing abuse. We also have a transitional shelter that provides 18 months of free rental assistance, housing for victims who are trying to transition out of their abusive relationships. Then finally we also have an outreach program, which provides support groups, individual counseling to victims who are dealing with the aftermath of domestic violence situations, and combined we serve well over 500 people a year through these programs."
Tavera said fundraising events like Stand Up Against Domestic Violence are crucial for organizations like Haven Hills. With a new administration in Washington, D.C., and questions over funding causing some uncertainty, the role of private donors has become even more important over the past few months. "With the new administration, we risk the loss of VAWA funding, which is Violence Against Women Act, which would be detrimental to domestic violence organizations across the country," Tavera said. "So events like this are really giving us a platform in which to not only raise money that night but also reach hundreds of new donors to Haven Hills that will help us, I hope, weather the storm in the next couple of years."
Hammers, who is a well-known comedian, actress, writer and producer, said that audience members can expect to be enlightened on the important issue of domestic violence during the beginning of the program. However, after the opening conversation, the microphones will be turned over to the talent for a night of good-hearted laughs. Hammers has personally selected the roster of performers, including such names as Jen Kober (Snap Judgment, The Mindy Project), Carlos Kotkin (Rio 2, Open Season: Scared Silly) and Zainab Johnson (All Def Comedy, Arsenio).
"I've sort of hand-picked the comedians based off people that I think are hilarious, also down with the cause and doing material that is good-spirited, that's going to lift people up and make them feel good," Hammers said. "I'm so excited about it. We've got nationally known comedians, and we're actually even adding a few surprise guests that are not listed. … I think everybody can agree that everybody could use a good laugh right now. Wherever you stand politically, it's a guaranteed laugh."
Hammers has become an expert in creating community with her many projects. Whether she's on stage performing or behind the scenes producing, the multi-hyphenate wants to throw parties for "like-minded souls."
"We really need to create community," Hammers said. "More than ever, we need to support organizations, and we need to take responsibility of how we can help because we can't always guarantee that our government will do it."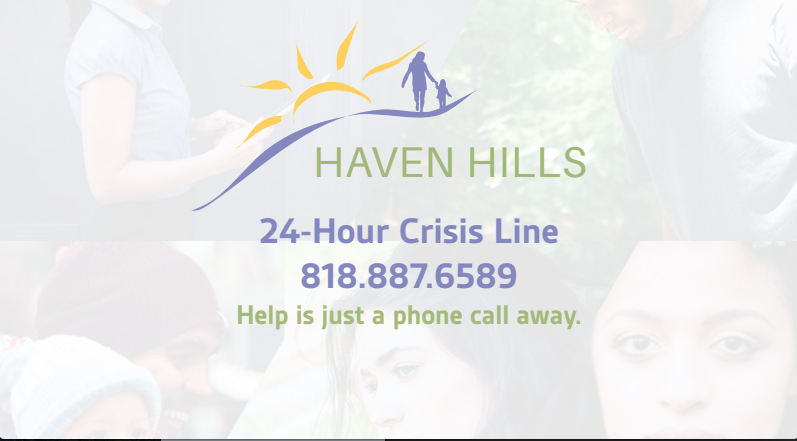 McCullough, whose new documentary Dying Laughing was recently released in theaters, on iTunes and on VOD, signed up because of the good cause and Hammers' "infectious personality."
"I saw what the cause was, and it made me even more secure in the fact that I'm lending my talents," McCullough said. "I do think we have a responsibility as artists and comedians to not only use our gifts for good but align them with issues and organizations that will do good in other areas, so I'm happy to be aboard."
Although the evening is built around a serious topic, the comedians are looking to offer some laughs for those in the room who are doing good. For McCullough, that's a noble endeavor. "I think that the parameters of comedy are pretty much the same everywhere," he said. "I think the good thing about supporting a worthy cause like this is everyone is coming there to do good, which is a great thing. And the comedy show allows you to just sort of relax and give yourself some laughs because you have done good, so I think you tailor your material a little differently than you would do in a nightclub but not that much."
Hammers echoed those sentiments. She hand-picked the comics (Paul Reiser and Wayne Cotter were previously on the bill) and chose performers who were "really talented" and not "going to do anything that's going to be opposed to what we're talking about."
She doesn't want the audience to feel like they're coming to a lecture or symposium. The evening is definitely a night of comedy; Hammers said it's a combination of fun and funds, raising money and raising awareness. Along those lines, the event will also feature a silent auction and giveaways. Tickets are $100-$125.
For Tavera, the evening will also be a chance for the organization to continue its 40-year anniversary, a time to be reflective on past achievements and future obstacles.
"Domestic violence has such a great stigma attached to it," Tavera said. "People don't want to talk about it, which is why, as we celebrate our 40th anniversary, we really wanted to showcase the effects of domestic violence not just on the victims but also on the communities in which they live. … In this country, we spend billions of dollars on supporting domestic violence issues, and when I say that, every year close to $1 billion is lost in productivity because people are taking days off to deal with domestic violence issues — to go to the doctor, to go to the hospital, to deal with court cases and things like that. That tangibly amounts to about 32,000 full-time jobs a year that are lost because of domestic violence. That doesn't add the amounts that are spent in social services and policing related to domestic violence. Just in healthcare costs, it's well over a billion dollars. That's mostly covered through private insurance plans that are sponsored by employers, and so this is an issue that is really affecting our pocketbooks."
She added: "But it's one of those issues no one wants to talk about, and so our job really is to go out there to hit the pavement to do events like this to really let people know what's going on and to help people kind of demystify it, to talk about it. And the more we talk about it, the more we'll learn how to find solutions to fix this problem."
McCullough also gave credit to the stand-up community for consistently and constantly stepping up to help with charities and fundraisers. His called his community of comedians "tight-knit" and "passionate, thinking artists."
"They like to align themselves with things that they believe in and things that do a greater good," he said. "I think there's a good that comes from making people laugh for a living. I think it's an honest and noble living, and I think you naturally gravitate toward doing good in other areas."
By John Soltes / Publisher / John@HollywoodSoapbox.com
Stand Up to Domestic Violence, a benefit for Haven Hills, will take place Saturday, March 18 at 6:30 p.m. at The Moss Theater at New Roads School in Santa Monica, California. Click here for more information and tickets.