INTERVIEW: Chicago comic store promotes diversity for Women's Comics Month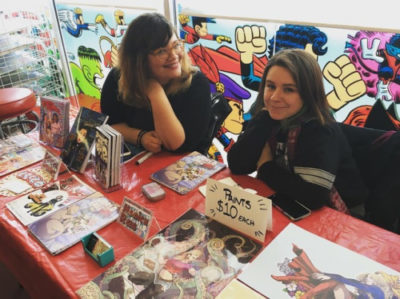 Challengers Comics + Conversation, located in the Bucktown neighborhood of Chicago, is celebrating Women's History Month by offering more opportunities for their customers to engage with female and non-binary artists. The store, which has won a Best Comics Shop award and the Will Eisner Spirit of Comics Retailer Award, has put together a month-long tabling event that finds different artists highlighted on different days.
The store's message is simple and clear: Comic-book lovers can still love the legacy titles that drive them to the store every single week, but it's worth exploring a new artists's work and taking a journey to both learn and be entertained.
They've rebranded, too. This is Women's Comics Month.
Among the names that fans can expect: Sara Kloskowski, Marie Enger, Andrea Bell and Rebecca Rothschild, among many others. Click here for a complete list.
Recently Hollywood Soapbox exchanged emails with the forward-thinking owners of Challengers Comics + Conversation, Patrick Brower and W. Dal Bush. Questions and answers have been slightly edited for style.
Where did this idea originate?
W. Dal Bush: After a 2016 where it seemed like the achievements of women were becoming more and more marginalized, we wanted to use March 2017, Women's History Month, to showcase the amazing breadth of talent from female and non-binary comic creators in Chicago.
Patrick Brower: The freedoms and rights of many people of our community are being threatened, but we want people to know that comics are still inclusive and can and SHOULD be for everyone. And BY everyone. To us, and to many others, comic books are a way of life, and they will always be there for you. We just want to remind people of that.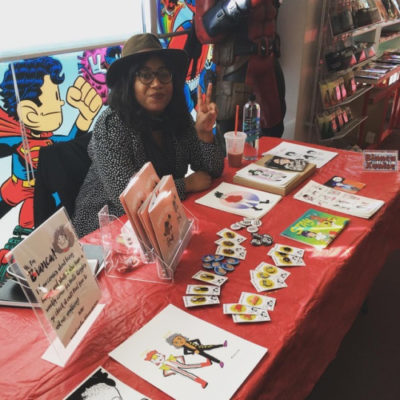 What went into the selection of the comic books and artists?
W. Dal Bush: We decided to throw the net wide, reaching out not only to creators who had appeared at Challengers previously, but to try and find folks we'd never worked with before. After an initial wave of invitations, we urged participants to suggest other Chicagoland creators. We wanted anyone who had a passion for the medium of comics to come showcase their work.
Patrick Brower: Aside from our own industry connections and knowledge of local creators, we also sought advice from Jon Drawdoer and the organizers of CAKE (the Chicago Alternative Comics Expo), Yeti Press co-publisher RJ Casey, Hooligan Magazine's Rivka Yeker and local creator Isabella Rotman. With all of their help we had a list of 60 creators we reached out to.
It is important to showcase and highlight female and non-binary artists. What does the reader gain from reading and enjoying a diverse array of comic titles?
W. Dal Bush: Any medium will grow stagnant without new voices, new perspectives, new experiences to share with the public. You never know who the next major talent will be, so it seems healthiest for comics to entice everyone to participate. It's our hope to not only affirm that the comics industry has a wealth of diverse talent, but to also open the door for every type of new voice imaginable.
Patrick Brower: In talking with some of the scheduled creators, a common theme was loving the medium of comic books but not finding comics that represented themselves, creating the desire, the need, to make them, thereby giving someone else the chance to read comics they can relate to.
What are you most excited about in the world of comics?
W. Dal Bush: More comics by more people, telling new stories for new audiences.
Patrick Brower: Being able to hand someone a comic/graphic novel/zine that they may not have known about but one that also opens their eyes or changes their world by speaking to them in a way they haven't been spoken to before; or just entertains them. We are excited by the limitless potential of comics and the tireless effort of those willing, needing to create them.
By John Soltes / Publisher / John@HollywoodSoapbox.com
Challengers Comics + Conversation, located at 1845 N. Western Ave. in Chicago, will celebrate Women's History Month and Women's Comics Month in March. Click here for a full schedule.