INTERVIEW: Paddy Moloney and The Chieftains celebrate 55 years of Irish music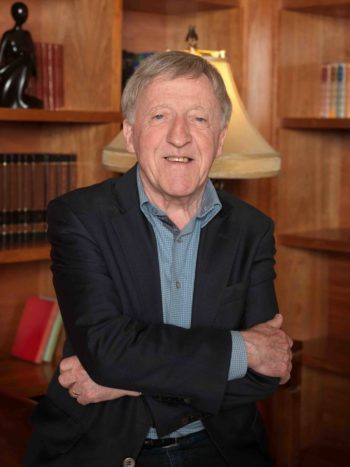 Every year, without fail, Paddy Moloney and The Chieftains head to the United States for a tour in the weeks leading up to St. Patrick's Day. They bring their unmistakable authenticity, their immense musical talent and infectious joviality to each and every concert.
This year is no different.
Moloney, who plays the uilleann pipes and tin whistle, is joined on stage by flutist Matt Molloy, Kevin Conneff on the bodhran and vocals, fiddler and dancer Jon Pilatzke, Triona Marshall on harp and keys, Alyth McCormack on vocals and percussion, Tara Breen on the fiddle on saxophone, guitarist Tim Edey and dancers Cara Butler and Nathan Pilatzke. Add to the mix a host of guest artists and local musicians, and by the end of a Chieftains concert, there's almost no room on stage for all the performers.
That's exactly the way Moloney likes it; he's a man with a collaborative spirit.
"People still love us," Moloney said recently in a phone interview. "It's quite an exciting show, and some of your local dancers will be joining as well. You can imagine at the end of the evening, how many people could we possibly have on stage."
Each new tour will bring new additions to the lineup. This year, The Chieftains are pleased to have Breen on stage. "She's in her 20s," Moloney said. "She's a beautiful girl, a fiddle player from County Clare, a unique style of playing and improvising, and she does a few steps as well. She does a bit of dancing, and at the end of show, she takes out her saxophone."
McCormack comes from an island off the west coast of Scotland, and Moloney said she has the "voice of an angel." The Pilatzke brothers come from Ottawa, Canada, and will offer the "Ottawa Valley style of dancing." Another guest artist, Jeff White, is a regular player with Vince Gill. Natalie MacMaster and Donnell Leahy will open the show and also join The Chieftains during the main set.
There are several themes that the band addresses throughout a concert. This year, they continue their commemoration of the 100th anniversary of the Irish rebellion of 1916. "That gave us our freedom after 700 years," Moloney said. "One of my favorite songs to do at that time that I learned in school is 'The Foggy Dew,' which we recorded with Sinéad O'Connor many years ago, but Alyth does a tremendous job at it and also helps out with the local choir."
That's right, in addition to the regular faces and guest artists, Moloney likes to invite a local choir on stage for a couple numbers. He'll continue this tradition when The Chieftains play the New Jersey Performing Arts Center Sunday, March 5 at 3 p.m.
Audiences can expect selections from the band's compositions for the movie The Irish in America: Long Journey Home. "That's usually with a symphony orchestra, which we won't have on this occasion," he said. "But we do a couple of the songs like 'Shenandoah' that Van Morrison sang and the anthem that Elvis Costello composed the words for. And we also touch on a little bit of poetry, W.B. Yeats, 150 years now for W.B. Yeats, and one of his great poems is 'Never Give All the Heart.' And I set that to music, which the choir sings as well. It's a little bonus treat."
Moloney is not finished. There's a little more room on the stage, so he also invites a pipe band to join them for the musical celebration. They will perform "March to Battle (Across the Rio Grande)" from the band's 2010 release with Ry Cooder, San Patricio. The songs explore the interesting and forgotten connections between Ireland and Mexico. The concept album describes "the battalion who fought with the Mexicans in 1847, and John Riley was the commander," Moloney said. "He came from Connemara in County Galway, and I'm afraid he lost that battle, too. But we demonstrate there is a pipe band in Mexico City, [and] I recorded them when I was down there. So we have a local pipe band come to play the 'March of the Battle.' Ry Cooder incidentally gave me a hand for that particular production, so these are some of the exciting moments and things that will be happening at the NJPAC."
When The Chieftains tour the United States around the St. Patrick's Day holiday, they don't like to keep the same setlist from year to year. Moloney strives to insert new pieces when he can. There will be some new selections at the start of the show, and there's also a six-minute clip of old photographs from the band's illustrious career.
REMEMBRANCES
Moloney formed the band in 1962 in Ireland. His goal was not only to showcase Irish music but also blend genres and find new ways to tell old tales. They have been going strong for 55 years, and over the decades, they have had too many highlights to count.
Audience members at NJPAC will be able to appreciate some of this history during the photographic montage. There are images of Moloney with Mick Jagger and the Rolling Stones, Tom Jones, Van Morrison and Sting. There is footage of a Chieftains show at London's Royal Albert Hall in 1975 and their stint on Saturday Night Live with John Belushi in 1978. There's one sad moment in Moloney's personal history as well: He was in the recording studio with Paul McCartney the day John Lennon was murdered.
Another video will display how far and wide The Chieftains' music has gone. In fact, it's traveled millions of miles. NASA astronaut Cady Coleman, a lover of Irish music and The Chieftains, took one of Molloy's flutes and one of Moloney's tin whistles with her to the International Space Station. "She sent us a video of herself in space sort of floating around and playing the whistle and playing this tune for us," Moloney said. "And we play it, but we also show a clip of it. As I usually say, 'If you don't believe me, have a look at this.'"
On occasion, Coleman will even join The Chieftains on stage.
The band's music might be based in Irish cultural traditions, but there's a diversity among the performers on stage and the audience members in the crowd. Recently, Moloney invited some local dancers to join the band, and there were several young performers from different cultural backgrounds showcasing their skills at Irish dancing.
"So you get a mixture," he said. "[We] try to make it make a big Irish party or an Irish hooley as we call it back home, but the mixture is there. When you think who all the people we've recorded with, and you see some of them on the video. … We've done an album with Van Morrison, Irish Heartbeat, and that album was one of the best we've ever done. We toured it for a whole year, in fact, and that opened up all sorts of doors for us, different countries, different places. And, of course, in 1983, we were the first band to play on the Great Wall of China, from the West."
They also head back to Japan in November of this year, and they will likely be met by their fan club based in Tokyo. There's even a group of young Japanese musicians in their 20s who play Irish music. They call themselves the Lady Chieftains. Moloney, as to be expected, usually invites them on stage.
GROWING UP
Love for music dates back to when Moloney was a young boy in Ireland some 70 years ago. Irish music and dancing were the only available options for entertainment. "There was no TV," he said. "There was hardly any radio. … The entertainment was amongst ourselves. My grandfather was a flute player. My mother played melodeon, and they all played and danced and sang. There was always some music going on almost every evening, and then my mother bought me a tin whistle when I was 6. And I taught myself how to play. When I was 9, I took to the uilleann pipes, the Irish pipes."
That first musical spark, when Moloney was given a tin whistle at age 6, has helped generate a career of exploring, honoring and redefining Irish music, and there's no end in sight.
"Although I'm getting on now in my 70s and that, I still have work to do," he said. "My grandson is 6, but when he was born, I composed a piece called 'Fionn.' It's for a symphony orchestra as well as for the band The Chieftains, and there's dancing in it. So we're going to perform that for the first time in Nashville, this world premiere."
He added: "I've got some positive things to do, and people are after me. There's a documentary incidentally on my life, and it includes my family. … I have a daughter in New York who is an actress. She has her own company called Fallen Angel, and she produces plays every year. She was in that production of James Joyce's The Dead, which was on there before and after Christmas. She couldn't get home unfortunately for Christmas, but she got a great review for her part in it. It's James Joyce's The Dead, but in addition to that, she reads Molly Bloom every year. And her performance of Molly Bloom, the entire performance she has recorded, and she roped me into putting in music for it. So that will be coming out before June this year. It's almost complete, so things like that keep you going. You have your kids to look after."
By John Soltes / Publisher / John@HollywoodSoapbox.com
The Chieftains will play the NJPAC Sunday, March 5 at 3 p.m. Click here for more information and tickets.