INTERVIEW: Darcy Malone on her 'Tangle' of music inspiration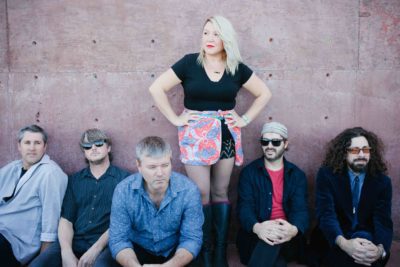 As the daughter of Dave Malone of The Radiators, Darcy Malone had a musical upbringing that brought her in contact with the best that New Orleans had to offer. She took that inspiration and ran with it, and now she's the head of Darcy Malone & The Tangle, a jamming band that strives to present multiple musical traditions during a concert.
Among her tangled brethren is Christopher Boye, guitarist for the band and Malone's husband. Other members include Craig Toomey, Jagon Eldridge, Billy Schell and JP Carmody. Audiences can catch them on a string of live gigs, including their opening set for Bonerama at Tipitina's March 17 and at French Quarter Fest April 6. Later in the year, she's heading to North Carolina, New Jersey (for Michael Arnone's Crawfish Festival) and New York City.
"Well, we have a lot of exciting things coming up actually," Malone said recently in a phone interview. "We are going into the studio this month, to a studio in the country, and we'll be recording with Ben Mumphrey whose done everything with the Pixies, the Breathers. He's worked with a lot of really great artists, and we're really excited. We're actually doing a little album of four songs, and we're excited about the sound of it. It's real, real funky, soulful rock, and it's super exciting for us."
When Malone sings on stage, the reaction from the audience is almost therapeutic for her. "I wouldn't survive without that," she said. "I love the whole feeling of it."
However, her musical love extends beyond the stage and includes the recording process as well. In the studio, her and the band are able to produce sounds that are tough to replicate on stage. It's also the hallowed space where creativity can take over. "We work really well as a group," she said. "So getting to feed off of each other's creativity and ideas in a studio is really, really special for us."
Before recording, Malone will often sing the songs on the road to see how audience members react. Sometimes after a song is played in front of a crowd, the band realizes it might not make the cut for the album. Similarly, tunes that they were shaky on before performing live suddenly take on a new life when the audience responds well.
"It's fun to play off of them, and we get ideas from that," she said. "We love spontaneity, so something might happen that maybe wouldn't have happened in the writing session. It comes from the adrenaline of being on stage, and then you realize, oh, we've got to put that in the recording."
It's not everyday that a wife and husband play in the same band, but Malone loves working with Boye. They were best friends and songwriting partners before becoming husband and wife, and they work well together, Malone said.
"There's nothing better than having the person that you deem your soul mate next to you at all times to create the thing that is your passion in your life," she said. "It doesn't really get much better than that. We have a son, and we bring him wherever we can go so that he can be part of that, too. But, you know, for me, that is a completely normal thing because I grew up that way. I grew up around music, the child of musicians."
Growing up as the daughter of a member of The Radiators makes for a unique childhood. Malone always took to music, but there was a time in her life when musical theater was winning out among her interests. She was comfortable being a background singer, someone who wasn't center stage. She also relished the chance to play a character.
"I guess a part of me in my mind did go, well, this is a way I can do this without looking like I'm trying to copy my dad, but in all actuality it just came to I really just love singing," she said. "Then when I started songwriting, I realized, oh wait, I do want to be just like my dad actually, and that's OK because he's pretty damn awesome. So I don't think I had any choice in the matter because in my heart it was always there. I have actually recorded tapes of me when I was a kid recording myself singing and playing every instrument in the house. It was always what I loved. It was always my number one."
It didn't hurt that Malone grew up in one of the musical capitals of the world. New Orleans supports its musicians, and so many different styles emanate from the streets. Malone has been a fan of just about all of them and finds her hometown an electrifying place to live and work.
"There are so many stories and so many experiences to have in this city that as an artist of any kind it just pulls it out of you," she said. "You can be completely wacky and try really weird things, and that's accepted here. New Orleans embraces that. For example, we went to Austin during Katrina because we just needed to be somewhere that was musical, and we went to Austin. And I love Austin. It's beautiful, and there's all these outdoor things that you could never do here. But we realized how important just being in New Orleans [was], and the soul of New Orleans really gets you going artistically. And I realized in another place, like Austin even, it just wasn't there. We couldn't find our creative outlet there. It was really interesting to have that moment of realizing how important New Orleans is for us musically, and I would encourage anybody who is a musician or an artist of any kind to at least come here for a month or two because you'll really get some cool experiences."
Malone's fellow band members is how the music sounds so varied and diverse. Malone, for example, has always taken to many different genres. Her father ensured she appreciated Motown and the Beatles. She eventually became enamored of soul, R&B, hip-hop, rock and new wave. Her husband was a skateboarder and brought an appreciation for garage rock like Nirvana, Dinosaur Jr. and the Pixies. Eldridge, the saxophonist, was once in a punk band and loves jazz. Toomey, the bassist, is a fan of the Gin Blossoms, Live and other alternative rock. Schell, the drummer, enjoys pop rock and classic rock.
"When you took all these different genres, it created our sound, which we consider to be very different from what you normally get in New Orleans, and we call it a tangle of genres," she said. "That's what it is. We're the Tangle."
By John Soltes / Publisher / John@HollywoodSoapbox.com
Darcy Malone & The Tangle will play several dates in the coming weeks, including French Quarter Fest in New Orleans. Click here for more information.