INTERVIEW: Rasputin reemerges in new indie rock musical, 'Beardo'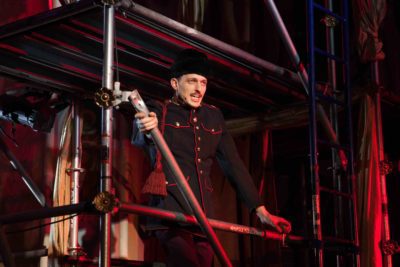 When a show is billed as coming from the minds behind Beowulf — A Thousand Years of Baggage and Natasha, Pierre & the Great Comet of 1812, audience members should expect some nontraditional theatricality. That's the case with Beardo, a new indie rock musical that tells the story of Rasputin, the infamous mystic who dabbled in ribaldry and irreverence like artists dabble in watercolors.
The musical, with book and lyrics by Jason Craig and music by Dave Malloy, is the latest production from Pipeline Theatre Company. Performances at St. John's Lutheran Church in Brooklyn run through Sunday, March 5.
In the show, Brian Bock plays Yusapoof, a noble at the court of the tsar. "I got attached to the casting director, who saw my showcase at NYU and has been calling me since then," Bock said recently in a phone interview. "I have no connection with Pipeline or anybody. I just auditioned, and here I am."
After making his debut with Pipeline, Bock realizes that the company is truly passionate about its projects. He said that the art motivates their actions. "That's a really rare thing in my experience to feel like nothing's taking a concession due to money or due to, I don't know, the right choice commercially," he said. "It all seems to be coming from the right place, which I think is rare and really exciting to be a part of."
Bock, who earned an MFA in acting from New York University, was cast in his role of Yusapoof before he truly understood what the musical was about. Once he learned they would be telling the infamous tale of Rasputin, he needed to do some studying. He knew the headlines of the mystic's life, including the unusual demise of the Russian icon, but acting in Beardo has been a learning lesson. For example, Bock was interested in digging deep on Rasputin's claim that one's sinning can lead to absolution, a conceit that the actor finds both "strange and interesting."
For the Yusapoof role, Bock feels like a villain from a iconic Broadway show. "I feel like Jafar, like Aladdin's Jafar," he said with a laugh. The actor's interpretation of the role is one of deep, dark hatred, but it's presented as comic, over-the-top hatred on the stage.
The show is challenging vocally. The songs are not traditional musical theater. Instead, they're better classified as indie rock tunes, and Bock needed to prepare. "I'm not one who is often called on to do musicals, so while Dave's music is incredibly challenging and beautiful, challenging should be underlined," he said. "The straight-up singing in a musical was a different paradigm for me, but most of the songs I'm involved in are really tight, strange, three-part harmonies with time signatures that change every couple measures. But when you get the groove of it, it's really funny."
Performing in a church has been a unique experience that has only heightened the material — literally heightened the material. "I don't know what I thought at first, but it really does heighten the event-ness of the play," Bock said. "It feels different than anything I've ever done. It feels heightened and almost like sacred. The vaulted ceilings and the peeling paint, I really am excited to perform there. It's fun."
When audience members walk away from Beardo, Bock hopes they have experienced the musical on multiple levels. "I hope they pee their pants laughing because there's plenty that's available for that to happen, but I guess there are some subtler moments in the script, like the last scene or Beardo's final song," he said. "Even just some of Jason's lines every now and then are just strangely aphoristic or profound, which, listening to it every night, I find very energizing."
By John Soltes / Publisher / John@HollywoodSoapbox.com
Beardo, a production of Pipeline Theatre Company, is currently playing St. John's Lutheran Church in Brooklyn through Sunday, March 5. Click here for more information and tickets.