REVIEW: Enter the world of James Turrell's light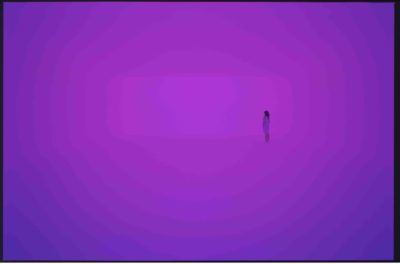 LOS ANGELES — No other contemporary artist explores and experiments with the possibilities of light like James Turrell. The much-feted artist, who has installations in museums near and far, has created works that challenge perception, play with depth, disorient visitors and offer a new interpretation of illumination.
At the Los Angeles County Museum of Art, Turrell is well represented. A few years ago he was the subject of a celebrated retrospective, and some of his pieces are still available for immersive, experiential appreciation.
Breathing Light, a "Ganzfeld," from 2013 is accessed at LACMA through a timed reservation made on the day of one's visit. After taking off one's shoes and placing on white, laboratory-like slippers, guests ascend a small staircase and enter into a curved world of trippy light schemes that subtly change as time progresses.
Depending on where one is standing, the effect of Breathing Light can be varied and unique. Standing closer to the entrance allows a fuller perspective of the oval-shaped room and its precipitous dropoff in the near distance. From this vantage point, there's a feeling of being like Amy Adams in Arrival, ready to communicate with another species, to enter into another realm, to travel on a different wavelength.
As visitors walk deeper into the space, the exit fades and the opening at the opposite end becomes a pulsating possibility of light. Pink dominates in the scheme, but if one waits long enough, many somber colors move in and out of the slowly changing landscape.
There's a smoky, ethereal effect of looking through this faraway portal. Like several of Turrell's pieces, depth is difficult to ascertain. It appears that if one walked off the ledge, there would be no safety net anywhere. There's a true sense of abyss, as if height, length and width no longer exist, as if a fall may be forever, as if gravity may be an afterthought.
A guard stands near the edge, only allowing visitors to get so close. No matter how hard one stares into the distance or stares along the edges, depth and perception are nonexistent. To orient oneself, turning around and seeing the safety of the exit is a necessity.
Another Turrell installation at LACMA — and this one requires advanced booking — is Light Reignfall, which can be found around the corner from Breathing Light. This experience is a solo exercise, and that means only a handful of visitors are able to take part on a daily basis.
The 11-minute immersion includes the signing of a waiver and the choice of two experiences: one with softer, less intense light, and the other with a harder, dizzying array of the spectrum. This reporter chose the more intense option, and what followed was a journey that could only be described as otherworldly.
A guest lies down on a padded board and then slides into a globe-like structure known as a "Perceptual Cell." Once inside, a light show begins and burns its way into one's eyes and one's memory. The changing scheme —less subtle than Breathing Light by, well, light years — doesn't hurt or annoy. If anything, it amazes while it disorients; it challenges the mind and the body simultaneously. If a guest closes his or her eyes, the intensity of the lights is still there as if there's no escape. Turrell called it a "behind-the-eyes" effect.
Looking left and right, up and down doesn't help gain perception. Everything on the inside of the globe is smooth and without blemish, so there's no sense of distance. In fact, this experience feels like one fell off the edge in Breathing Light. Maybe these two installations are connected, parts one and two. Breathing Light is the entrance hall to the mind of James Turrell, and Light Reinfall is what happens when one takes the trip down the rabbit hole.
By John Soltes / Publisher / John@HollywoodSoapbox.com
James Turrell's Breathing Light and Light Reignfall can both be experienced at LACMA. Advanced reservations, and a separate admission, are required for Light Reignfall, while a guest can book a spot for Breathing Light on the day of visit. Click here for more information and tickets.