INTERVIEW: Greg Gleason is ready to blow your mind in 'Masters of Illusion'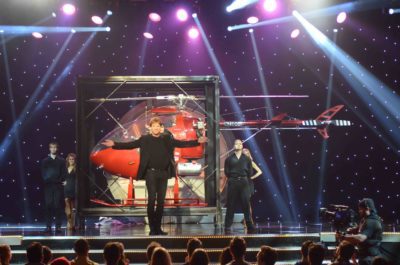 Masters of Illusion — Believe the Impossible, the magical spectacle that features the best acts from a variety of professional magicians, comes to the State Theatre in New Brunswick, New Jersey, Thursday, Feb. 16 at 8 p.m. The show promises plenty of oohs and aahs with acts both mind-blowing and gut-busting. Among the performers will be Bill Cook, Farrell Dillon, Greg Gleason, Jonathan Pendragon and Ed Alonzo.
Gleason has been performing magic for decades, and he has appeared on ABC, NBC, CBS, FOX and WGN, among other networks. He has several career highlights, including this unbelievable fact: He has performed more than 9,000 times at the MGM Grand in Las Vegas.
In New Jersey, he promises to bring some of his best illusions to the crowd. "I'm going to be doing some amazing things, but I don't want to give it away," Gleason said in a recent phone interview. "There's going to be big illusions. There's going to be audience participation. There's going to be sleight-of-hand. There's going to be a lot of comedy."
By his count, Gleason has toured with the successful Masters of Illusion company eight times. He also participates in their television show, which will air its next season on CW this summer. "It'll be airing in June, July and August," Gleason revealed. "They actually did a series in '99. It just ran one season, but I was on that season in '99. It's produced by a woman named Gay Blackstone, who was married to [legendary magician] Harry Blackstone Jr."
Gleason has fond memories of growing up in Kansas and seeing the Blackstones when they came to nearby cities. When in high school, he would drive to see them perform, and now he's come full circle with Masters of Illusion.
Although Gleason enjoys performing his own show, he appreciates the fun of sharing a stage with other magicians. "It's almost like a party just hanging out with good friends," he said. "This tour is about three weeks, so I just get to hang out with my friends for three weeks. And then I come back and do my own thing, and then the next tour, we all get together and do it again."
Gleason was on the verge of his teenage years when he watched The Magician starring Bill Bixby. The future illusionist found the show the "coolest thing" on television and was impressed by the magic acts. A TV special with Doug Henning, another legendary magician, aired the following year, and Gleason was hooked.
"It really started off as a hobby because I was just in junior high at the time," he said. "I wasn't even thinking about a career, but as soon as I started learning magic, I started doing shows for little kids in the neighborhood. I was doing birthday parties and stuff, but I'm only 13 doing them. And the kids were probably 6 or 7, but it was a good way to make some extra money when you're in junior high. And then I continued doing it in high school and paid my way through college performing, and then after I got out of college, I said, you know what, maybe I should try this for a living. And I've been doing it ever since."
When taking in a Greg Gleason show, expect some variety. While some magicians focus on sleight-of-hand and others offer large illusions, Gleason tours several shows, dipping in and out of different styles and routines.
"I haven't settled on one," he said with a laugh. "It's funny because I do these big illusion shows, but I also tour the world with a sleight-of-hand show where I just sit down with a deck of cards and entertain an audience of 1,500 people in the theater for an hour. But then on this tour, Masters of Illusion, they want the illusions, so I do everything from make girls appear and disappear and float. I even make a helicopter appear in the show."
Another option in Gleason's magic repertoire: mentalism. "I'm interested in all of them and have been very lucky to be able to develop shows in pretty much every category of magic," he said.
The magic industry has changed a lot since Gleason began his career. Las Vegas was seen as the ultimate prize and a show on the Strip the top goal. Today, many magicians call Vegas home, but they regularly take their act on the road.
"It was the magical capital of the world, but it's really changed out here," he said. "It's kind of the Cirque capital of the world now, and a lot of the professional magicians, we still live here. But we're pretty much performing all over the world. After this tour, I'm going right to China and doing some shows over there. … It used to be pretty much just Vegas, but now it's the whole world. So it's even more exciting, a little more work. You don't get to sleep in your bed every night, but seeing the whole world is a good tradeoff."
He added this about the State Theatre performance: "It's great entertainment. It's a lot of fun. It makes you maybe use your imagination more, maybe think more, maybe opens up your eyes that people are capable of doing impossible things."
By John Soltes / Publisher / John@HollywoodSoapbox.com
Masters of Illusion — Believe the Impossible will play the State Theatre in New Brunswick, New Jersey, Thursday, Feb. 16 at 8 p.m. Click here for more information and tickets to the show. Click here for more information on Greg Gleason.