INTERVIEW: Autry's 'California Continued' exhibition expands to documentary, multimedia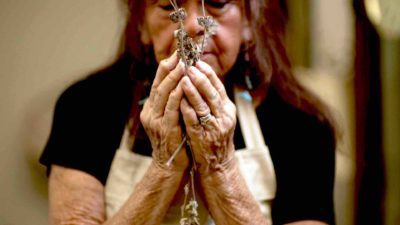 To say that the Autry's California Continued exhibition, which premiered in October 2016, is ambitious would be an understatement. It's far-reaching in scope and can be experienced in many different arenas and formats, whether in person at the Autry Museum of the American West in Los Angeles, online in a multimedia series dubbed Tending the Wild or on the KCET broadcast channel.
This museum exhibition is one that will be remembered for some time.
The project began as a redesigned section of the Autry that now includes two new galleries, an immersive media projection room and even an ethnobotanical garden. The goal of California Continued is to highlight the "ongoing and interdependent relationships between people and the California environment," a fitting subject for a museum dedicated to the art and experiences of the American West.
The Tending the Wild portion of the new project includes an online multimedia portion and a one-hour documentary, set to air on KCET Tuesday, Feb. 7 at 9 p.m. PST. The broadcast channel promises programming that displays how indigenous communities across California have actively shaped and tended the land.
The overall initiative is one that highlights the unique relationship between humans and nature, and how natural systems change communities and how communities affect natural systems. The chapter headings for the Tending the Wild multimedia series say it all: Living Desert, Gathering Medicine, Decolonizing the Diet, Weaving Community and Keeping the River. Audiences can expect discussions on large-scale, intrusive industries; native medicinal practices; basketmaking; traditional foods; and the bounties of the Klamath River.
Recently, Hollywood Soapbox exchanged emails with Laura Purdy, senior media producer for California Continued. Purdy joined the Autry in 2011 and has created multimedia elements for 13 exhibitions. The interactive media productions she created for Floral Journey: Native North American Beadwork earned her a 2014 Silver Media MUSE award for video, film and computer animation. She has worked in multimedia production and cinema for a number of years and earned academic degrees from Indiana University and San Francisco State University.
Questions and answers have been slightly edited for style.
What does the Autry hope to accomplish with the new project Tending the Wild?
There are a couple of things we want to accomplish with our project Tending the Wild. First, we want people living in and visiting California today, to learn about how traditional ecological knowledge from indigenous communities from across California had sustained the environment for millennia and is still relevant today. It was very important for this story to be a contemporary story in collaboration with native communities about issues that impact all Californians and how TEK in partnerships could help inform how we tend our environment and even our planet.
This project is also an accompaniment to the exhibition California Continued. Producing a one-hour documentary and web series enabled us to create a full experience inside and outside the gallery.
Another goal we had with this project was distributing our digital content on a multimedia platform. Since our exhibitions have a finite timeline, we were looking for ways to extend our digital content beyond the timeline of the exhibition and outside our museum walls. This project broadens our reach to an audience and at the same time creates an archive of our digital content to be experienced before, during and after the exhibition.
What went into the production of the series? How difficult was it to find all of the sources?
We were fortunate that our core team at the Autry had already been in collaboration with a group of cultural advisers a few years prior to our partnership with KCET. Our cultural advisers were the first people we called to consult with us on the production of Tending the Wild. Those preliminary conversations led to more recommendations of who to talk to that led to the personal stories you experience in the documentary. It took time, but that's the work you have to do.
Are some of these stories and lessons being lost in today's world?
This project is about showing that native people, native plants, native knowledge is not being lost. One of my favorite lines in the film by Tima Link is:
'Native people are finding our traditions again. The traditions are coming to life. They're not always lost. Sometimes they're just asleep. One of the things that the world hears about us is that we're not here; that it's all past tense. All of our books, all of our TV, it tells us past tense. They lived, they worked, they ate, they were, and it's important to know that we are, we're here. The native plants are here, too. Neither one of us have gone away. We are flourishing; you just have to know where to look.
How does the series connect with California Continued?
In California Continued's Human Nature gallery, we explore traditional ecological knowledge through four key California stories: salmon, fire, desert, native plants. These same themes are the framework for the documentary, Tending the Wild. As we interviewed and gathered personal stories from our native and non-native advisers, we shared that content with the exhibit team, and that content in turn helped shape the Human Nature space. Everything from quotes, stories, digital … appear throughout the gallery. That sharing went both ways as well. The film drew from vast amounts of information, and assets from curators, designers and other team members.
The documentary also uses footage from media produced for our other California Continued galleries: The Life and Work of Mabel McKay, Human Nature Garden and our immersive media experience California Road Trip.
The series works well to support how the four key stories — salmon, fire, desert, native plants — are all interconnected and asks us to reevaluate our role and relationship with nature.
Do you feel the multimedia aspect of the series makes it more accessible?
We don't always know how visitors will explore the galleries or how much time they will spend in an exhibition. Creating our digital content with a multimedia platform in mind allows for multiple levels of engagement with our visitors, whether it be in or outside the museum. Digital media embedded in a gallery offers one kind of experience: media that interacts with space, design, objects and visitors. The hour-long broadcast, Tending the Wild, and short-form documentary series available on the web, offer people another way to experience the exhibit. Each draws from the other and points to the other, and yet can stand alone as its own full experience.
By John Soltes / Publisher / John@HollywoodSoapbox.com
California Continued is currently on view at the Autry Museum of the American West. Click here for more information and tickets. Tending the Wild, which includes an online multimedia series and KCET one-hour documentary, connect with California Continued. Click here for the multimedia elements and airing times for the documentary.