REVIEW: 'The Daughter' is a haunting update of Henrik Ibsen's 'The Wild Duck'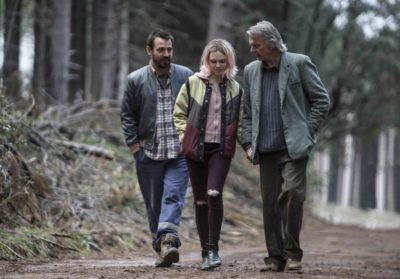 The Daughter, written and directed by Simon Stone, is a believable, taught family drama that takes place in a rural setting of New South Wales, Australia. Henrik Ibsen fans should find the story familiar because the movie is based on The Wild Duck, the playwright's classic drama.
Oliver (Ewen Leslie) and Charlotte (Miranda Otto) live a quiet, peaceful life in the forest near Oliver's job in the timber industry. In fact, it seems as if most neighbors in these parts are tied to the industry, and that makes the local plant's imminent closure devastating to the families in the area, Oliver and Charlotte included. Also there to deal with the employment turmoil is Hedvig (Odessa Young), the couple's daughter.
The man playing the mean, old boss who shuts the doors on the workers is Henry (Geoffrey Rush), who is also a family friend of Oliver and Charlotte.
As the timber operations cease, there is some joy in Henry's life. He's getting married and has invited his son, Christian (Paul Schneider), to be his best man. After 15 years of being away, Christian heads home to reconnect with the life he left behind.
These characters circumnavigate around one another like ghosts. There is obviously a shared history that brings them together but also a private history that pulls them apart. One man seems to know everything that has happened, and that's Walter (Sam Neill), Charlotte's father.
Each of the characters receives some quality screen time to carve out their identities, personalities and perspectives on life. Leslie's Oliver comes through the strongest. He's an awesome dad to Hedvig, loving husband to Charlotte and dedicated worker. He's worried about his job prospects in a town built around a dying industry, but he doesn't want anyone to worry. Him being such a gentleman makes the grand finale of The Daughter, which will remain a secret, that much more devastating.
Schneider struggles with the role of Christian, and that's mostly because the part feels underwritten. He has flown in to stand by his father's side, but he obviously has unfinished business, including wrestling with his own demons and finding closure over his mother's suicide.
There's something stoic about Neill's portrayal of Walter. He's a contemplative man who takes care of injured animals in a small, zoo-like structure in his backyard. A duck that's unable to fly becomes a metaphor for these two dysfunctional families and their inability to mend fences.
Rush is good as Henry, but again the part feels underwritten. He's definitely the person that people like to hate, but he doesn't have any scenes for the audience to learn what makes him tick. The man he's accused of being seems so different than the current groom-to-be.
Otto, as to be expected based on her prior film roles, is an engaging member of this ensemble. She's holds hurt in her eyes and still tries to protect her daughter from the truth.
Young is a real find as Hedvig, a high school student struggling with her own coming of age and her family's personal problems. Young is a powerfully effective actress who doesn't overact what is a difficult part to pull off. Kudos to Simon for casting the part so well.
The Daughter is a haunting drama, to be sure. The fights are well-earned and revealing. The scenes of familial love are touching. The setbacks are so destructive and painful to bear. There's some real visceral acting in this Ibsen adaptation, and Simon keeps it moving along to a surprising and climatic end.
If the movie feels pulled in one too many directions — with no central character or subplot that gains dominance — it's probably because the cast is so rich in its ability to make the audience care. There's so much drama to go around.
By John Soltes / Publisher / John@HollywoodSoapbox.com
The Daughter (2017), written and directed by Simon Stone, stars Geoffrey Rush, Ewen Leslie, Miranda Otto, Odessa Young, Sam Neill and Paul Schneider. The movie is based on The Wild Duck by Henrik Ibsen. Running time: 96 minutes. Not Rated Rating: