REVIEW: Filmmaker heads to upper reaches of Greenland to document climate change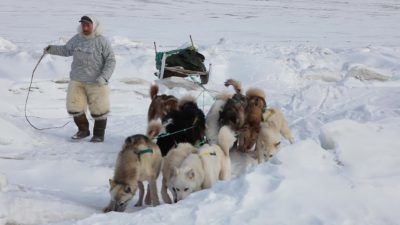 Sila and the Gatekeepers of the Arctic, the new documentary from director Corina Gamma, is a remarkable film that documents communities of people in the upper reaches of Greenland. These subsistence hunters, who face a difficult life of sub-zero temperatures and uncertain futures, are on the front lines of human-made climate change. Their seasons are shifting; the ice around them melts differently than when they were children. And their culture is losing its battle with posterity.
The term "sila" encompasses the issue perfectly. Roughly translated, the Greenlandic word means weather, balance and consciousness.
"It started actually a very long time ago, gosh, nine years ago," Gamma said in a phone interview. "I was actually working on a ship as a photographer and videographer, and so I got to know the people in Greenland because I was working on a cruise ship, a small cruise ship like 100 passengers. So that's basically where it got started because it was actually a time [when] not many people were talking about climate change, especially not [in] Greenland. There was no news coming from Greenland yet, but the ice is melting."
Five years after her first exposure to the culture and people of Greenland, Gamma decided to return with a camera and document the lives of those in this secluded nation. Her production team was small. As she put it, it included "me, and myself and I."
Due to limited financial resources, Gamma went alone to these communities that hug the coast of the country. Altogether she made four trips and utilized the help of a translator for a small amount of time. This bare-bones approach allows Sila to have an earned intimacy, a personal touch. Gamma not only talks to climate change experts or portrays the vast vistas that sprawl in every direction. She enters the houses of these Greenlanders and talks with them, hears their stories, empathizes with their struggles and finds inspiration in their survival.
"First of all, this is such a small community," she said. "There's really only about 800 up in that area, but there have been lately quite a few film crews coming in — BBC, National Geographic, you know, a few sprinkles of filmmakers that find themselves lost up there. … It wasn't the first time that they saw a person with a camera. There really weren't that many female filmmakers with a camera up there by themselves. I think I kind of caught their curiosity a little bit."
One of the challenges of the documentary and any piece, whether visual or written, that details climate change is how to convey the seriousness of the science in an engaging, understandable manner. Gamma said she struggled with how to visually illustrate the impact of a process that can require years or decades of data to comprehend. Still, even on the ground, there are obvious changes occurring to Greenlanders who live off the cycles of nature.
"I was really lucky to meet with this person who has been monitoring the ice sheet for 30 years," she said. "He was able to show me images, and then recently two months after we left the camp, [the camp] was destroyed. It was washed away by the big ice melt they had that year. Then the next year, they had a lot of ice melt. … Every year has been a record year. The station has been washed away, and washed away and washed away, so I was kind of lucky to illustrate that. I could show the photograph there. Then I could show the photograph [of the camp] being destroyed, being rebuilt, being destroyed while before you could not have been able to illustrate that, you know, and then as far as the Inuit in the far north, the same thing. The sea ice forms, it melts, it forms. They still have that seasonal change. What they were able to tell me is just that they can't really go out on the sea ice for eight months like they used to. They can only do it now for four months or three months out of the year. Again to really visually illustrate that is very difficult because the fluctuation still happens. It's just the seasons have changed. They have seen it over the last 30 years, while we can only visualize, we can only imagine how bad it really is for them to have such shorter seasons."
Gamma said that because some skeptics have difficulty understanding the science and yearn for visual evidence is perhaps why so many people don't believe in climate change. In her mind, one has to look at the statistics. "You have to look at the long-term trends to understand it," she said. "I think that's the challenge. It's not like a volcano that just erupts, and you see the damage, or an earthquake. It's very subtle basically."
Of course, that subtlety is itself starting to crumble, and one of the evidence shifts is in the cultural practices of these subsistence hunters. Gamma was able to see the changes at the family level after talking with children who have no desire to carry on the traditions of their mothers and fathers. They are increasingly moving away from the great north and heading to the larger cities and towns. There's too much risk in the business of their elders.
"They say, 'Well, no, you can't live off hunting anymore,'" she said. "So the young people don't need nature like the older generation has, so with that knowledge disappearing I'm afraid information is disappearing. … Subsistence hunting is basically to feed and to get by. There's so many challenges from all sides that they're experiencing. I hope that the message continues."
By John Soltes / Publisher / John@HollywoodSoapbox.com
Click here for Hollywood Soapbox's review of Sila and the Gatekeepers of the Arctic. Click here for more information on the movie.