REVIEW: Vienna Boys Choir bring classic holiday program to U.S.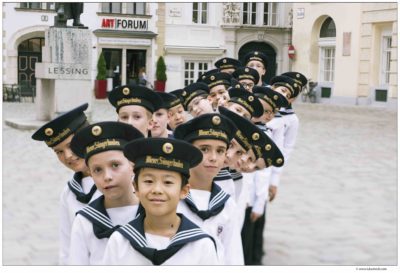 ENGLEWOOD, N.J. — The Vienna Boys Choir has been delighting audiences for hundreds of years, and catching one of their performances in the month of December has become a holiday tradition for many families. They have four touring companies, and Haydnchor, under the direction of choirmaster Jimmy Chiang, stopped by the Bergen Performing Arts Center in Englewood, New Jersey, Friday, Dec. 16.
The first half of the program consisted of Vienna Boys Choir renditions of classic pieces. When Chiang wasn't leading the boys in acapella songs, he was providing expert accompaniment on the centerstage piano.
An Advent season Gregorian chant started the performance, followed by selections from Joseph Haydn, Michael Haydn, Wolfgang Amadeus Mozart and Gerald Wirth. Wirth's "mercy – forgiveness – inner peace" was an interesting, and somewhat jarring, inclusion in the program. It's a modern song sung in several languages, all on the themes of mercy, forgiveness and inner peace. What started as an auditory departure from the rest of the evening ended as another beautifully realized gem from the choir.
The Vienna Boys Choir was formally established at the end of the 15th century by Holy Roman Emperor Maximilian I. The company is made up of 100 choristers split into four touring companies. Last year's tour featured the Mozart group under the direction of Bomi Kim.
The second half of the 2016 holiday program consisted of instantly recognizable Christmas songs and some lesser known classics. John Francis Wade's "Adeste fideles" started the second half on the right note, and it was followed by a beautiful rendition of Franz Schubert's "Ave Maria" that deservedly received the most applause of the night. The young chorister who took centerstage for the song commanded the song from start to finish.
The secular world was represented with Johnny Marks' "Rudolph the Red-Nosed Reindeer" and an encore of José Feliciano's "Felize Navidad." And, of course, no Vienna Boys Choir performance is complete without "Silent Night," or "Stille Nacht."
This Christmas-themed experience of hearing hundreds of years of choral music on display is a concert tradition that most audience members should enjoy. There's something eternal and powerful about the young singers and how they bring such beauty and precision to some of the most important classical music of all time.
By John Soltes / Publisher / John@HollywoodSoapbox.com
Click here for more information on the Vienna Boys Choir. Click here for Hollywood Soapbox's 2015 interview with Bomi Kim.