INTERVIEW: New off-Broadway show 'Straight' explores complex relationships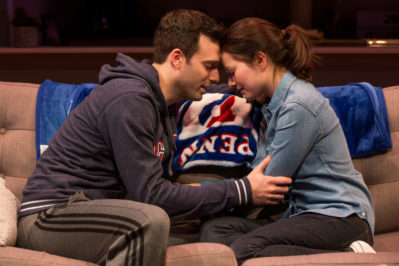 Straight, the new play by Scott Elmegreen and Drew Fornarola, looks closely at the struggles of a man caught between two competing people in his life. One the one hand, Ben (Jake Epstein), a 26-year-old investment banker, loves Emily (Jenna Gavigan), a woman he's been in a long-term relationship with for years, a woman who is his best friend. However, he recently started liking Chris (Thomas E. Sullivan), and all three characters begin to clash and learn from one another about the power of love and the decisions one makes in pursuit of contentment.
Gavigan, a successful theater, film and TV star, said that her role in Straight ranks highly in her career, right up there with her Broadway debut in Gypsy with Bernadette Peters.
Her time in Straight, which plays through May 8 at the Acorn Theatre on Theatre Row in New York, began with an audition process and words on a page that seemed so real. "I have my degree in writing, so I told the writers in the room, very much like Emily would flaunting her diploma, that I really think it's very good writing," Gavigan said recently in a phone interview. "It's always easier to audition with good writing. It's easier to memorize strong writing because it's how people actually talk, and things are logical. I was absolutely thrilled with the play. I think she's an interesting gal, and she's got a lot going on in her mind that's not necessarily on the page."
Working with Epstein and Sullivan has been a "pretty dreamy" experience, as she put it. The three actors hit it off from day one, and she said their chemistry can be seen on the stage.
"I spend most of my time on stage with Jake, who plays Ben, but it's very exciting when halfway through the play I get to work with both of them," she said. "And then Jake has his one very short break from the stage, and Tom and I have our scene together. I really, really look forward to that as well. I think it helps that we all get along in real life as well as we do. Everyone's been sort of talking about the chemistry that we have, not just physical or sexual chemistry, but you can kind of tell that we like each other, and that we have a rapport. So it's been a dream, and not just with them but with the other members of our little family, the writers, and our director Andy [Sandberg], our stage managers. It's a solid group of people, and I really look forward to going to work everyday — a pretty dreamy experience."
During the play, Gavigan is able to sense the audience's reactions. Sometimes they react vocally to the different twists and turns of the narrative, and that's clear evidence that they are engaging with the material.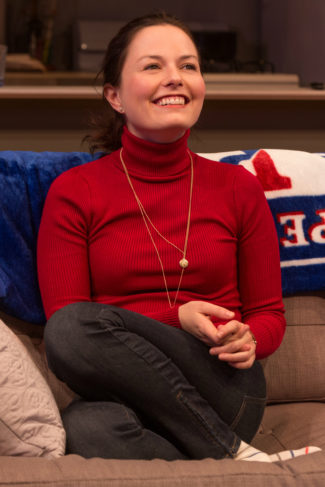 "I think it's important to have some pieces of theater that aren't really black and white and don't have necessarily a resolution at the end," she said. "This is a topic that still needs to be discussed. Just because it's more accepted for people to come out doesn't mean that everyone has an easy time with it, and for Ben, I think his main struggle is, yes, his sexuality but also what that means to his very long-term relationship with this woman that he really loves."
The actress said that Straight would be a different play if Ben and Emily had been in a shorter romance, but their lives are intertwined, making Ben's ultimate decision between the two characters a profound one. His sexuality and identity are explored at the same time he considers his life and future with Emily.
"The fact that they spent their entire adult lives together, and have plans to have a family and made all of these plans and declarations of love for so many years, that's one of the reasons that it's as difficult for him as it is," she said. "It's really, really interesting to hear what people have to say [after the play]."
Gavigan said it's a good development when the audience continues to debate the play and discuss the characters after the final curtain. Frustration, she said, makes for good art. "I think some shows, mainly musicals, you go to be happy and laugh, the same with television," she said. "Then there are other shows that I think really make you think, and this is a nice hybrid."
Gavigan has been acting almost her entire life. She remembers being enrolled in a tap-dancing class at the age of 3. It was a little dance studio beneath a church in Brooklyn.
"All of the videos and photos of that, it's very clear that I wanted to be there, not my parents pushing me," she said. "And then I started doing master school theater programs when I was, I think, in about the second grade. Actually one of my teachers from that program came to see the show with his husband, and that was a very special moment for me, kind of full circle. And then he actually was the one that said to my mother, 'I think she's ready to go out into the business professionally, and that was about the fifth grade, so age 10 or 11 or so.' And that was when I started auditioning professionally."
After a few years of trying, Gavigan landed on Broadway in Gypsy. She said the role was another "dreamy" experience. She worked alongside the legendary Peters and is still close to members of the company.
Today, she's adding another experience to that increasingly long list of impressive acting roles. She plays Emily in Straight through May 8, so the discussions with audience members and engaging conversations will continue.
By John Soltes / Publisher / John@HollywoodSoapbox.com
Straight continues at the Acorn Theatre at Theatre Row in Manhattan, New York, through May 8. Click here for more information.
Revised