INTERVIEW: 'Puppy Bowl' host prepares for doggy antics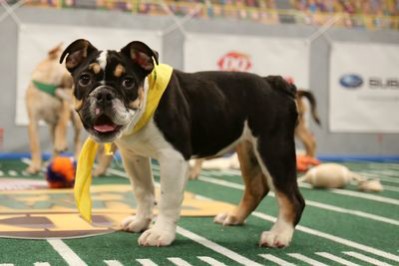 Animal Planet's Puppy Bowl, in its 12th installment on the network, has gained a pup-tastic following over the years. Before the big game — you know, the one with the footballs and human players — puppies are showcased in a two-hour special that's high on the adorable scale and easy viewing for several chuckles. These dogs serve a greater meaning: Besides being adorable, they're also ambassadors for pet adoption.
This year, Dan Schachner is back to referee the many dogs who will try to score touchdowns and avoid infractions. There's also a Puppy Bowl Pre-Game, beginning Sunday, Feb. 7 at 2:30 p.m. on Animal Planet. The main event follows shortly after that.
"We're always trying to make it bigger and better," Schachner said recently in a phone interview. "We have 80 puppies and 20 kittens. Now having pups and kittens is nothing new for us, but it's the largest amount of puppies that we've been able to showcase."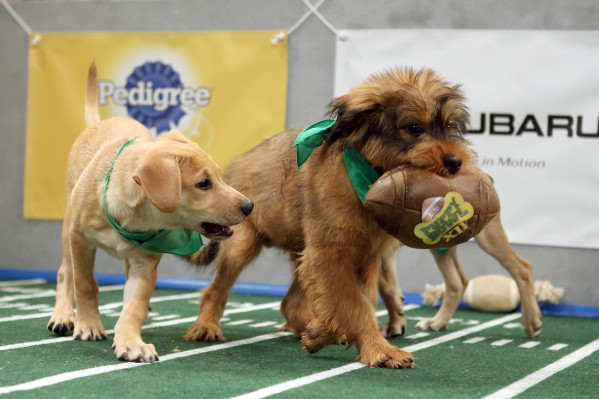 This year, in addition to the high number of cute puppies, the human referee will have an animal cohort: a skunk, whose black-and-white fur make it an especially appropriate choice to be a referee.
"So I have Stanley the Skunk," Schachner said. "He's going to be on the sidelines with me, and every now and then we'll cut to him and see what he thinks about the play calling I make. We do have different cheerleaders this year. We've had, of course, pigs. We've had hedgehogs. This year, we have five silkie chickens."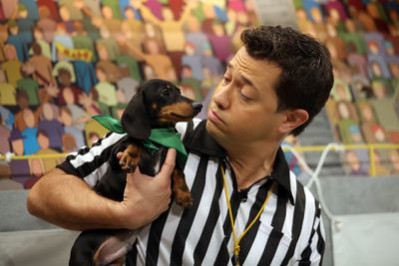 These chickens have soft feathers with a silk-like texture. Plus, there's the halftime show with a San Francisco Bay area atmosphere, mimicking the actual surroundings of the Super Bowl's location, and kitten stars. The "Pup Close and Personal" segments highlight bonds between puppy players and their friends.
"But one of the segments I'm most proud of is that this year we're highlighting senior dogs," he said. "Forever we've been talking about little dogs and puppies, and I think we all know that it's not that hard for puppies to find a home. Most people when they go into a shelter or rescue center to adopt, especially if they have kids in tow, they do want puppies. Unfortunately what happens is a lot of great, deserving senior dogs, older dogs, adult dogs languish at these shelters. They don't get adopted, so we kind of made it our mission this year to shed a little bit of light on that."
These senior dogs will be represented by former MVPs of past Puppy Bowls. "We're kind of parading them, showing them, of course, how they've grown because now they're puppies," Schachner said. "I and Hall of Fame defensive lineman Bruce Smith are up there to talk about the importance of adopting senior dogs, or at least considering senior dogs, and why they make such valuable additions to households."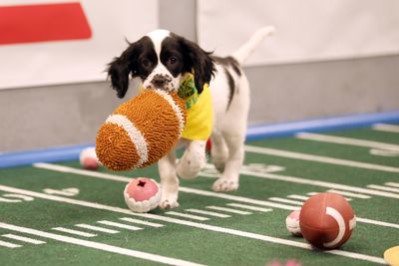 There are several unique challenges to the Puppy Bowl filming process, including the obvious: "Watch where you step."
"It's a small field," he said. "It's only 10-by-20 feet in size, so you always have to be careful. … The really practical thing to look out for is don't miss a call because … at any given time, there's between I would say 15, 16, 17 puppies on the field. There are multiple chew toys."
Schachner is the only person keeping order and watching for both infractions and touchdowns (well, there's the skunk, too). The crew and staff sometimes point out what's happening behind his back to help him with the several obstacles.
The actual filming takes place over a three-day period. Schachner compared the process to a documentary team trying to capture a concert event. "We simply don't have enough time … in our two-hour constraints to fill in all of the action, all of the events, every single puppy involved," he said. "We have to kind of cut it down, so there's about 15 cameras. They shoot the puppies playing with footballs, a variety of breeds, for over two-three days. We have to fit our kittens in there, too, for the halftime show, and then that's all cut down into a show that seems to make sense."
Schachner has been with Puppy Bowl for five years. He had previously worked for Animal Planet as a host on pet product shows. "I created this crazy audition tape sort of showcasing my skills as an official when it came to animals," he said. "Kind of ridiculous and absurd, but they bought it. And here I am five years later, so I did have an in because they knew me. But I think I also proved to them that I was not going to take 'no' for an answer when this job opened and came up."
When Schachner is not refereeing Puppy Bowl, he serves as announcer on The Meredith Vieria Show. He has worked for Spike TV and Showtime, among other networks. He's also frequently a presence on TV and radio commercials. His monthly web series, Brain Candy, focuses on educational programming for children. He has also acted on Blue Bloods and The Mysteries of Laura.
These entertainment jobs are somewhat surprising for someone who used to be shy as a child. "I did love animals," he said. "I did love sports, and I love sort of the technical aspect of television and film."
If Puppy Bowl continues forever, it seems like Schachner would be happy to be the referee for a long time. "When I go up to the doggy heaven in the sky, and this is going to be the first line of my obituary, I think, because I can go anywhere in the country, and I can mention Puppy Bowl and people have heard of it," he said. "I can go anywhere in the country and mention some of the other stuff I work on, and maybe they'll have heard of it. But Puppy Bowl, on some level, everyone has some connection to even if they haven't actually seen it. … I got two small boys who are Puppy Bowl's biggest fans. They really think Puppy Bowl is like a real game, and they actually keep score. And they think it's actually happening within the span of two hours. … So it's really charming in that regard and satisfying, so, yeah, this is the best job I've ever had. And they're going to have to get me out of here kicking and screaming."
By John Soltes / Publisher / John@HollywoodSoapbox.com