INTERVIEW: Director Grímur Hákonarson brings Icelandic 'Rams' to Film Forum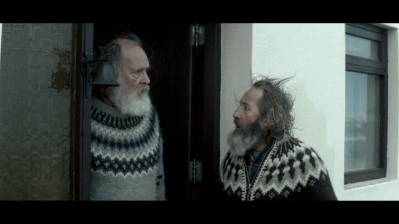 Rams, playing New York City's Film Forum, is the new movie from Icelandic director Grímur Hákonarson. The film charts the troubles of two sheep farmers in the remote countryside of Iceland. These two men, both bachelors and brothers who haven't talk to each other in decades, love the sheep they raise. They may not talk to each other anymore, but the two men certainly talk to their beloved farm animals. When a deadly infection threatens the brothers' herds, plus the sheep throughout the valley, their 40-year standoff is put to the test.
Hákonarson's parents are from the countryside of Iceland, so he is familiar with the sheep farming culture of Iceland. "I know people who have this great passion for the sheep," the director said recently in a phone interview. "It's a true story about two brothers who didn't speak for 40 years, but they lived on the same land and really close to each other. … There was only 50 meters between their houses, and I kind of found that story really sad but also a little bit comical. It's like, I thought it was perfect for a tragicomical film."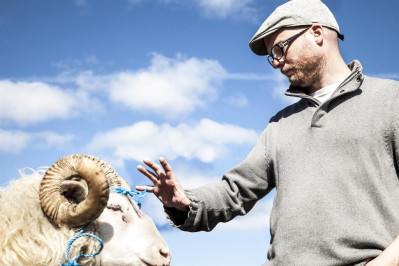 The actors, including Theodór Júlíusson and Sigurður Sigurjónsson as the brothers, knew a lot about the farming culture of their native land. The director said the sheep is "close to the national spirit of Icelanders," but many of the actors never experienced the farming firsthand. Hákonarson decided to take them to the countryside to speak with real farmers about their practices and way of life; the director called it a "practical rehearsal." Traveling to these remote places influenced the actors' minds on "how it is to be alone, living alone with sheep and in a faraway place."
Rams accomplishes a lot with little dialogue. The history of the two brothers is clearly on display thanks in large part to the acting and visuals of the 90-minute film rather than bickering and verbal spats. There's a lot said by the brothers not saying anything.
Hákonarson learned the value of little dialogue from one of his professors in film school. "He was encouraging us to try to tell stories with pictures and try not to use dialogue too much," he said. "I kind of, you know, got really inspired by him, and when I'm writing a script, I always think, how can I minimize the dialogue and the text? How can I maximize the visuals? … But the story of Rams is also in itself doesn't need much dialogue and much text because there are two characters who live in the middle of nowhere, and they don't speak to each other."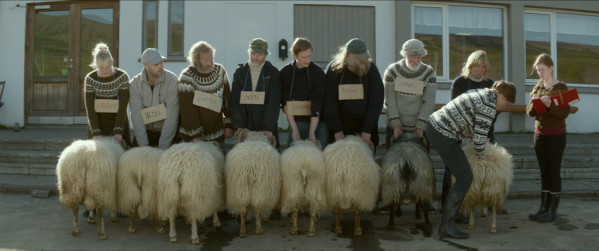 Foreign audiences may look at the Icelandic film as a "bit absurd" or a "bit more unique," Hákonarson said. When one is unfamiliar with the culture and farming way of life, these two bachelors may seem over the top in their passion for these animals. However, the partnership between man and animal is one of survival, cultural tradition and identity.
Despite the uniqueness, Rams has several universal elements as well. "The basic story is very universal: family conflicts and people who stop speaking to each other, lack of communication," the director said. "This is something which people everywhere in the world can relate to. … The film is very realistic. I've spoken to a lot of farmers in Iceland who think Rams is the best sort of film about farming life they have seen. It's really honest. I'm not trying to, you know, exaggerate things."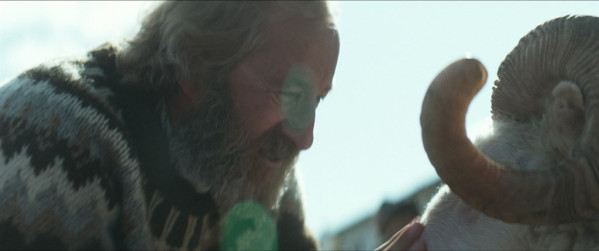 On the set, Hákonarson needed a professional sheep farmer to help with the live animals. Sheep, as can be expected, can be fussy costars in a film. "There was some directors who were warning me … that it would be really difficult to make the sheep walk through a snowstorm, and wind machines and all that," he said. "But we did like a sheep casting. We went to several farms, and actually we were looking for the right sheep. And we found these sheep who were super calm, you know, and they were very used to being around people. And that was the key to all this, the key to everything, that the sheep kind of felt comfortable on the set, and then I got good assistance from the farmers. … Working with animals you also have to be lucky sometimes. It's kind of unpredictable. Sometimes … they do it one take. Sometimes it takes a while to get what you want."
The director has also made A Pure Heart and Summerland, movies that "tell human stories," much like Rams. He also likes to stray into the political realm and would actually appreciate moving in that direction on future projects.
In his quest to tell a human story in Rams, Hákonarson's main concern was to keep the action and characters real. "The main actors are professional actors, but there's a lot of actors who are in the movie who are real people from this area, some people who have a little maybe acting experience in the local theater but never had any film experience," he said. "The main actors, I cast them because they are like brothers. They were different characters, look very different. … Without the beards, the actors don't look like brothers at all. The beard also helps a lot to make them look like brothers."
By John Soltes / Publisher / John@HollywoodSoapbox.com
Rams begins its run at New York City's Film Forum Wednesday, Feb. 3. Click here for more information.