INTERVIEW: Interpreting Malvolio in new fast-paced 'Twelfth Night'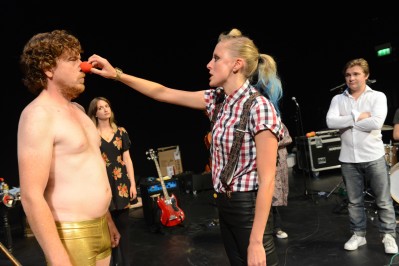 Filter Theatre's new production of Twelfth Night, one of the more famous plays by William Shakespeare, promises to be fast-paced and irreverent, bringing together various styles to tell the story of Viola, Malvolio, Duke Orsino and Sebastian, among others. The characters hide their true identities in this complex game of love, and the modern interpretation injects some rock 'n' roll to enliven the romance and comedy
The stripped-down version plays New York City's Skirball Center for the Performing Arts at New York University, Feb. 16-20.
Fergus O'Donnell plays Malvolio in the new production, which is presented in association with the Royal Shakespeare Company.When the actor first read the edited version, it felt like a typical Shakespeare script. Then he saw it live.
"When I was invited along to watch the show before I started rehearsing myself, that was a shock," he said recently during a phone interview. "That was when I thought, oh, what have they done here. Yeah, I loved it. I was like, this is exciting. This is interesting. This is fun. This is something different."
The show usually runs almost three hours; however, Filter's take is an intermission-less 90 minutes. "So there's been a lot of edits," he said. "They've cut it down, but you've got the main story still. … I wasn't involved on the first time they produced it, but it was for a project the RSC did where they wanted companies to come and do a response to certain plays, not necessarily the whole show but just tell the story as quickly, and as efficiently and as imaginatively as possible, so they cut a lot of the extraneous text and just got the bare skeleton of the story together. So, yeah, it runs about an hour and a half. There's no interval, and a lot of the actors are doubling up and playing different parts because this is quite a small cast."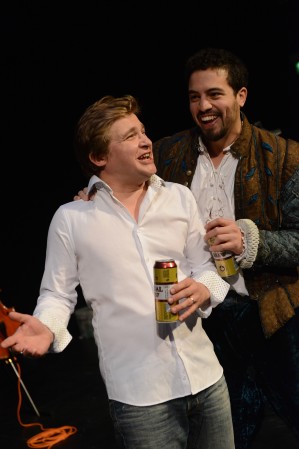 O'Donnell's part is the "poor fool in love," Malvolio, a classic creation by Shakespeare. The actor identified him as an ambitious man who wants to be in control, which makes his ultimate demise both fitting and heartbreaking.
"He doesn't like being the servant of the house, and he doesn't like obviously this Tobe Belch character that's just running around, causing havoc, drinking all the alcohol, being basically a jerk, hanging out with his friend," he said. "And he ambitiously wants to be in control of this house, even though he's only the servant, so his ambition is to be the Count Malvolio. … He gets what he deserves, but he doesn't get what he wants in the end whereas other characters in the play seem to achieve what they want. He ends up not because he's looking for the wrong thing."
Much of Malvolio's time in the play is spent in pursuit of Olivia; however, as O'Donnell interprets the character, it's unclear whether this ambitious man is in love with the woman or in love with what she represents. After all, being with her would instantly elevate his status.
Even though Malvolio can be seen as somewhat of a villain, or at least the butt of several jokes, in Twelfth Night, the man tasked with bringing him to life has great sympathy for the character.
"Although he's ambitious, we all are to an extent, whether his goals are a little bit twisted and a little bit too highfalutin," he said. "There's a scene where he's in a pit, and they blindfold him, and make him think that he's somewhere else, and confuse him and treat him really badly. So you can't help but feel sorry for someone in that situation, even though he may deserve some kind of treatment in that regard. It gets a little bit nasty toward him, and then it's quite a cruel trick so, yeah, I do. I have sympathy for him, and I think the audience [does], too. I've had feedback from people that have seen the show and say, 'Oh, I felt really sorry for him at the end because the poor guy got treated worse than he should have done for his action.'"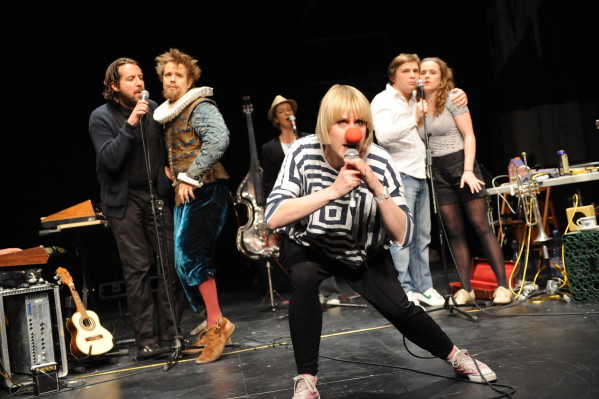 The director of the new production, Sean Holmes, has gained a reputation for unconventional, cutting-edge theatrical presentations. He's also the artistic director of London's Lyric Hammersmith. O'Donnell has worked with him before, and it appears to be a mutually beneficial partnership.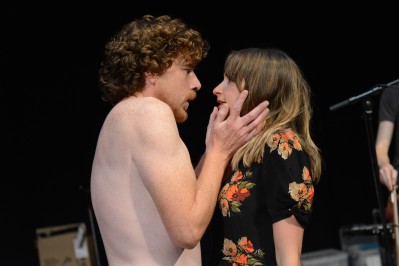 "I love working with Sean," he said. "I've known Sean for a very long time, and I've worked on various projects with him. He's great in just getting down to the truth of the story and especially good with Shakespeare, and his love of music as well, which is great and features very heavily in the show. … He brings an angle to it where it's like … let's just push everything to the max that it is. Let's take the story for what it is, but let's push those themes to the max. If someone's in love, let's make them so in love that you push it to the limits that it can be, and it's been great. I've done A Midsummer Night's Dream with him as well, also a Filter production, which I played Bottom, and again that's just absolute great fun and just as anarchic as this production. And I hope to do more and more with him because it really is a more fun way of doing it than just your usual classical traditional production, so, yeah, it's been great. He's a great guy to work with."
The actor appreciates the changing dynamic of the audiences each night. Because the company is heading throughout the United States, they often find themselves in a new city and a new performing space almost every night. They also recently toured India with the production, and O'Donnell said that was quite the experience.
"You have to adapt to the space that you're in," he said. "That's what makes it more exciting than just turning up to the same theater every night for an eight-month run. You do end up just sort of clocking in to the work, and it can become a little bit dull. … We're having an absolutely brilliant time here."
By John Soltes / Publisher / John@HollywoodSoapbox.com
Twelfth Night will play the NYU Skirball Center for the Performing Arts, Feb. 16-20. Click here for more information on tickets.