EXCLUSIVE CLIP & INTERVIEW: Arborist faces sky-high challenges on 'Deadliest Job Interview'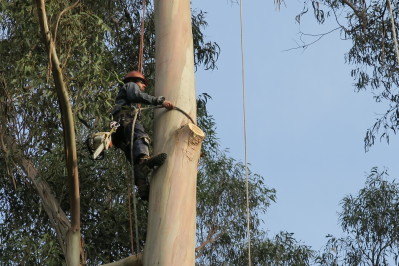 Discovery Channel has charted the travails of crabbers off the coast of Alaska for years. Deadliest Catch helped usher in a new age of reality television, bringing together extreme conditions, the Alaskan frontier and dangerous, soaking, strenuous capitalism for viewers to watch every week. Now the network is expanding that term "deadliest" to other professions in which workers put their lives on the line to accomplish some seemingly insurmountable goals.
Deadliest Job Interview, which premieres Friday, Jan. 29 at 10 p.m., highlights eight dangerous jobs from the perspective of the new recruits, otherwise known as greenhorns. Among the series' subjects will be extreme heavy haul truckers, iron erectors, construction divers, volcanologists and wind turbine technicians. One of the most perilous pursuits comes from rookie arborist Nate Esposito from Petaluma, Calif. He scales trees 200 feet high in the redwood forests, achieving heights that few ever reach in a lifetime.
Recently Hollywood Soapbox exchanged emails with Espositio about his adventures in the treetops. Questions and answers have been slightly edited for style.
How did you first get into this unusual and dangerous profession?
While I was working for a temp agency, I was on a couple of jobs with Sonoma Marin Arborists and realized then and there that this was something that I wanted to do.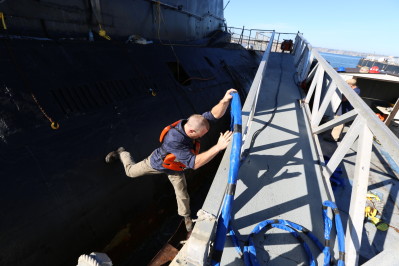 What is a typical work day like for you?
I try to make every day the best it can be. We have our small job days where it's very calm and slow paced. Then we have our big wrecks where everything is chaotic and hectic, constantly moving and working hard.
Are you ever scared when scaling the heights of these massively tall trees? What are some of the precautions you take?
I wouldn't say scared, but very cautious of what I am climbing on. My biggest fear in this line of work is having the tree falling over as I'm on it. But I do have procedures to apply in that event. Every few minutes, I like to check all of my ropes and knots as I'm climbing. Ropes like to loosen up on you when you're working — something else to keep in mind as [you're] cutting out a huge top! Also I make sure to knock on the wood and listen to it to see if what you're climbing on is hollow or not.
What was the most dangerous day on the job? Was there one experience that stands out?
There was a redwood we were working on in the Bay Area, [California], and it was a high-voltage removal. We were leaving the yard already feeling the stress, so we started planning out our day to the best and cleanest removal we could do on this particular job. I was watching the climber / lowering guy and could feel the anxiety that every cut made them feel. Knowing the potential danger and possibility that our climber might not go home that night was very nerve racking. That day lasted so long — I remember when the climber came down from the tree, all he did was lay on the ground.
What's the best part of your job? Is there time to appreciate the view?
Tree work is very rewarding in a number of ways. I would say that being able to climb a tree, take it down and pack up at the end of the day knowing I helped the company is the best part for me. There are some beautiful locations we get to go to, and being able to climb some of these 100-200 foot — and sometimes 300 foot — tall trees, at the top … words cannot describe the feeling and sight. Everything comes into place up there. But there is a job to get done, so most of the time [it's] hustle and bustle!
By John Soltes / Publisher / John@HollywoodSoapbox.com
Nate Esposito will be featured on the new series Deadliest Job Interview, which premieres Friday, Jan. 29 at 10 p.m. on Discovery Channel. Click here for more information.