INTERVIEW: Chris Jacobs revs up for 'Barrett-Jackson Live' on Velocity, Discovery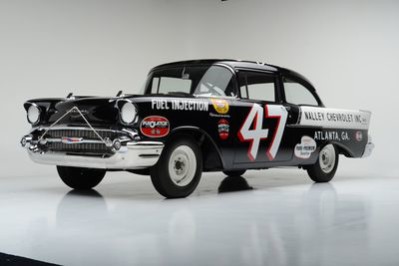 Car enthusiasts are busy this week in Scottsdale, Ariz., attending the 45th-annual Barrett-Jackson car auction. The world-renowned event is an automotive smorgasbord of rare, creative and expensive vehicles that are auctioned off, bringing smiles to both buyers and sellers.
The annual auction is thoroughly covered by Velocity and Discovery with Barrett-Jackson Live, a multi-night event that will offer 37 hours of live programming from the busy, busy auction.
Viewers can check out the action during primetime hours on Velocity every night through Sunday, Jan. 31 and daytime hours on Discovery on Saturday, Jan. 30. The co-hosts for the programming include Chris Jacobs, Cristy Lee, Mike Joy, Rick DeBruhl and Steve Magnante.
Jacobs is well known to viewers for his time with the successful reality series Overhaulin'. Recently the car enthusiast talked with Hollywood Soapbox about Barrett-Jackson Live. Answers have been slightly edited.
On Barrett-Jackson Live and what fans can expect …
"I mean Barrett-Jackson just keeps getting bigger and better every year — the show itself, of course, and then enhanced by our coverage both on Velocity and Discovery. I'm just looking for another great year of Barrett-Jackson kicking off. … We like to call it the Super Bowl of the Barrett-Jackson season, which is in our hometown of Scottsdale."
On what it's like to film so many hours live …
"Definitely long hours, but they seem to go by really fast because we're constantly on the move. I mean in addition to all of the ins and outs from the commercials that I'm responsible for, I'm running all over the grounds giving viewers a sneak peek at some cars that are coming up during the week in Scottsdale. So I'm doing a lot of walking. I get a lot of exercise during Barrett-Jackson. It's something that I love to do because I know that whenever I get to my intended destination, there's going to be a really cool car there, and I get to talk about it. For a car guy like me, to get to be there in person, it's really just a kid-in-a-candy-shop situation. I mean every single car is obviously in tip-top shape and looking as good as it possibly can because the seller wants to get as much [money] as he can, so everything is perfection wherever you look."
On the car discoveries at Barrett-Jackson …
"You know, I mean the cars really at this level are like art, so it's like going to a museum. You might not know exactly what you're looking at, but you know that you like it. It pleases all of your senses, and to be able to see these cars in person where you can walk around them, open them up, sit in them, kick the tires, so to speak, is really a thrill for me because you know I mean this is what I do. And I really enjoy doing it, so that's kind of the goal that I think everybody has. If you enjoy what you do, it doesn't feel like work."
On Barrett-Jackson's legacy …
"Barrett-Jackson is considered the finest and most respected auto auction in the industry, certainly the largest. Yeah, if you're a luminary in the car world, you definitely want to be there, and for the viewer or the car fan, that's where we come in. We kind of bring them into the experience and make them feel as though they're there with us at the various locations. It's certainly I'm sure on a lot of people's bucket lists as a car lover to be able to go to a Barrett-Jackson auto auction, particularly Scottsdale because it is the biggest of the four that we do. But if you can't, if you're unable to for whatever reason, financially or logistically, we try to fill that gap for you and make you feel as though you were walking around the grounds with us."
On his history with cars …
"I mean my dad always had Porsche 911s, and he'd get a new one every couple of years. That was kind of the first car that really spoke to me, that I really looked at as more than just something with four tires and a steering wheel. I remember feeling like I was an adult because it's such a low-slung car that my feet actually touched the floorboards when I was sitting in the seat — first in the backseat and then in the front seat. I could literally grow into that car, and about 10 years ago, I bought an '85 911 sort of as a tribute to my dad because that car has always been so special to me. So I bought it kind of in his honor and have never regretted it. That's one car that I'll never get rid of."
On "living the dream" …
"It's really true when people ask me … My standard response is, 'I'm living the dream,' because I really am. I've got various jobs that I all really enjoy doing. I work for Velocity in the car space. I work for NFL Network in the sports space. I've got a new show coming up on TLC that's kind of the family space, so every project that I've worked on doesn't feel like work. It really feels like a passion project. It's something I really, really enjoy doing, something that I'd be doing anyway if it wasn't a job for me. When I say that I'm living the dream, it's not just a cliché. It's really the truth."
On the people at Barrett-Jackson …
"It is seeing the fantastic prices that these cars bring, but it's more about the people who are behind the buyers and the sellers. It's the actual people who are acquiring a … car on the buying side, and for the seller, it's someone who is providing someone's dream car. I mean these are luxury items. People aren't going there to buy the car that they're going to drive every day. They're buying the car that maybe they loved as a high school student, or when they were in college or reminds them like me of a car that one of their parents had. So that's really the most interesting part to me is seeing the successful buyers, the winning bidder get to acquire what they feel is their dream car. If you ask 10 people what their dream car is, more than likely you get 10 different answers, so they're getting their dream car, what floats their boat, so to speak, what really satisfies their automotive sense."
By John Soltes / Publisher / John@HollywoodSoapbox.com
Barrett-Jackson Live continues on Velocity and Discovery through Sunday, Jan. 31. Click here for more information.