REVIEW: 'Spring Awakening' reawakens on Broadway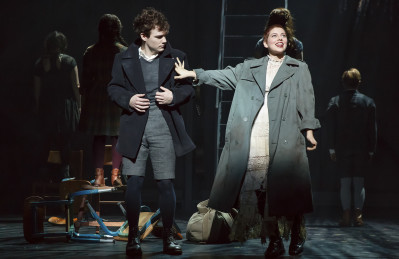 NEW YORK — Spring Awakening opened on Broadway only a few years ago, and now the Duncan Sheik and Steven Sater musical is finishing an inspired return to the Big Apple. This time around, the musical, which tells the story of repressed teenagers who have no sound advice when it comes to their burgeoning relationships, is the product of Deaf West Theatre, an innovative company that brings together a cast of deaf and hearing actors and choreographs sign language into the Germany-set show. The results are transcendent and provide an even deeper appreciation of the material.
The original cast, which included Jonathan Groff, John Gallagher Jr. and Lea Michele, have gone on to illustrious TV and film careers, and few in the New York theater world don't realize that their big breaks came in Spring Awakening, which won the Tony Award for Best Musical. The actors in this production, led by Austin P. McKenzie as Melchior, Sandra Mae Frank as Wendla and Daniel N. Durant as Moritz, bring an equal level of dedication to their respective roles, imbuing the characters with energy, hurt and passion.
Mae Frank, in particular, is solid as Wendla. The scenes she plays with her mother are so emotional and stirring that it's hard not to feel such concern for the fate of her character. It's a bravura, powerful performance.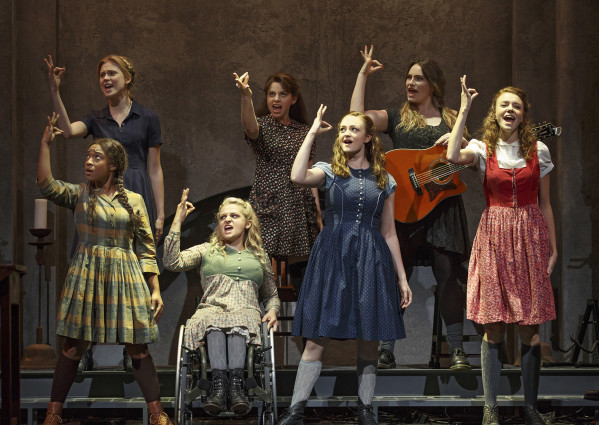 Director Michael Arden and choreographer Spencer Liff stage the two-act show with an intricate combination of spoken English and American Sign Language. Subtitles, which appear in several places around the tiered set, ensure that every word, whether signed or said aloud, can be followed by audience members fluent in either language.
The seamlessness in which the narrative plays out is awe-inspiring. Musician-actors partner with the actors who sign on stage, offering musical accompaniment and voices to the parts. Katie Boeck is the voice of Wendla and plays guitar, while Alex Boniello is the voice of Moritz and also plays guitar. McKenzie speaks, sings and signs his dialogue and songs throughout the show.
The story involves these three main characters as they navigate the uneasy and often scary realization of their sexual awakenings. Questions of reproduction, sinful behavior and first-time love cloud their minds, and the adults in their lives — played by Elizabeth Greene, Russell Harvard and Patrick Page — offer no useful help. If they're not condemned for their thoughts and actions, then they are left confused. This inability to understand the basic tenets of love and life leaves such a sense of loss that the three main characters, and their friends who fill out the cast, resort to making decisions with no understanding of what is to come. Ultimately their story is one of simultaneous tragedy and freedom.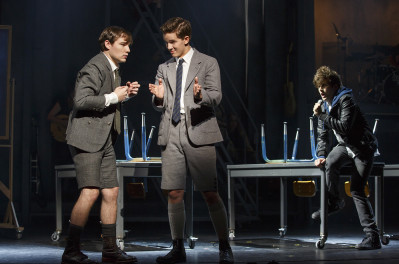 The musical plays out with few set pieces, except some constantly moving chairs, a blackboard and a piano, among other select items. The emphasis is on the drama of the characters' lives, the yearning of Wendla when she begs her mother to tell her where babies come from, the fear of Moritz as he once again disappoints his father and the actions of Melchior as he falls for Wendla.
Sheik and Sater, through their book, music and lyrics, have crafted such a heartbreaking show, one that leaves few dry eyes and also showcases, in vivid detail, the consequences of a younger generation afraid and ill-informed about their lives. Original author Frank Wedekind may have set Spring Awakening in late-19th century Germany, but there are connections to several generations and the modern day.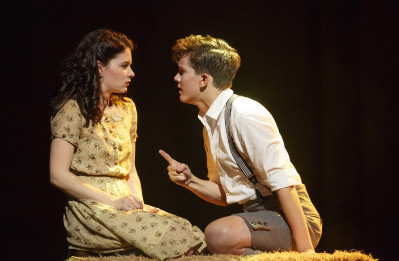 The songs, including "Mama Who Bore Me," "Totally F***ed," "The Song of Purple Summer" and "The Bitch of Living," are energetic and rock-filled yet sometimes somber and thoughtful. They provide a soundtrack to the youth and angst of the characters.
Productions like this new Spring Awakening are revolutionary and soul-affirming because they work on two different levels. The cast and creative team, for starters, are presenting an intense, unforgettable evening of music and drama; they give Sater and Sheik's work such justice and truth. Secondly, Deaf West Theatre and their assembled cast are offering new interpretations and accessibility to the story and these characters by joining spoken English and American Sign Language into one inspired production. The message and the means are so integral to advancing the lessons of this important musical.
By John Soltes / Publisher / John@HollywoodSoapbox.com
Spring Awakening
Book and lyrics by Steven Sater
Music by Duncan Sheik
Directed by Michael Arden
Choreographed by Spencer Liff
Featuring Robert Ariza, Miles Barbee, Katie Boeck, Alex Boniello, Joshua Castille, Lizzy Cuesta, Daniel N. Durant, Treshelle Edmond, Sandra Mae Frank, Kathryn Gallagher, Sean Grandillo, Elizabeth Greene, Russell Harvard, Amelia Hensley, Van Hughes, Lauren Luiz, Daniel Marmion, Austin P. McKenzie, Andy Mientus, Patrick Page, Ren, Krysta Rodriguez, Daniel David Stewart, Ali Stroker, Alexandria Wailes, Alexandra Winter and Alex Wyse
Running time: 2 hours, 30 minutes
Currently playing the Brooks Atkinson Theatre at 256 W. 47th St. in Manhattan, N.Y. Click here for more information on tickets.
Rating: