REVIEW: Designs for ear, eye in MoMA's 'Making Music Modern'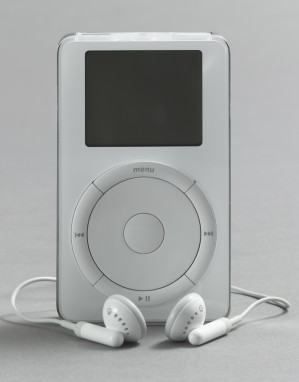 NEW YORK — The Museum of Modern Art's Making Music Modern: Design for Ear and Eye takes a look at the design decisions that have gone into the 20th-century world of music. From album record artwork to the changing technologies of music playing, the items on display are both artful and useful when considering the journey these musical notes have taken over the centuries.
Music fans should hurry, though. MoMA shuts the exhibition Monday, Jan. 18, after two years of being on display.
Visitors not only have the chance to see the artistically rendered items but also hear them. Several spots throughout the small gallery space are equipped with speakers pumping out music and adding atmosphere to the viewing. On a recent visit, Kay Starr's "Wheel of Fortune," one of those classic 1950s tunes, played near the back of the exhibition, taking visitors to the mid-century mark and likely adding some nostalgia to the nostalgic displays.
For music technologists, an Edison Company home phonograph is on view. Its wood structure and polished brass horn are as iconic as any other American invention. The one visitors can see is "Edison Home Phonograph, Model B" from 1908-1912, and perhaps it will inspire a visit to Edison's old factory in New Jersey.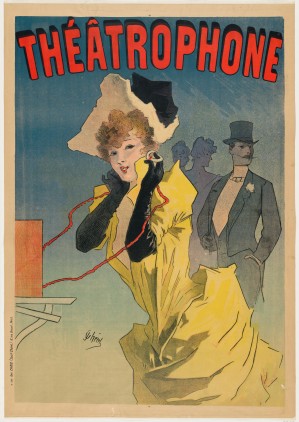 Sheet music from "Dawn of the Century March & Two Step" has been pulled from MoMA's collections and hangs near an artistic rendering of a music hall, entitled "Concert Hall Project, Dresden, Germany" from Hans Poelzig.
Some of the architectural objects that help bring the music world to life can be viewed. The most impressive (and odd) is the Scopitone, an early film jukebox from 1963. It almost looks like a prototype for a robot from a 1960s television show. Another candidate for oddest is the "Blow Inflatable Armchair" by Paolo Lomazzi, Donato D'Urbino and Jonathan De Pas. Several MoMA visitors will probably hang their head in guilt for owning a similar model.
The album covers are numerous. Some of the more simplistic ones, including Josef Albers and Charles E. Murphy's work for Command Records, are the most memorable. In fact, the wall of album covers demands the most attention from visitors, and on a recent visit, it was nearly impossible to have people unglue their eyes from the colorful memories behind the glass.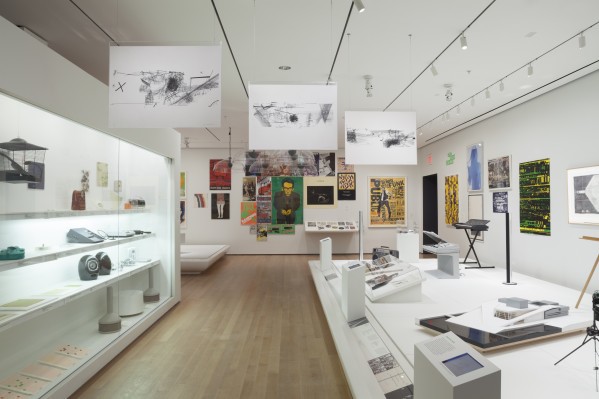 Musical portraits, including Richard Avendon's rendition of the Beatles, showcase the 1960s influences. A Milton Glaser lithograph portrays Bob Dylan with wavy, colorful hair, while Cream's album cover for Disraeli Gears is a busy, curvy piece by Martin Sharp and Robert Whitaker for Reaction Records. Take a look for the Jefferson Airplane / Grateful Dead poster with the characteristic, wavy font by Wes Wilson. Oddly enough, The Clash's London Calling album (Ray Lowry and Pennie Smith for Epic Records) looks too basic when compared to others from the era. The font is oversized and too simplistic; the soon-to-be-smashed guitar in the photo adds energy, even if the font and font colors are jarring.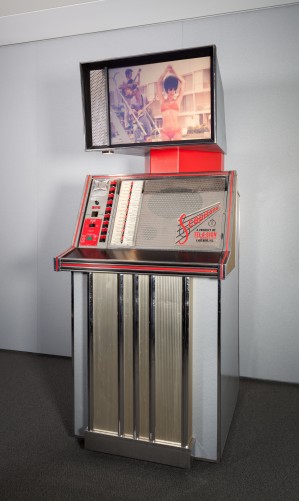 There are several objects on display that should be familiar to visitors, mostly because they are fairly recent additions to the worlds of design and music. An Apple "iPod" from 2001 is somewhat ironic being displayed in a museum. It seems so new, so different from the other items, and yet it too has been improved upon and updated to the point of obsoleteness. That same vibe is offered for the mega "Boombox portable audio system (model M-90)," which probably weighs more than 50 iPods. They both stand as cultural milestones, technological portraits of a time, place and means of listening to music.
Music has given the world many clever objects and unforgettable rhythms. The artists and designers behind the tunes are creating for the ear and eye, a double mission that has resulted in some genuinely unique creations. MoMA appropriately states that the objects "have profoundly altered our sense of how music can be performed, heard, distributed, and visualized."
By John Soltes / Publisher / John@HollywoodSoapbox.com
Making Music Modern: Design for Ear and Eye continues at the Museum of Modern in Manhattan, N.Y., through Monday, Jan. 18. Please note: All objects and pieces may not be on display. Click here for more information.