REVIEW: 'Dames at Sea' has that Broadway charm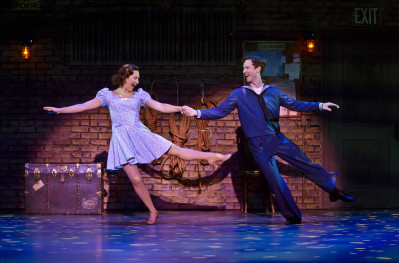 NEW YORK — Dames at Sea, which runs on Broadway through Sunday, Jan. 3, can feel like a trip down memory lane. The cast of six actors who populate the small stage at the Helen Hayes Theatre has a swell time crafting a story surrounding an unlikely Broadway debut, the destruction of an old theater and a DIY spirit that takes a musical onto a naval ship. In the span of less than two hours, audiences are transported to a simpler, albeit more cliche time when show tunes and ridiculous plot points hold greater sway than believable characterization and common sense.
It's all in good fun.
Eloise Kropp plays Ruby, a wide-eyed ingénue who has recently arrived in New York with her sights set on a career in musical theater. She stumbles into a rehearsal for a new Broadway show and finds herself auditioning for Hennesey (John Bolton), the man responsible for getting the musical ready in time for the opening-night curtain. Being that this is in improbable nostalgia trip, Ruby is accepted into the company and starts preparing for her Broadway debut that night. How's that for convenient, to-the-point storytelling? She falls off the bus right onto the stage of a big Broadway musical.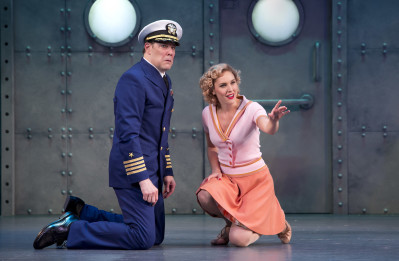 Helping her with the dance steps is Joan (Mara Davi), one of the performers in the show. Definitely not helping her with the dance steps is Mona Kent (Lesli Margherita), the diva star, someone who doesn't like the spotlight to leave her always-posing self.
Because this is an old-style Broadway musical, in the same vein as 42nd Street or On the Town, a few sailors are thrown in for good measure. There's Dick (Cary Tedder) and Lucky (Danny Gardner), and they are quite smitten (an appropriate verb in this context) with Ruby and Joan, even though Mona Kent is quite smitten with them. Bolton serves double duty as "The Captain," the head of Dick and Lucky's naval ship.
What sets these characters in motion is the unlikely, but oh so convenient fact that their show will not even make it to opening night because the theater is about to be knocked down. Ahem. With the wrecking ball about to strike, the company members need to take their antics to the naval ship for the first-ever Broadway show performed on a working vessel.
The songs are simultaneously agreeable and forgettable. With only six actors at the helm it's tough for them to achieve that show-stopping energy that is a frequent addition to these big-style musicals. Their tap dancing is sharp, but without more dancers on stage, it comes off as a preview for 42nd Street or another show that can place dozens of toe tappers on the stage.
Of the songs that work, "Wall Street" by Mona is a catchy show-opener, and the Act I closer, "Good Times Are Here to Stay," has some nice energy. The farcical second act, which takes place on the Captain's battleship, features the musical's title song, "There's Something About You" and "Star Tar," perhaps the best number. The Playbill states that "tar" is Navy slang for "sailor."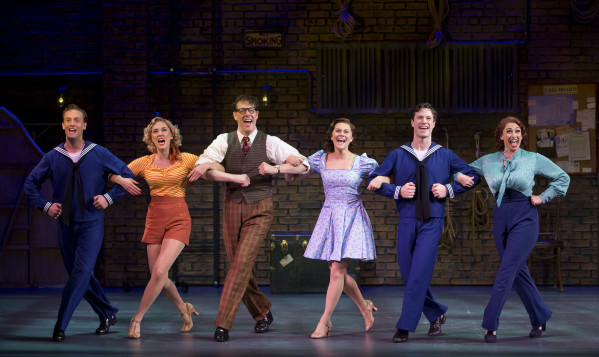 Jim Wise's music is sweeping and beautifully played by the orchestra. George Haimsohn and Robin Miller's book and lyrics feature one too many corny one-liners, and the cleverness of their dialogue never seems to stick. If not for the dedicated actors, the show would fall flat. Luckily these actors are Dames at Sea's best selling point. Despite the improbability of their characters' lives, the cast is motivated to keep everything rolling along with positivity and wide smiles. They, thankfully, don't play the parts with constant tongue in cheek. Rather than making fun of Dames at Sea, they try to make the show work.
Gardner and Tedder are OK as the sailors, although their characters are the least interesting of the show. Bolton is a consummate performer, someone who audiences will remember from the musical version of A Christmas Story. He is an actor who appreciates the value of farce, facial expressions, funny gesturing and effective line delivery. Margherita has a lot of fun as Mona, playing the part as over the top as possible. Davi has the best voice of the cast; she brings nostalgia and reality to the role in a nice, nice performance.
Kropp is well-suited as the ingénue, a role that originally put Bernadette Peters in the spotlight. She strikes the right balance between innocence and fortitude.
It's inspiring to have director-choreographer Randy Skinner at the helm of this naval musical because he obviously loves the source material and taking these theatrical trips down memory lane. He's also the person responsible for the recent revival of 42nd Street and Irving Berlin's White Christmas, so Dames at Sea seems to fit nicely into his career. His choreography, especially on the tap numbers, is fun and fleeting. His direction is energetic and fast-paced.
Dames at Sea is an OK show being given an enjoyable production by a top-notch director and dedicated cast. That's better than a ho-hum cast performing an excellent show.
By John Soltes / Publisher / John@HollywoodSoapbox.com
Dames at Sea
Book and lyrics by George Haimsohn and Robin Miller
Music by Jim Wise
Directed and choreographed by Randy Skinner
Featuring John Bolton, Mara Davi, Danny Gardner, Eloise Kropp, Lesli Margherita and Cary Tedder
Running time: 1 hour, 55 minutes with intermission
Currently playing the Helen Hayes Theatre at 240 W. 44th St. in Manhattan, N.Y. Click here for more information on tickets.
Rating: