REVIEW: 'Krampus' finds family on run from Christmas villain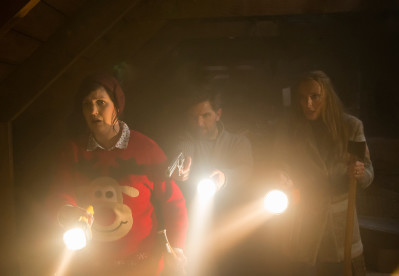 Krampus, the new horror movie from director Michael Dougherty, decides to sidestep the positivity of the Christmas holiday season and instead focus on the darker underbelly of how a special day can go horribly wrong. Of course, this is not a new idea. Charles Dickens' A Christmas Carol, Tim Burton's The Nightmare Before Christmas and even slasher flick Black Christmas have combined horror and holiday good cheer for a few December scares.
Krampus follows the folklore of an old legend about a villainous figure that wreaks havoc on those unsuspecting souls who were naughty during the year. Coal would be a blessing compared to the treachery of Krampus, a horned beast that seems to be a combination of several animals.
The victims in this family drama are the Engel family. There's Sarah (Toni Collette) and Tom (Adam Scott), a married couple going through a rough patch. Their two children are Max (Emjay Anthony) and Beth (Stefania LaVie Owen), and Tom's mother, Omi (Krista Stadler) is around to make some delectable treats and keep the fire warm. Visiting for Christmas is Sarah's sister and brother-in-law, Howard (David Koechner) and Linda (Allison Tolman). Much like the Griswolds needing to deal with Randy Quaid's character in National Lampoon's Christmas Vacation, Howard, Linda and their children don't seem to fit into the refined setting of the Engel household. The children bicker, the insults fly and everyone looks at the clock to count down the hours when the holiday will be over.
Because the Engels and their extended family have such a rotten experience, despite their best efforts to put on a happy face, they become easy targets for Krampus. What this evil spirit actually is doesn't seem to be an important topic in the film. It's evil and can apparently summon other creatures to do its bidding. It's the antithesis of Santa Claus. So if jolly old St. Nicholas brings presents, Krampus brings blood. If Santa has reindeer that frolic on the rooftop, Krampus has creatures that worm themselves through the snow banks like the worms from the movie Tremors.
The script by Dougherty, Todd Casey and Zach Shields is more comedic than dramatic, and that's a smart choice. It's difficult to take the Krampus legend seriously, so the writers don't offer too much on the folklore side, except some ominous tales of how the spirit has been terrorizing families for generations. The movie is actually a critique of the consumerism present in the month of December, most obviously seen in the opening-credit sequence that showcases fight after fight at retails stores.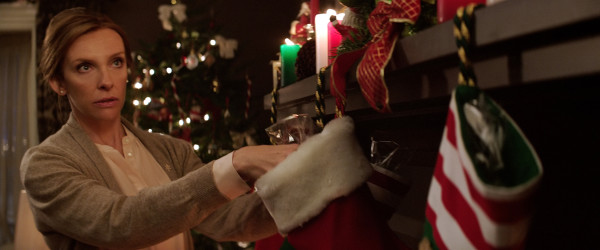 Because the comedic elements are present, the scares are few and far between, making Krampus an enjoyable, intense holiday film for a family looking for alternative programming in the Christmas season. The acting is OK, although Koechner's portrayal is too close to Quaid's from Christmas Vacation. The scene stealer is Stadler, whose grandmother character seems to know the history and legend of Krampus. That all-knowing, older person who first encountered the evil as a child is a common trope in horror films, and Stadler plays the part with deadpan seriousness as if Krampus were as real as Santa Claus.
There's not much chemistry or believability in the marriage between Collette and Scott's characters. They seem somewhat miscast for the role of two parents who need to take on an evil force to protect the family. They talk about being in love and caring for their children, but most of their tender moments are rushed.
Anthony's Max character is strong, and the young actor knows how excel with his line delivery. Most of the story, in fact, is told through Max's eyes because he's the only one trying to keep the family together and focused on the real spirit of the season.
Krampus is an interesting addition to the onslaught of holiday-themed movies, and it will likely receive repeat viewing in future years. It's not quite as horror-filled as it promises, but there's enough jokes and intensity to keep one engaged for 100 minutes.
By John Soltes / Publisher / John@HollywoodSoapbox.com
Krampus
Directed by Michael Dougherty
Written by Dougherty, Todd Casey and Zach Shields
Starring Toni Collette, Adam Scott, Allison Tolman, Emjay Anthony, Stefania LaVie Owen, Krista Stadler, David Koechner and Conchata Ferrell
Running time: 100 minutes
Rated PG-13 for sequences of horror violence/terror, language and some drug material
Rating: