REVIEW: 'Gin Game' features Broadway royalty with Cicely Tyson, James Earl Jones
NEW YORK — The Gin Game, the classic play by D.L. Coburn, is receiving perhaps its best possible revival at Broadway's Golden Theatre thanks to the unparalleled acting talents of Cicely Tyson and James Earl Jones. The Broadway legends play Fonsia and Weller, two lonely people who meet on the porch of a nursing home. Their interactions typically center on a game of gin, but soon enough the conversation turns to personal questions about family, death and secrets.
Weller (Jones) is irascible, constantly flipping the table and throwing tantrums when he doesn't win a game. Unfortunately for him, he almost never wins against Fonsia. It could be a matter of luck or perhaps fate. After a while, upset with Weller's anger, Fonsia almost wants to lose a game and call it a night.
Throughout the conversation, which continues over several evenings, Weller and Fonsia grow to like each other and simultaneously find fault with each other. They are loners, in need of some human connection, but also comfortable in their solitude to the point where bridging the gap between each other might be an insurmountable task.
Tyson, last seen on Broadway in The Trip to Bountiful, matches Jones' outbursts toe to toe, witty line to witty line. However, the actress imbues the character with a real sense of loss, that she's holding something (someone) back from public discussion.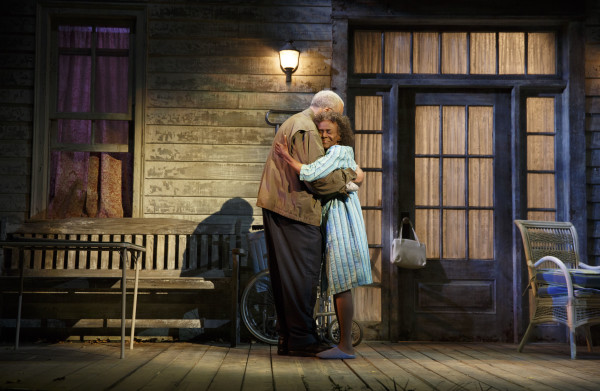 Jones, who has been a frequent presence on Broadway over the last few years, is loud and abrupt. He plays Weller as a childish man who refuses to let others win; however, behind the rough facade is a hidden reality. The only thing Weller hates more than losing is being alone without Fonsia. He enjoys their meetings but is unable to keep the conversation positive and reciprocal.
Coburn's play is a slight work of drama. Although Tyson and Jones give it their best, they can't quite overcome the limitations of a dry, almost nonexistent plot. The Gin Game feels like a prolonged character sketch, which works to a point but also leaves the audience disengaged from the drama. Without more of a climax, without understanding more about the secrets that are left unsaid, it's difficult to understand the motivations of the creations on stage. It's up to Tyson and Jones to convey the hurt and fragility with their bodies, with their voices, with their frustrations with each other. They do this, for sure, but the result is still an incomplete play.
Leonard Foglia directs the evening as an intimate exchange between friends. The action takes place on the wooden porch, either at the gin table or on a nearby bench. The nursing home is beyond the windows, and it does feel like it can be a world away for these characters. The scenic design gives the impression that, despite the falling rain and rubbish on the porch, Fonsia and Weller prefer to be away from the daily goings-on of the nursing home. They don't necessarily want to escape because theirs protection and routine at the facility, but they're in denial about their forgotten lives and the relationships they're unable to keep with family and friends.
There are many ideas circulating The Gin Game, and Tyson and Jones offer dedicated portraits on the Golden Theatre stage. If the play delved deeper, it would leave a more lasting impression. All the audience is left with are these two characters; that may or may not be enough for theatergoers.
By John Soltes / Publisher / John@HollywoodSoapbox.com
The Gin Game
By D.L. Coburn
Directed by Leonard Foglia
Featuring Cicely Tyson and James Early Jones
Running time: 2 hours with intermission
Currently playing the John Golden Theatre at 252 W. 45th St. in Manhattan, N.Y. Click here for more information on tickets.
Rating: