SPOILER ALERT REVIEW: 'Episode VII' awakens 'Star Wars' force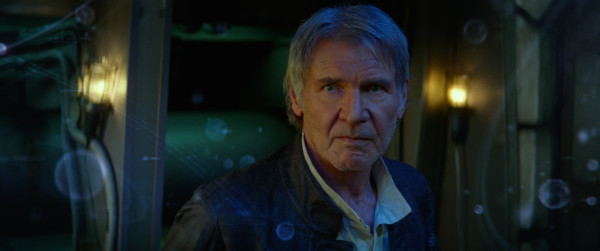 This analysis contains some spoilers. It's best read by those who have seen the movie. You have been warned.
J.J. Abrams can breathe a well-deserved sigh of relief. Star Wars: The Force Awakens, the seventh installment in the monumental franchise, is a movie that fans around the world will enjoy and come to cherish as a classic. It's that good.
Abrams, the director responsible for the cinematic reboot of Star Trek and TV's Lost, simultaneously honors the original trilogy by George Lucas and paves the way for the franchise to tackle new obstacles in the future. The plot is surprisingly simple and easy to understand, for young and old alike. The characters who populate the story are finely drawn, engaging and brought to life by quality actors.
The story picks up 30 years after Return of the Jedi. The Empire and Sith are no more, but the dark side still exists. The new evil contingent is called the First Order, and it's run by Supreme Leader Snoke (Andy Serkis from The Lord of the Rings trilogy and King Kong). Not much is learned about Snoke, except that he appears in hologram form to his two leaders on the ground, Kylo Ren (Adam Driver from HBO's Girls) and General Hux (Domhnall Gleeson from Ex Machina). Together, this pairing of dark forces attempts to annihilate any sense of good in the galaxy. Their weapons of choice include an army of stormtroopers and a mega-sized instrument that is able to harness the power of a star and crush a planet in seconds. Their home base is a planet ship that makes the Death Star look like a marble.
Among their ranks is a stormtrooper (John Boyega from Attack the Block) who has problems with the First Order's destructive mission. He's eventually given the name Finn, and he helps an X-wing pilot, Poe Dameron (Oscar Isaac from HBO's Show Me a Hero), escape the evil clutches of the bad guys and head back to Jakku, a junkyard desert planet that will remind fans of Tatooine.
The reason Poe wants to return to Jakku is because of an all-important droid by the name of BB-8, who holds a map detailing the whereabouts of one of the last Jedi, Luke Skywalker (Mark Hamill from the original Star Wars). On Jakku, Finn pairs up with Rey (Daisey Ridley, a relative newcomer to Hollywood), who scavenges the desolate planet for old machinery that she trades for food. Finn and Rey need to keep BB-8 safe and return the droid to the Resistance, a team of rebel fighters who are trying to stop the First Order.
Some of the great characters from the original trilogy are back: Han Solo (Harrison Ford) and Chewbacca (Peter Mayhew) return, plus Leia (Carrie Fisher, now playing a general rather than a princess), R2-D2 (Kenny Baker) and C-3PO (Anthony Daniels). Rounding out the cast are Oscar winner Lupita Nyong'o as Maz Kanata, a CGI character with large, ever-seeing eyes; legendary actor Max von Sydow as Lor San Tekka; and Game of Thrones' Gwendoline Christie, hidden behind a metallic helmet as Captain Phasma.
The action sequences staged by Abrams and his creative team are impressive but never detract from the central storyline. Purists will love to see X-wings and TIE fighters back in action, flying around space along impossibly complex routes. The Millennium Falcon, perhaps the most famous ship from any Star Wars film, is back, albeit a little dusty and in need of repair. Among the new ships is a neat creation that brings around Kylo Ren; it takes off much like any other vessel, but as the ship gains speed, its wings slant upward, creating a triangle shape.
The dialogue is believable and filled with intricate characterization. Abrams, Lawrence Kasdan and Michael Arndt's script has several tender moments and many humorous lines as well (Solo's one-liner about the force is the best). Abrams always imbues his stories with a requisite level of humor. A planet's survival may hang in the balance, but the characters are always a few words away from a witty joke.
The special effects are dazzling but, again, never take away from the central story. This is not a CGI love-fest like so many blockbusters nowadays. Instead, there's a real sense of proportion, believability and science behind every setting, character and explosion.
The acting is wonderful, especially from Boyega and Ridley, who carry the main spotlight. They make their characters likable and watchable. Ridley's Rey is a loner, someone who ekes out an existence on Jakku with hopes of one day reuniting with her family. Boyega is one of the few characters in Star Wars to jump ship from the dark side to the light side. He also offers an interesting backstory on what's behind the mask of a stormtrooper. They are both perfectly cast for Abrams' interpretation of Lucas' saga.
Ford stands out among the returning cast members. Solo remains one of the most iconic characters in Hollywood history, and Ford keeps this rogue cowboy interesting and perpetually cool. Kudos should be given to Fisher who believably takes the Leia character from a princess to the leader of the Resistance.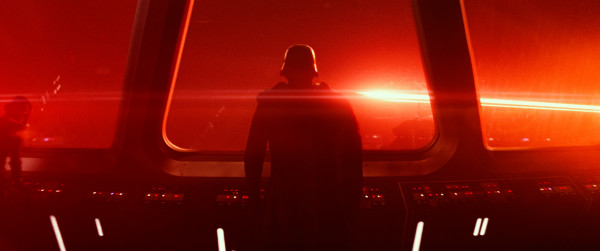 Big spoiler alert ahead …
There are few, if any, quibbles that a fan can find in the movie. However, there still remains some important issues that need to be addressed, hopefully in the next two installments. The evolution of Kylo Ren into a villain is one glaring one, and undoubtedly there will be more backstory given to Rey and possibly Finn. Many questions still surround Snoke. Who is he? Is he acting alone? How did he gain such power?
The joy of watching The Force Awakens is not only the return of good friends and the welcoming of new ones. It's also the promise of revelations to come. Thanks to Lucas' original vision (and, yes, I'm including all six of the films in this statement), Abrams has performed the near impossible. He has taken the most memorable franchise of all time and opened a clear door to the future.
Away we go into a galaxy far, far away.
By John Soltes / Publisher / John@HollywoodSoapbox.com
Star Wars: The Force Awakens
Directed by J.J. Abrams
Written by Abrams, Lawrence Kasdan and Michael Arndt
Starring Daisy Ridley, John Boyega, Harrison Ford, Carrie Fisher, Mark Hamill, Peter Mayhew, Kenny Baker, Anthony Daniels, Adam Driver, Oscar Isaac, Lupita Nyong'o, Domhnall Gleeson, Andy Serkis, Gwendoline Christie and Max von Sydow
Running time: 135 minutes
Rated PG-13 for sci-fi action violence
Rating: