REVIEW: Four-legged friend disrupts empty nesters in Broadway's 'Sylvia'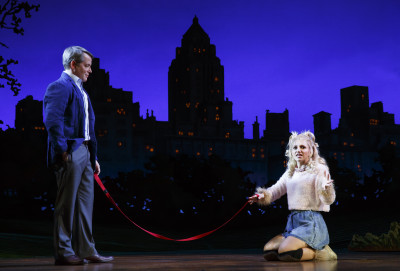 NEW YORK — Sylvia, the funny play from A.R. Gurney, is receiving a first-rate revival on Broadway thanks to the hilarious antics of Matthew Broderick, Julie White, Robert Sella and scene-stealing Annaleigh Ashford. The two-act comedy follows a married couple, Kate (White) and Greg (Broderick), as they try to adjust their lives to the addition of Sylvia (Ashford), a stray dog that Greg finds in the park. It's love at first sight for Greg and Sylvia, but Kate has reservations on how the four-legged animal will disrupt their easy-going life now that the nest is empty.
The cleverness of Sylvia comes from the anthropomorphizing of Ashford as the title dog. She runs around the stage, jumps on furniture, sniffs where she shouldn't be sniffing and generally wreaks forgivable havoc, like any dog is destined to do. The fact that this furry best friend is played by a human makes the juxtaposing imagery ripe for full comedic exploitation. Newcomers to the household are unceremoniously greeted with a violation of personal space. Dogs in the park are seen as possible mates, especially when Sylvia is in heat. Cats are, well, let's say that Sylvia has a few profane words for these felines.
Digging deeper, the play looks at the complacency of marriage and how a couple struggles after their duties as parents are not as demanding. Greg, who doesn't enjoy his job, needs a spark in his life, and Sylvia provides boundless energy. Some people might buy Corvettes; Greg rescues Sylvia instead. Kate, on the other hand, enjoys a non-dog life, one filled with good company and social engagements. She understands the cute factor behind Sylvia, but she doesn't understand why her husband is so enamored of a creature that needs to be constantly walked, cleaned and reprimanded.
Sella plays three characters throughout the play. He first shows up as Tom, a fellow dog walker who offers some advice to Greg and his new best friend. The second character, and probably the best of the three, is Phyllis, Kate's friend who learns first-hand what it means to have a dog in the house. Finally, Sella portrays Leslie, a couples therapist who tries to help Kate and Greg understand their marital problems.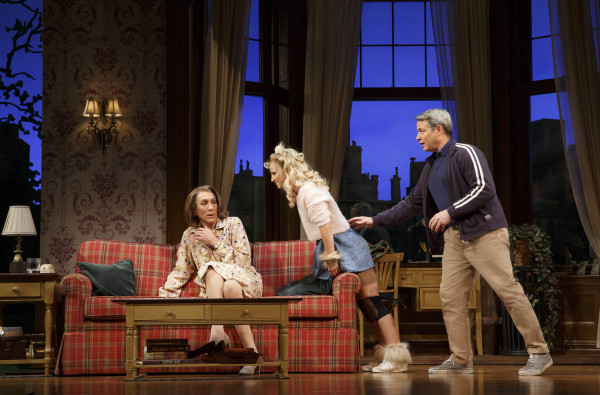 Director Daniel Sullivan turns up the farcical elements in the group scenes, which make for some genuine belly laughs. There are tender moments as well — how couldn't there be with a dog in the cast — but Sylvia gains the most momentum when the four actors are on stage trying to deal with the latest obstacle.
Ashford, who wears a pink sweater and denim shorts to portray Sylvia, offers a full-body performance, from her facial expressions to her gestures and voice. The actress, a regular on Masters of Sex on Showtime, is a consummate performer, someone who couples originality with comedic timing for gut-busting effect. Of course, the action has less to do with the dog and more to do with how the humans are disrupted by her presence (this is actually a tried-and-true theatrical conceit when a stranger enters a household).
Broderick is understated but effective as Greg. He's truly playing a man trying to find something (or someone) in life and make a real connection. His joy over meeting Sylvia and now having the chance to spend so much time with her is palpable.
White, a funny actress who frequently appears on Broadway, has the least showy part, but she's able to enliven the role by sticking to her character's beliefs and credibly offering a realistic arc. In fact, it's Kate who changes the most throughout the play and, in some ways, becomes the most interesting character. Sella, as mentioned, is offering three performances that are energy and comedy personified.
Gurney's play is set mostly in the couple's apartment and the nearby park. David Rockwell's scenic design is appropriately green and welcoming, offering images that seem like a spring day in Central Park. No matter the set, Sylvia is best when Ashford and company are bow-wowing the audience.
By John Soltes / Publisher / John@HollywoodSoapbox.com
Sylvia
By A.R. Gurney
Directed by Daniel Sullivan
Featuring Matthew Broderick, Annaleigh Ashford, Robert Sella and Julie White
Running time: 2 hours with intermission
Currently playing the Cort Theatre at 138 W. 48th St. in Manhattan, N.Y. Click here for more information on tickets.
Rating: