REVIEW: Terence Blanchard brings 'Breathless' to NY jazz crowd
NEW YORK — Terence Blanchard and the E-Collective played before a packed house at New York City's Blue Note Jazz Club recently, and the 75-minute set proved to be a contemplative, amplified evening of jazz reflection. The trumpeter, who has been the go-to composer for Spike Lee film scores, has offered a series of tour dates around the world for his latest album, Breathless, which was recently nominated for a Grammy.
When Blanchard plays the trumpet, he seems caught in a dream, someone who simultaneously conducts the direction of the band and offers its most powerful musical addition. However, as a performer, he's quite generous, allowing his colleagues on the stage to explore musically and display some transfixing solos.
Blanchard's skills are not simply in the power of his instrument. There's a precision to the playing that is intricate and thoughtful, allowing him to match the enthusiasm of his backing band.
Of the E-Collective, percussionist Oscar Seaton probably stands out the most. At the Blue Note concert, his sound had a dizzying effect. He kept the beat pumping for 75 minutes and indulged himself in several expert solos where the drum kit seemed almost ready to fall apart because of his forceful musical pounding. At times, the volume drowned out his fellow musicians, but the energy always elevated the performance to a stratospheric level.
PJ Morton guested on the album, making his presence heard, especially on the funky opening tune, "Compared to What." With no one on vocals for the Blue Note concert, it did feel like the band was a bit limited in its material. However, thankfully the instrumentals on Breathless are every bit as infectious as Morton's tracks.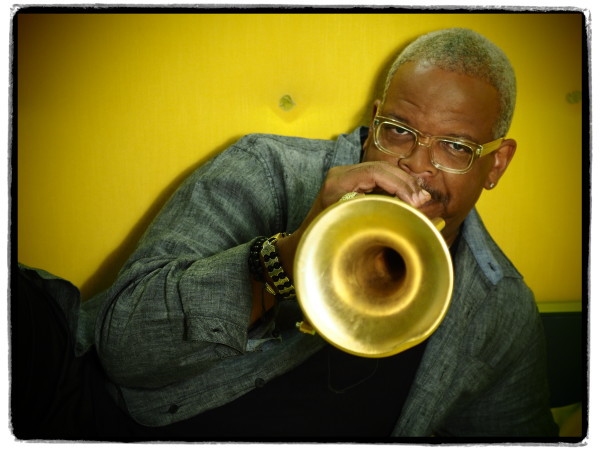 Blanchard and this talented band have an excellent way to bring the songs around into full-circle moments. They start out with a crawl, investigating the contours of a trumpet riff, and then break into dissected solos that further explore the tune's implications. After a few minutes, they return to where they started — but changed, like journeymen back from a mystical jaunt.
"See Me as I Am" displays this beautifully on the new album. Blanchard's trumpet begins with a simple, yet catchy selection, and then they repeat it over and over again. But each time they change the elements, from the volume of Blanchard's trumpet to the gentle playing of Fabian Almazan on keys.
Breathless, which is a tribute to Eric Garner, may go on to win the Grammy Award for Best Jazz Instrumental Album, and after watching Blanchard's concert at the Blue Note Jazz Club, it would be an appropriate capstone to an experimental group that has brought a new sound to a trumpeter interested in self-discovery.
By John Soltes / Publisher / John@HollywoodSoapbox.com
Click here for a recent interview with Terence Blanchard.