INTERVIEW: Vienna Boys Choir will bring history, tradition to Carnegie Hall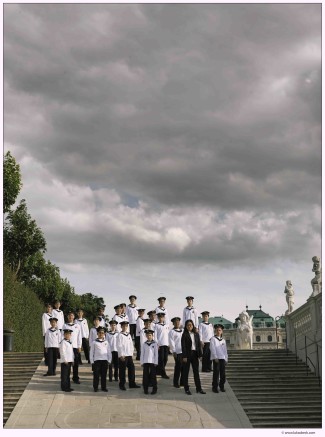 The Vienna Boys Choir, which dates back to the 14th century, will bring its holiday concert tour to New York City's Carnegie Hall Sunday, Dec. 13 at 2 p.m. The choristers will represent more than 500 years of musical excellence as they offer Christmas songs and classical compositions in both English and German.
The number of historical composers who worked with the choir is unparalleled. From Heinrich Isaac to Wolfgang Amadeus Mozart to Antonio Salieri and Anton Bruckner, the collaborators over the years are an impressive lot. Jacobus Gallus and Franz Schubert didn't have to collaborate with the choir; they were actually counted among their ranks at one point in their young lives.
Conductor Bomi Kim, who helps lead the singers on their United States tour, seems quite excited to present the choir at the world-famous Carnegie Hall.
"It's our highlight show, the concert in Carnegie Hall in New York City, and we expect now [a] really nice audience, a really nice hall and nice weather," Kim said recently in a phone interview. "We are really looking forward to that, yeah."
The boys on stage are between the ages of 10 and 14. There is a total of 100 choristers in the Vienna Boys Choir, but they are split among four touring groups. Kim heads the so-called "Mozart" choir. Visitors to Vienna can also catch some of the singers at Sunday Mass in the Imperial Chapel, a tradition that dates back to 1498.
For the Carnegie Hall holiday show, which is presented by Opus 3 Artists, the boys will sing "many, many English songs," Kim said. Plus, there will be a few sung in German. Among the selections will be compositions by Antonio Vivaldi, George Frideric Handel, Francis Poulenc, Mozart and Henry Purcell. The Christmas-themed songs will include "Let it Snow," "O Holy Night" and, of course, "Jingle Bells." Other more traditional carols, originating from Austria, Germany and the U.S. should be expected.
Kim, who will conduct the performance, is originally from Korea and graduated from Music University in Vienna. She is an alto soloist and choir member herself. Among her many accolades are being a guest member for the National Chamber Choir of Ireland and member of the prestigious Arnold Schoenberg Choir in Vienna. She won first prize at the Guido d'Arezzo competition in Italy in 2010 and is the recipient of the 2013 Erwin Ortner Award for choral conducting.
When working with the Vienna Boys Choir, she imparts the history behind the compositions to the young singers. "I must explain [to them] what we sing, which song is it and from which composer," she said. "And they must know that, and they can perform better, of course."
Every day the choir rehearses, and while they're touring the U.S., they are also preparing for future concerts in Europe. "First of all, sound check because we have everyday another concert hall, and we must check every day the voice and the quality of the choir's sound," Kim said of the practicing. "And we must also prepare for the new year's concert in Vienna, and we have Mass on holiday on [Dec.] 25. And we have some concerts in January in Vienna. We must also prepare that, yeah, in the U.S."
Kim said she loves her job and appreciates the aid of two chaperones to help keep the boys on time and ready to perform for the crowds who buy tickets. "We are a really good team, and with the boys we have a lot of fun," she said. "And we can see so many things, and we have everyday a wonderful concert. Yeah, it's really a special, special job, but I love my job."
She added: "Our long tradition is really important for us because this is our spirit. … Yeah, the tradition is a really good thing for us."
By John Soltes / Publisher / John@HollywoodSoapbox.com
The Vienna Boys Choir is currently touring the United States with their Christmas in Vienna tour. They will play at Carnegie Hall in Manhattan Sunday, Dec. 13 at 2 p.m. Click here for more information.