REVIEW: 'Fool for Love' features desperate couple on desert's edge
NEW YORK — Sam Shepard has made a playwrighting career out of exploring the symbolism of the American West. His characters populate a desolate, lonely expanse where violence, alcohol, regret and cowboy boots are never too faraway. In Fool for Love, which finishes an extended run at Manhattan Theatre Club's Samuel J. Friedman Theatre on Dec. 13, is one of his best dramatic creations, featuring a warring couple attempting to move on with or without each other.
Tony Award winner Nina Arianda plays May, a woman trying as hard as she can to get away from her former lover, Eddie (Sam Rockwell). The couple spars, mostly verbally but sometimes physically, in a dingy motel on the edge of the Mojave Desert. There's a rundown bed, a dank-looking bathroom, dim lighting and a few pieces of furniture. The outside world remains outside, except for the occasional shining of car lights from the parking lot.
Eddie has returned from a long absence, but May has moved on. In fact, she's seeing another guy, played by Tom Pelphrey. Eddie doesn't care much for this newcomer, this person who is disrupting what he believes is a solid, long-lasting relationship. Sitting nearby, away from the action and mostly used as a dramatic symbol, is Eddie's father (Gordon Joseph Weiss). The father figure sits and stares into the distance, sometimes erupting with anger and a lesson or two to tell Eddie.
Throughout the bickering, which is energetic and violent in this 75-minute production, May and Eddie seem to fall in and out of love as the minutes tick by. They remember the good old days (if they ever existed) and hold on to the moment for a second, but then they snap back into the present and start brawling. They have grown comfortable with each other, for sure, but deep down there's also a hurt and pain that may never go away. Many secrets are revealed, secrets that have kept these two within each other's orbit, unable to overcome their gravitational pull and escape.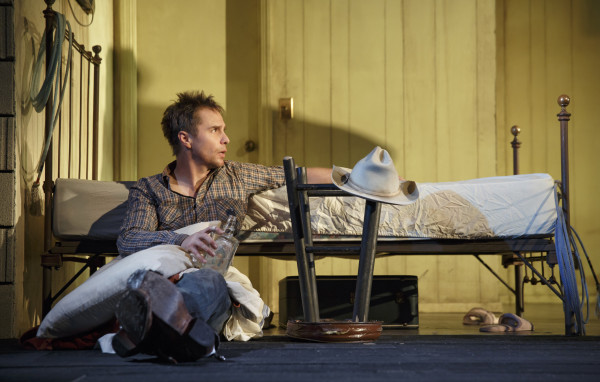 Daniel Aukin directs the piece with high energy and briskness, which fits Shepard's barbed words and the acting styles of Arianda and Rockwell. It's almost tough to catch one's breath as the energy spills from the stage.
Arianda and Rockwell have some chemistry together, but it's not a necessary element to their characters' dynamic. There's probably never been a day when Eddie and May fully loved each other, fully worked as a couple. So their comfort is on display, but their angst its always one step behind.
Arianda, seen on Broadway in Born Yesterday and Venus in Fur, jumps around the stage, yelling her lines with such ferocity that one can't turn away. She's powerful and strong but ultimately unable to break from the feelings she has for Eddie. Rockwell starts out much quieter, but there's an obvious violent streak bubbling beneath the surface. The actor seems to enjoy the lines of dialogue where Eddie plays games with May. Watch how he uses the lasso as a mechanism of power and dominance. Watch how May responds and never lets him get away with the intimidation.
The supporting cast members are every bit as effective as the main actors. Weiss, in particular, can be scary and sad as Eddie's father. His stares into nothingness are a theatrical feat. He's always on stage, most of the time not uttering a word. So he needs to be present but hidden, intense but hurting. It's an engaging performance that, like Eddie and May, erupts every few minutes into yells and tortured recitations.
Pelphrey is solid as the outsider invited into this rundown hotel room. He's a genuinely nice guy who wants to have a relationship with May, but he needs to not only confront Eddie, but Eddie and May's past as well. That's a seemingly insurmountable obstacle, and Pelphrey displays the obvious timidity in his actions and voice.
Shepard is a playwright who doesn't mince words (75 minutes, after all). His characters live in an in-between state, contemplating the reality of the American dream, the concept of freedom and the pioneer spirit, the love and loss between incompatible souls. Fool for Love, thanks to this effective production, proves to be one of his best works.
By John Soltes / Publisher / John@HollywoodSoapbox.com
Fool for Love
A production of Manhattan Theatre Club
By Sam Shepard
Directed by Daniel Aukin
Starring Nina Arianda, Sam Rockwell, Tom Pelphrey and Gordon Joseph Weiss
Running time: 75 minutes
Currently playing at the Samuel J. Friedman Theatre at 261 W. 47th St. in Manhattan, N.Y. Click here for more information on tickets.
Rating: