REVIEW: 'Old Times' finds trio of characters debating their memories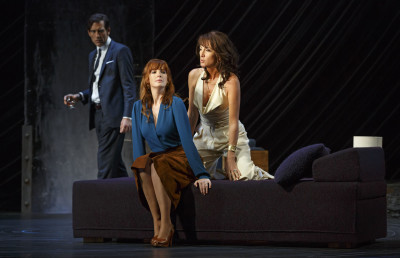 NEW YORK — Harold Pinter was one of the most profound and perplexing playwrights of the 20th century. His plays, including The Homecoming and No Man's Land, are glorious head-scratchers that push the audience to look deeper, think differently and sit sometimes uncomfortably. The Roundabout Theatre Company's new revival of Old Times, one of his best memory plays, stirs with emotion and mystery, and the cast of Clive Owen, Kelly Reilly and Eve Best offer satisfying, even transfixing performances.
The premise of the play, like many of Pinter's works, is simple and almost plot-less. Deeley (Owen) and Kate (Reilly) are a married couple living in a tucked-away house near the coast of England. They are about to welcome Anna (Best), a friend from Kate's youth. Set designer Christine Jones has the action play out on a dizzying series of circles, almost like they were inspired by the opening credits of The Twilight Zone. The coffee and alcohol sit atop craggy rocks that eventually give way to a circuitous display of what appears to be a cosmic array of constellations. Two beds, tellingly split apart, and an armchair offer three points for the characters to sit and lounge. What appears to be a block of ice separates the cosmic backdrop from the personal drama on stage.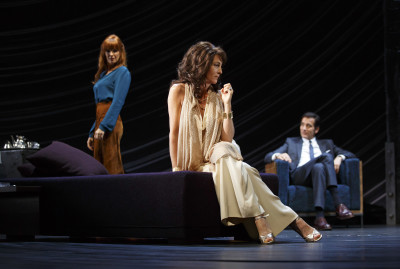 As a helpful pre-show education talk explained to the audience, Pinter entered the middle part of his career focusing on the infallibility of memory, and this thesis is on full display in Old Times. The 65-minute production, directed by frequent Pinter collaborator Douglas Hodge, essentially is a prolonged conversation about how the past can be augmented to affect the present. Deeley, Kate and Anna struggle to hold on to concrete memories; their recollections start off strong, in a whir of laughs and smiles, but they soon trickle away, almost to the point where the speaker is unable to remember the details, or if the memory even happened in the first place.
One particular story involves a sequence at a bar where Deeley and Anna may have first met. The coincidence of the encounter should trigger multiple interpretations among audience members. How is it that both Kate and Anna had a connection with Deeley, even though this is supposed to be the first time Anna and Deeley are meeting? What effect does it have when a character brings up these memories? Can anyone outrun the past?
By nature of the obvious attraction between Deeley and Anna, these two characters receive the most dialogue and seem to change the most throughout the play. They sing old songs, laugh at each other's jokes and drink coffee and brandy quite easily. During these exchanges, Kate seems like an outsider, to her friendship and her marriage. She's called upon to answer a few questions, offer a few thoughts, but it's almost as if she's not even on stage at some points. Her peripheral status is cemented when she gets up from the conversation and decides to take a shower. This allows Pinter the chance to give the play its only duet. Deeley and Anna now have the room to themselves, and the journey into their collective memories continues.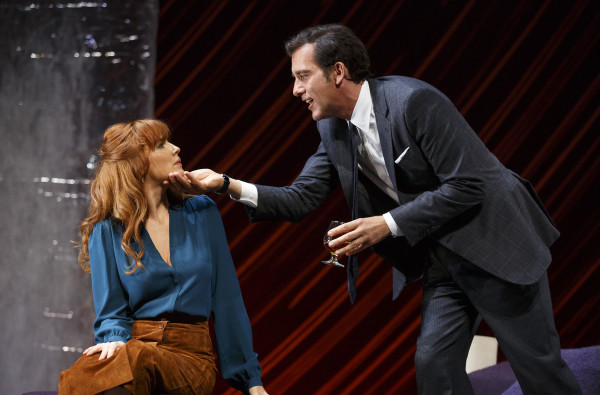 Owen is the right balance of sensual and sleazy. He has an allure to him that draws the eye, but often he comes off as harsh and downright mean. Pinter often wrote male characters to exhibit unwelcoming, misogynistic behavior. For example, when Deeley realizes his trip to down memory lane isn't met with smiles and laughs, he decides to continue the trip, no matter the consequences. Owen, making his Broadway debut, brings a solid intensity to the proceedings, enlivening the energy on stage and bringing credibility to the role of Deeley.
Reilly, also making her Broadway debut, is quite good as well. In some ways, she has the toughest part to portray because she needs to internalize Pinter's expert use of pauses and silence. There's an obvious hurt and regret floating through Kate's head, but she never allows the audience, or her husband and invited guest, a chance to understand those feelings. Even though she stays relatively quiet, the final scene of the play gives Kate the chance to make amends and let her strength shine through. It's almost as if Reilly plays the part with that final exchange in mind. She's internally reflective and thoughtful in the beginning, given to manners and niceties, and then her personal reflections and interpretation of the past externalize and become the foundation for the mystery behind Old Times.
The best of the three actors is probably Best. This Broadway veteran, someone who was so effective in Pinter's The Homecoming and Eugene O'Neill's Moon for the Misbegotten, has a way of offering line deliveries that seem both powerful and fragile. She projects her voice to the back of the theater in a faux stance of authority; however, as the 65 minutes tick by, she starts to crumble under the weight of realization, under the weight of these disputed memories. She plays the chess game with Deeley and seemingly cares for Kate, but her journey is different than these other two characters. Because she is presented as the outsider from the beginning, her role is one of separation, of playing with expectations and taking risks. It's a bravura performance.
Hodge, a Tony winner for his performance in La Cage Aux Folles, understands Pinter's draw as a theatrical dramatist. He steeps the play's action in mystery and non-catharsis, letting postures and glances the chance to compete with barbed words and fuzzy recollections. The pacing moves fast at first, but then Hodge has the characters fall into a rhythm and enjoy their delicious language. It's a directing effort with much attention to detail.
So, what is Old Times all about? There are several interpretations of the play. As the welcome letter from Roundabout states in the Playbill, each audience member will likely walk away with his or her own take. However, Pinter doesn't seem interested in easily digestible answers. This is not allegory with Deeley, Kate and Anna standing for something or someone beyond their respective characters. There's probably some credence in the idea of Kate and Anna being the same person, two personalities split apart. There's probably some truth on stage concerning the memories that are discussed; however, there probably an equal measure of falsity and fabrication. Hodge's take, with the accompanying acting from Owen, Reilly and Best, emphasizes the shared connections of the three characters, so much so that they all seem to be old chums, almost as if no time has elapsed between visits, as if Deeley, Anna and Kate have been living, struggling, fighting and loving for decades.
By John Soltes / Publisher / John@HollywoodSoapbox.com
Old Times
A Roundabout Theatre production
By Harold Pinter
Directed by Douglas Hodge
Starring Eve Best, Clive Owen and Kelly Reilly
Running time: 65 minutes
Currently playing the American Airlines Theatre at 227 W. 42nd St. in Manhattan. Click here for more information on tickets.
Rating: